My59Ranch.com is a lifestyle website with general interest articles ranging from basic information about our home, home improvement tips and tricks for everyday living, home repairs and home improvements. Periodically we will venture outside the home into our yard as there are many aspects to this lifestyle (living on a lake and living in the woods) that interests us. We supply you with all the tips and tricks we find that improved our home. Like many of you we are just trying to make ends meet.
Why Blog / Document your house?
Why blog about your house? Why invest in your home? When we were first looking at Our Mid-Century Modern American Ranch, I imagined recording the changes and upgrades as we made this home "our own". An easy way we could look back and see how far we had come.
As time went on we found out that this house had some interesting history. History is lost, unless you tell people the story. If you leave it up to someone else they will tell a story that may not be accurate. That is the intention of this blog, to capture the history of this home and how it came to be. Along the way, we will talk about repairs, upgrades and WHY we are taking care of the various activities. Our love for mid-century modern American Ranch homes will also spur additional discussions.

Joe and Melanie Salling, including our two girls looked for over 10 years to find a property we could call home. WE originally looked for a home on a piece of water. Somewhere that was buried in the middle of a forest. We were lucky enough to find this home in 2018 and snagged it up as soon as we could. Even better yet it was a mid-century modern we were all too excited to buy this property.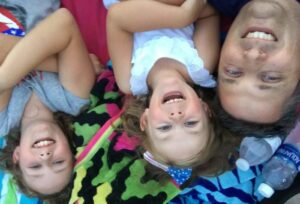 That is why we started this blog… to keep track of things but also to tell a story and the journey many people go through. It is a shared experience. According to realtors, investing in your home is one of the safest investment one can make. There is no guarantee but it is historically very safe and typically improvements always increase the value. However, you do need to understand what you are investing in. If your neighbors houses are $50,000 and your house is of similar value, it does not make sense to invest $30K dollars into your home.
That being said typically according to Realtor.com – here are a couple top home investment estimates from 2018 from https://www.remodeling.hw.net.
| Project / Upgrade | Cost | Resale Value | % Recaptured |
| --- | --- | --- | --- |
| Attic Insulation (fiberglass) | $1,343 | $1,446 | 107.7% |
| Entry Door Replacement (Steel) | $1,413 | $1,282 | 90.7% |
| Manufactured Stone Veneer | $7,851 | $7,019 | 89.4% |
| Garage Door Replacement | $3,304 | $2,810 | 85.0% |
| Minor Kitchen Remodel | $20,830 | $16,699 | 80.2% |
| Entry Door Replacement (fiberglass) | $3,276 | $2,550 | 77.8% |
| Garage Door Replacement | $1,749 | $1,345 | 76.9% |
| Siding Replacement | $14,518 | $11,093 | 76.4% |
| Window Replacement (Vinyl) | $15,282 | $11,286 | 73.9% |
data from remodeling.net
So as you can see, depending on what you want to invest in you will get your investment back. Also, you are living in your home right? So why would you want to live in a place that needs attention? With a little bit of sweat and elbow grease you CAN make improvement all on your own. This will help your dollars go further.
We are here to help you make your own dreams come true. Start now and live the life you've always wanted! Come follow this story and see where it takes us, and hopefully you will be inspired. Follow us via your browser or add your email to the list. We also LOVE to get feedback -so please let us know if you have any questions about our projects.
---
If you have any questions or concerns, please feel free to Contact us.