One of the most important tools when working on your home is transportation to get material to your home. I have been looking for a pickup for a long time and where this 2005 Toyota Tacoma comes into play.
You see my priority like many of you, is to ensure my wife and kids have solid transportation. I don't want her and the girls to ever experience a break down on the highway or an accident due to some failure that could be avoided. So they have enjoyed having a safe and nice cars to ride in. I also am very frugal when it comes to spending money. I want to make sure every dime counts. I have driven prior to COVID19, every day for 20 years. 30 miles each way to work. Highway miles are indeed easier on a car/truck however it still takes its toll over time. Since I have a 2007 Volkswagen Jetta that is in next to perfect condition (with 150K miles) – I have a daily driver. So if I do need to drive into work, no biggie I have it covered. Also there is almost ZERO reason to sell it as while in great condition the value is around $2k – so why sell it? So needing a truck that is not as fuel efficient as one would like, becomes more doable with not driving into the office everyday + having a spare car.
Why a Truck? I have had a dream for a truck for many years. I wanted one to get landscaping material several, thousands of times. Typically, that material does not fit well in a Rav4 or a Jetta. I have brought home appliances like our stove (below). To my complete surprise, I was able to load the stove in the Rav4 see that story here. So while it was possible, it would have been much easier with a truck.
---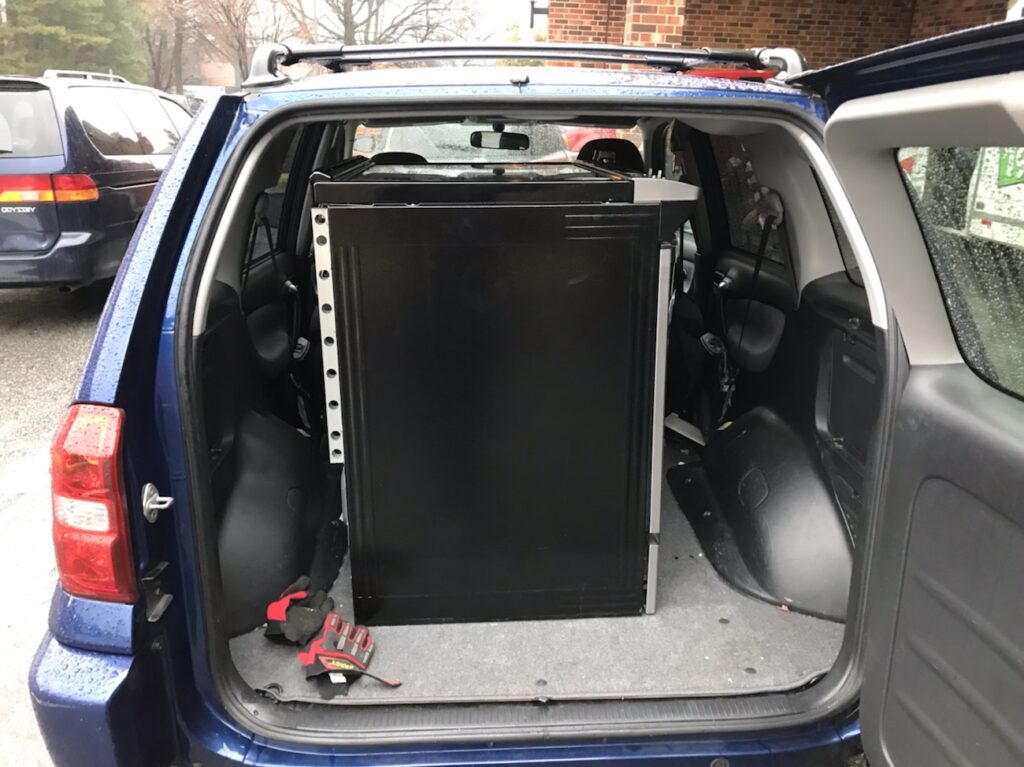 Then there is lumber. I have brought several small loads of wood home. It usually ends with wood on the dashboard to the back of the car. In this case you are severally limited to a capacity of 4-5 boards. Most of my larger projects require more than 4 pieces. Finally if you need to rent a tool or two a truck is the only practical way, unless you rent a trailer (or own one, which I don't).
---
Finding a Toyota Tacoma
Now with the background out of the way… I would frequently check Facebook Marketplace, Craigslist to see if there was anything of interest. Typically, you would find decent Toyota Tacoma's with 150-220k miles listed. Most pricing was from $14k with 110K – 125K miles on them up to $23k+ with 70K miles.
What was amazing to me, after all of this time looking and searching I would find a truck literally a 1/2 mile away from our house. How in the world does that happen? Who knows but I'm glad it did. I think I started looking right before my youngest daughter was born…. that was over 9+ years ago.
---
This Toyota Tacoma and and it's story…
The original owner was an older gentleman who enjoyed various hobbies. I unfortunately was not able to meet him as he had passed away a couple of years ago. He sounded like a nice guy I would have liked to meet. I was able to meet with his son who gave me the background on the Tacoma. It seems the apple does not fall far from the tree, as he appeared to be a down to earth person. The original owner enjoyed taking long drives down the road, one day was visiting the Toyota dealer where this truck was on the showroom floor. It was love at first sight. He had to have it and he only requested prior to purchasing, to have the optional Enki wheels and running board installed. This was to be an "Extra" car and was not going to be driven much. He would take it out a weekend or two during a month for a highway drive. Always to return to wash / wipe it down. The bed of the truck (until the other day when I put wood in it) has never had anything in it. It literally looks brand new.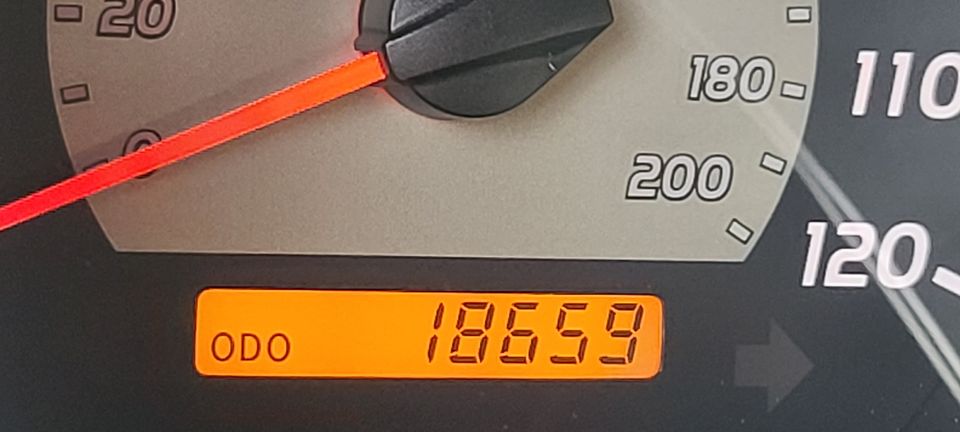 The condition of the paint is next to flawless, outside of some very minor staining on the front bumper. Iwill work to color correct the paint and then install paint protection film on the bumper. The interior? It too is almost as new as anyone could expect. When you open the door you will be greeted with the smell of a brand new car. Finally, the engine: fluids have been changed and everything kept in check. I know I will start to go through several maintenance items just to be sure everything is up to snuff… but that is my OCD taking over. For the most part it just needs to be washed, driven and washed again…
---
Walk-around of a 2005 Toyota Tacoma
Modifying my 2005 Toyota Tacoma
---
I will be modifying a couple of things on this truck in the near future. Outside of this list below, just keeping it clean and using it as all trucks should. One other thing I think is pretty funny, the girls love riding around in it. I thought it was just me but they think it is cool and like to have the back window open. Who knew?
Add a oem like rear tailgate camera.
Swap out the radio for an Alpine ILX-F409
Tint the front windows
Add some chrome pieces (to remove the black)
Keep it clean and polish where needed.
---
BTW – I got a decent deal on this truck. If you don't know the Tacoma and or Jeep scene for many years these vehicles have been heading north in value. One reason especially on the Toyota front, is due to reliability. The 4ltr V6 in this truck and the transmission is bullet proof. They last forever. If you find a low millage truck it is a unicorn. I have seen Tacoma trucks in the mid $20's with over 100K miles on them. They all get sold. In addition, the new trucks lack soul from what I understand. They have awkward transmissions and the smaller engine lacks the capability of the older motor. While I think that could be a factor, at the end of the day there is just a huge following, one that likely won't subside for some time.
Until next time!