Pagoda lights have been around for many years. We actually had some in our first house – but they did not work and looked horrible. I ripped them out and replaced with modern deck lighting. On our new house it had Pagoda lights installed on all 3 staircases – you can see an early picture here. They looked nice, but they were getting to be a pain to take apart. Many of the bolts just sheered off. Water does not mix well with the metal in these cases and the electrical components.
What type of Pagoda Lights exist?
For the most part, the cases are the same regardless of your choice. Our home uses 120 Volt lighting. This means, it is directly wired to a wall switch and each light has 120 volts similar to your ceiling lights. Low voltage units also exist that you can purchase. The "standard" low voltage units come with a control box for auto on / dusk to dawn or timed events at dusk. While they look similar, their light output is different (mostly LED bulbs). We like the warmer incandescent bulbs and stuck with the 120v units.
Replacing the Pagoda Lights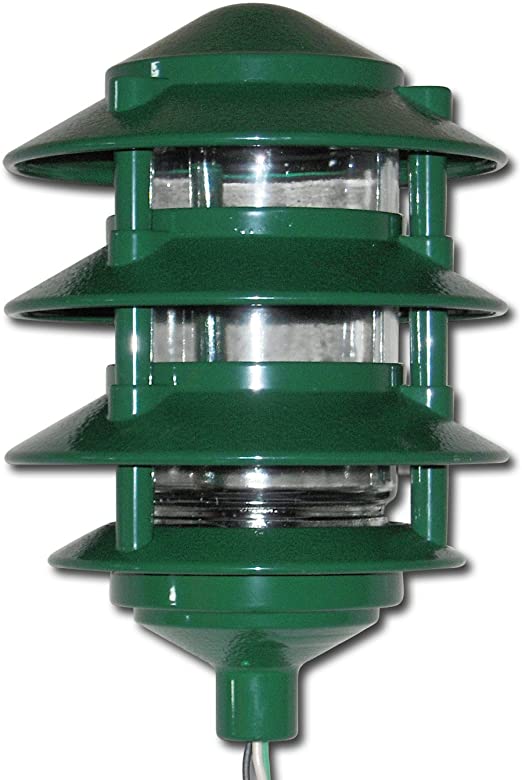 I searched and search and was not able to find replacement parts for my old lights. The Cast iron construction while strong can cause problems if you don't know beforehand. As you can see in this picture, there are 3 bolts that hold the "Pagodas" in place. You need to add a dab of petroleum jelly (Vaseline) to keep the bolts from forging to the metal case. I could not find the various parts I needed (seals, bolts and Pagoda surrounds for one light) and we decided to replace the existing 120 volt units.
Pagoda light Product Description
Available Color: Black or Green – Greenfield, PL4TBL, Weatherproof 4 Tier Path Light – Black – Made in the U. S. A. by Greenfield Industries, Freeport, N. Y.
From the Manufacturer
This Four tier cast metal Pathway light is a professional quality product. It is powder coated Black in color and is wired to your standard 110 volt circuit. It will accommodate up to a 100 watt light. It is a weatherproof light ideal for lighting pathways, gardens driveways, etc. It has a glass enclosure surrounding the bulb. Greenfield electrical products are U.S. made and have set the standard in the industry for over 40 years.
Once you get the new lights it should not take too long to do a replacement. Overall, I would say it took me about 5 minutes per light. You will need some gloves (to really grip the old lights). A cordless drill with a wire brush (or a hand held brush will do too). Long handled screw driver and twist wire connectors.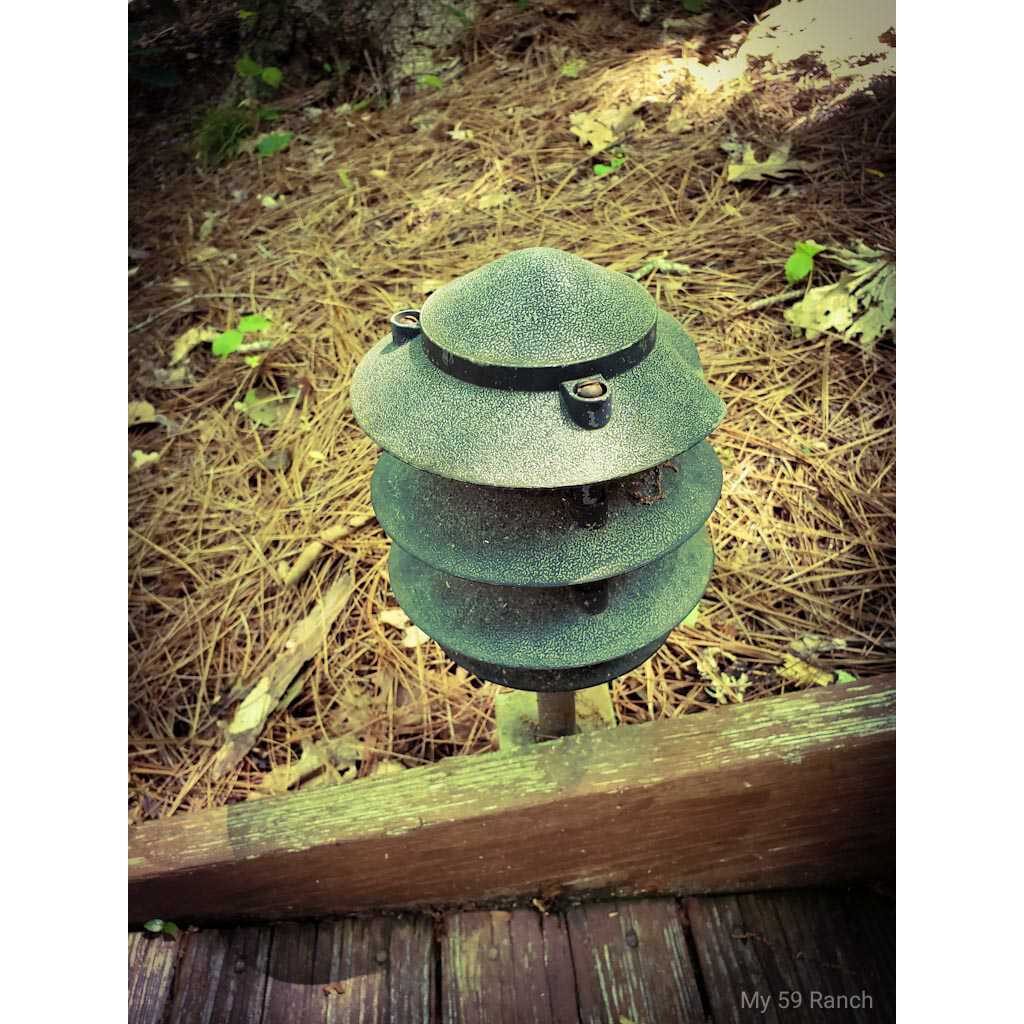 As I stated earlier, my lights were pretty much shot. The finish did not look as good as they once did.
There were broken seals at the bottom, so spiders and other debris made it's way into the glass and finally the connections for the lights were rusted. Only one light shined at 100% normal brightness.
Removal of the old units was a little bit of a struggle. They have been there for over 30 years. Twisting counter clockwise using the long flat head screwdriver, I was able to remove them from the mount and start to clean everything prior to installing the new lights.
*One note: if you do use the screw driver you can break the old glass housing. If you plan on using them, I recommend only using brute force or a pair of locking pliers to get better leverage to remove them.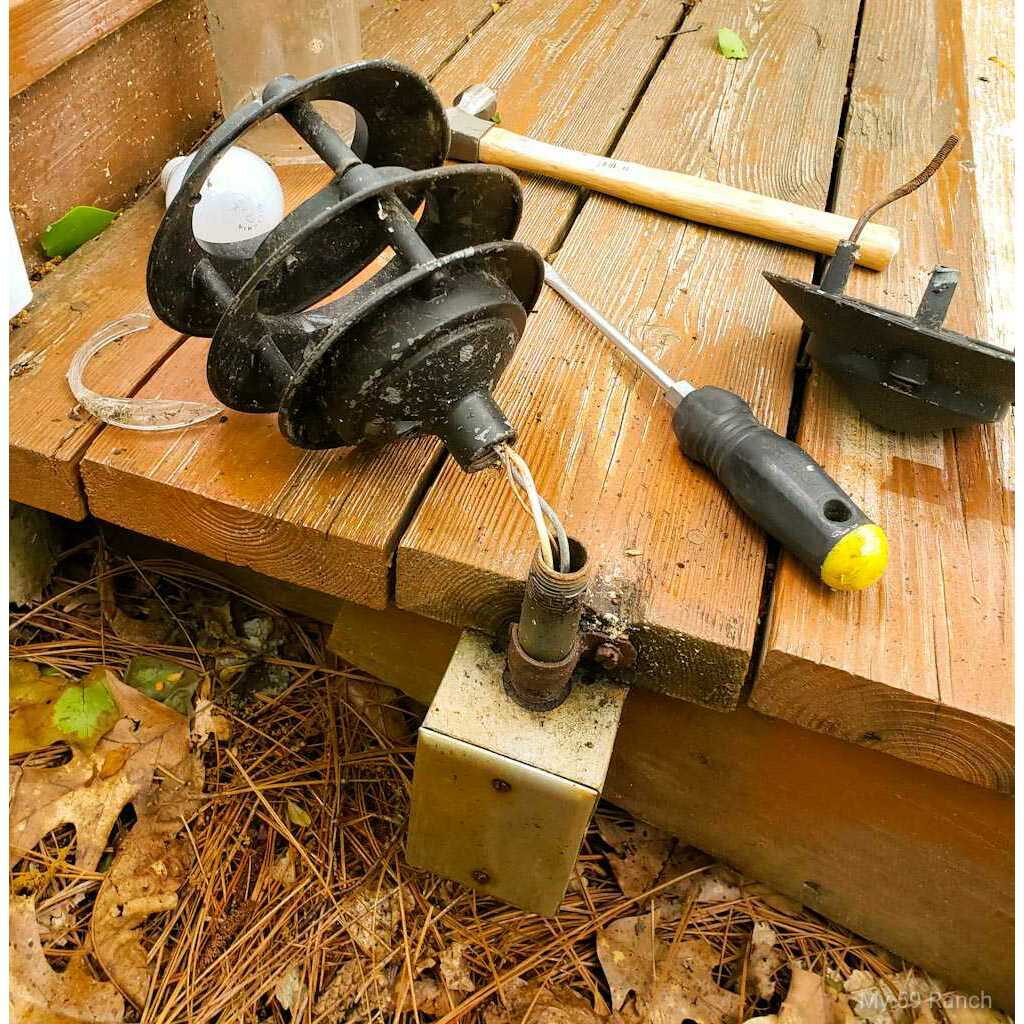 Take your drill or wire-brush to clean the "mount" for your new lights. I also used some WD-40 during this process to shine the metal slightly.Now take your new light apart. Place the new light-bulb into the socket and seal the glass top. I ended up buying 40 watt incandescent bulbs as the lower outdoor temps and also the dampness affected the old light bulbs.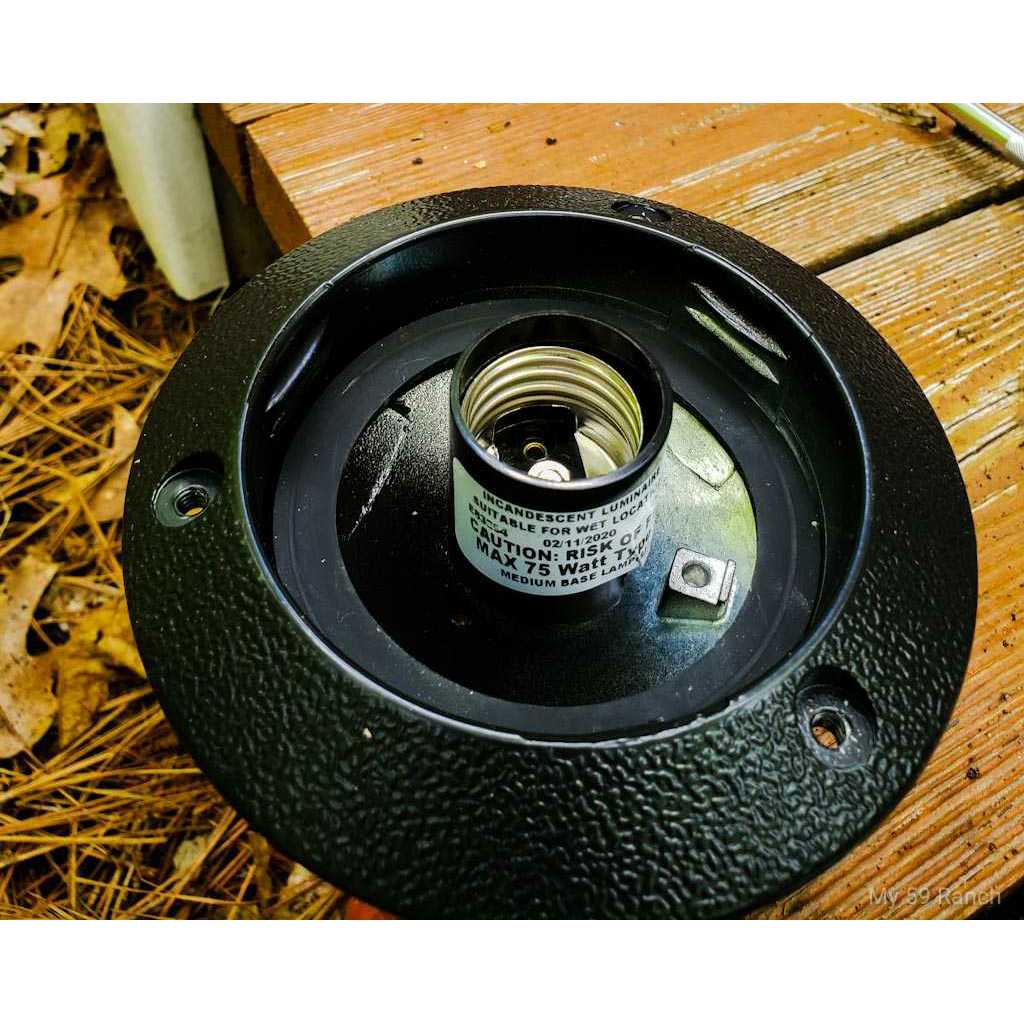 3. Take the petroleum jelly, and apply to the bolt holes and add the Pagoda surround.
One thing to note about these lights: they are very high quality fit and finish is perfect. They are ALSO made in the good old USA!
4. Now, and mount it on the metal shaft connected to the electrical box.Wire up matching (keeping notes to what you had connected before all 3 wires. White to white, black to black, and green to green or brass ground wire.
After installation test them out, kick them, hit them to make sure all is good and they will take a beating.
Here is the result of the installation of our Pagoda Lights!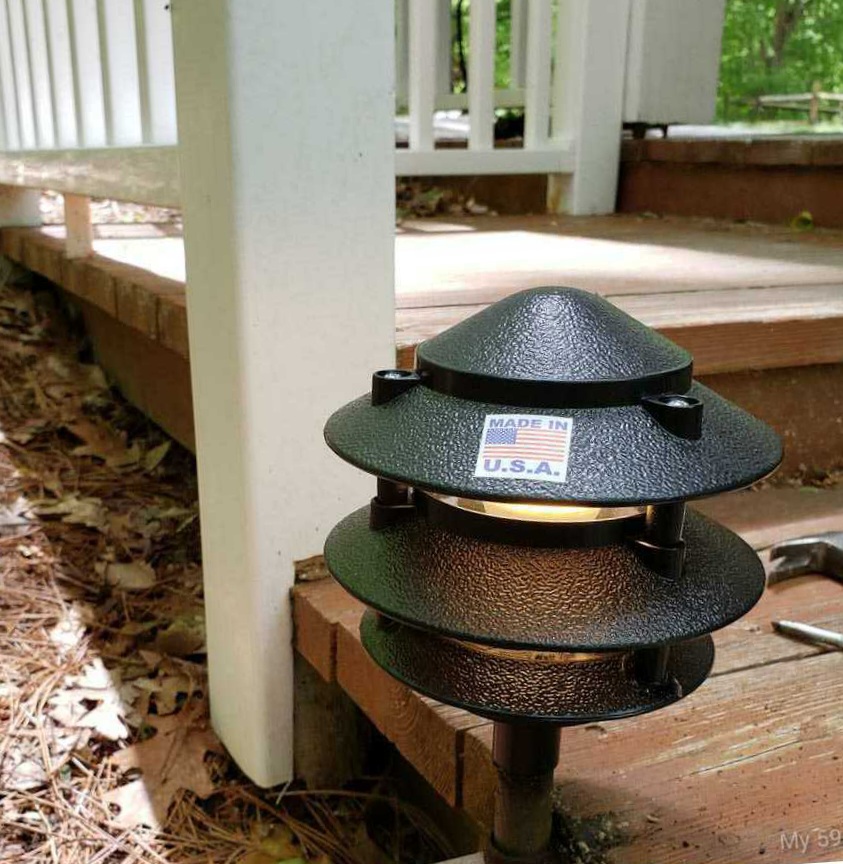 *Note: we opted for a 3 tier at the top of the staircase. It is lower and not so in your face when walking up the hill at night blinding you. I would like to say I planned it that way, but it was a miss boxed product. At the end of the day it worked out perfectly.
– 3 Tier means you have 3 blades and 2 slivers of visible glass.
– 4 Tier means you have 4 blades with 3 slivers of visible glass.
---
Project Costs:
---
3 (x1) Tier Pagoda light: $17
4 (x3) Tier Pagoda lights: $17
Various electrical connectors: $5
---
This is the final step for us, prior to sanding and staining the staircases and deck for the year… all the details are important to get together so when you are done – you can appreciate your hard work.
Until Next time!