If you know blackstone griddles you know all kinds of crazy things can be made on them including this recipe for Blackstone Beer Cheese and Baked beans.
I am part of MANY groups on Facebook (mainly focusing on Mid-Century and Mid-Century Modern topics). However, one group I follow is for recipe ideas. One of the members Tim Atchenson had grilled this recipe with a pretty funny take on it. I don't know if he ended up in jail or not.. but we are just talking about the recipe here. I store many recipes here on our blog but not all of them as I have so many I need to write up. "WHO has the time"?
Y'all…please help my wife with my bail money cause I just made this supper that is probably illegal it's so good. Sloppy Joe's on a pretzel bun with homemade beer cheese and served with a side of baked beans in peaches and Sweet Baby Rays honey chipotle. I usually don't go back for seconds but I figured if I'm going to prison…why not!!

Tim Atchenson on Blackstone FB group
Recipe Ingredient Short Cut on Amazon
*NOTE: All items are included in the link below except for Beer, Milk, Beef, Whole onion and salt/pepper.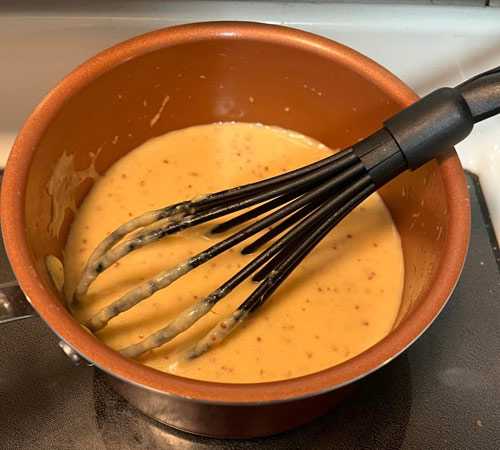 Blackstone Beer Cheese, Sloppy Joe and Baked beans Recipe
Blackstone Beer Cheese, Sloppy Joe and Baked Beans
Course: Main
Cuisine: American Southern
Difficulty: Easy
This is an amazing recipe if you like baked beans, sloppy joes to be topped off with some cheese. Not for a daily lunch but not bad when you have guests. It will make you look like you are a super chef.
Ingredients
Baked Beans

28oz Bush's Brown Sugar Hickory Beans

1/2 cup of Sweet Baby Ray's honey chipotle

15 oz Del Monte sliced peaches, drained and chopped


Beer Cheese

4 tbs butter

2 tbs flour

1 1/2 cups beer

1 cup milk

1 tsp garlic powder

1 tsp Worcestershire sauce

4 tbs stone ground mustard

2 cups shredded Cheddar Jack

1 tbs salt

Sloppy Joe

1 tbs fresh ground pepper

1 small onion

4 tbs minced garlic

2 lbs ground beef

2 tsp onion powder

2 tbs Worcestershire sauce

1 cup beer

4 tsp cornstarch

4 tsp smoked paprika
Directions
Baked Beans
Take your 28oz Bush's Brown Sugar Hickory beans, and dump them into a bowl. Add in 1/2 cup of Sweet Baby Ray's honey chipotle and 15 oz Del Monte sliced peaches that have been drained and chopped. Slide it in the oven at 375 degrees for an hour.

Beer Cheese
Grab a small sauce pan to make up your Beer Cheese. Melt butter and add flour and whisk for a minute Add beer then milk, garlic powder, Worcestershire sauce, and mustard. Bring to a simmer Remove from heat and add cheese while whisking Salt and pepper to taste

Sloppy Joe
Gather All of your ingredients and start to build on a tray to take to the Blackstone Griddle Sauté onion and garlic Add beef, brown and crumble Add onion powder and Worcestershire sauce Mix beer, cornstarch and paprika and pour into meat. Cook 3 minutes until thickened.

Fried Buns
Place the sandwich buns on the griddle after brushing on a light coat of butter. Let them get a little crispy on each side and prepare to eat!
Notes
This is a great recipe for guests of friends and family alike. You won't hear too many complaints from the crowd as their mouths will be busy chowing down!
Review of Blackstone Beer Cheese Sloppy Joe's and baked beans.
Listen, if you have the time to go out to eat you could make this meal at home. With your family and no tip needed (unless they want to tip the chef). We hope you enjoyed this recipe and thanks to Tim and the Facebook group for the tip. Don't forget the quick shopping list: All items are included in the link below except for Beer, Milk, Beef, Whole onion and salt/pepper. QUICK Shopping List
Until Next time!