Did you know that Ultraviolet lights can kill all various bacteria, mold/mildew and even the dreaded COVID-19? What is the quality of air in your home? We used to live in very open spaces (historically) and in leaky homes that would get fresh air by cracks in the wall. Modern home design and improvements focused on increased energy efficiency. While that helps our energy bill it does not help the quality and cleanliness of the air we breathe indoors. Many modern houses are air tight.
Feedback

What other things are you doing to help stop the spread of COVID-19? Leave your feedback below.
Have you ever looked in one of your air ducts? It is not pretty in there, dusty and dirty. In some cases you might see mold from the moisture passing during the summer. Your vents may also show mold growth as well. Do you change your filters often or have your air ducts and coils cleaned? The more dust that settles on the AC coil, the more it could start freezing up as condensation is created during normal operation. This same condensation carries the dust to the condensation drain pan. Over time, it will get clogged and start to grow mold / mildew and other unsightly things. Keep in mind that this can also happen regardless of how diligent you are. My old house drained like you would not believe – but it was never efficient enough to carry off all the water and still it built up plenty of contaminants.
---
Setup Reminders to Change Air Filters for FREE
If you are like me, changing the air filter is one of the last things you think about. We all need reminders to change them properly.

Thankfully 3M has a really cool website dedicated for this purpose.
Your Options for Alerts are:
1. Filtrete™ Smart Air Filter & Phone App
2. Filtrete™ Smart App Change Reminder
3. Filtrete™ 365 Email Program

3M will then send you a friendly notification to remind you it is time.
Click here to get more information about reminders!
As we go through the COVID-19 outbreak I have been on the hunt to find an affordable solution for our main Furnace and AC unit in our home. We are home all the time and it was one of the projects I wanted to do anyway. I read a couple of articles discussing UV lights for phones and other uses and this one stood out from Consumer Lab, that they believe COVID-19 can be killed with a UV light.
(COVID-19) Question:
Do UV light sanitizing wands and boxes kill coronavirus (COVID-19)?
Reviewed and edited by Tod Cooperman, M.D.
Answer:
Yes, ultraviolet light in the "C" range, also known as UVC, has been shown to kill SARS-CoV-2, the virus that causes COVID-19. The big challenge with using UV-C light is being sure your UV lamp provides a large enough dose of UVC light to all the surfaces you need to disinfect, such as a mask, phone, or an entire room, and that you are not exposed to the UVC light, as it is dangerous.

Did you know Ultraviolet Lights
are being tested in hospitals?
The science seems pretty solid and if true, it can kill COVID-19. This is great news! Our objective is to address foul smells and clean what is in our furnace. The unit sits in a dark, semi-damp basement. I inspected the interior of the unit and it is surprisingly clean. However, in a moisture rich environment, if you add the AC Condensation during the summer then you have a breeding ground for mold and bacteria. Those contaminants get pushed into all of the duct work plus the air you breathe. In an earlier article here about UV lights: I had the story about how my oldest daughter Megan and I suffered for many years from head colds in our old house. This is why I am so gung-ho on UV lights for everyday purposes vs. just to deal with this virus COVID-19.
My hypothesis of what we experienced:

It is about the body's state of readiness. If you have allergies and your immune system is always fighting something, you are never able to actually "rest". The more your body can rest, the better your immune system can respond to smaller stuff that we all run across daily. Think about your body buzzing all of the time. Not "ready" but constant hyper responding to things. That is what it feels like to have allergies. Turning down the volume so to speak, letting your body not be hit every minute of every day can put you at ease. So, if God forbid you come across COVID-19 and you're in a healthy restful state, then your body can respond more easily.
Benefits of Ultraviolet light Cleaning your Air Ducts
ANY – new or old AC systems that run constantly (like here in the south) with condensation water running off the coils all the time. ALL SYSTEMS CAN BENEFIT.
It helps to support growing and fragile immune systems. (Children/Seniors)
Cleans and sanitizes air by killing Bacteria, Viruses, Allergens and Mold.
Fresher smelling air – especially after a couple of months. Bio-Shield uses germicidal lamps developed by Phillips to provide healthy and clean air.
Guards your family 24/7/365 for less than operating a 25 Watt light bulb.
The UV-C rays also keep and eventually removes the bio-film collecting on the air conditioning coils and other a/c parts; greatly increasing the efficiency of the A/C unit.
Ultraviolet Light BIO-Shield Installation Guide
Bio-Shield kills the air contaminants that can cause colds, flu, sinus infections, allergies, asthma and other serious illnesses.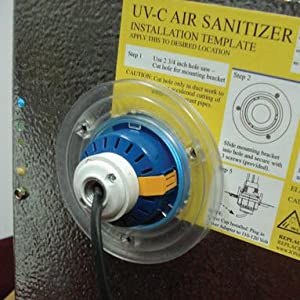 Installation steps of our Ultraviolet COVID-19 Killer
Total Install Time 30 minutes
Select a mounting location

Ensure you are mounting the light directly above or below the coil. Some duct work has a simple way to pull off a panel to inspect the coil. This can make it easier to see where you want to mount the light. Keep this in mind: 1. You will periodically need to change the bulb (2years). 2. Knowing you will need to plug it into a wall outlet could also help you make a decision on where to mount.

Drill hole

Drill hole in duct with 2 7/8" hole saw (Included). It will take literally about 45 seconds. Then you are ready to install the mount.

Inspect and test fit

With the hole done, do a simple test fit. Assemble the UV light bulb to the base and ensure it will fit in the hole. There is also an included metal bracket which I used for additional stability. I used the 3 included screws for the plastic base.

Wrap the area for a air tight seal

Use some duct tape to create a smooth surface to mount everything on. When finished installation, I recommend to follow up with adding tape to any exposed areas to ensure an air tight result. Secure the light in the plastic mount and plug it in. You are ready to enjoy cleaner air in your home.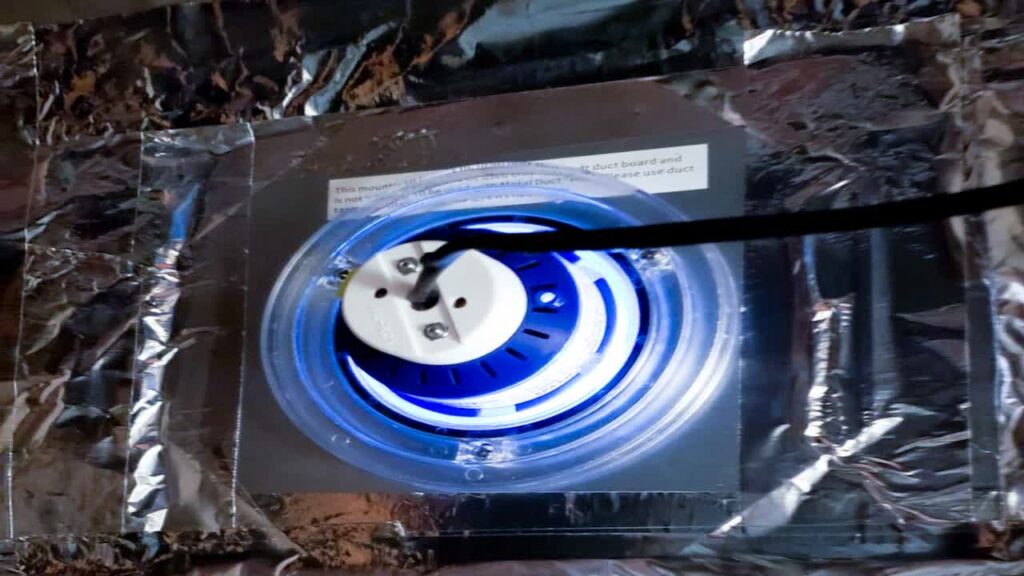 On a scale of 1-10 of difficulty to install this would be a 2. As long as you have a drill, and can make a decent assessment of where the coil is in your HVAC unit, I say go for it! If not, and you don't feel comfortable, have a skilled technician do the install for peace of mind.
Ultraviolet Lights @ Amazon and Walmart
Until next time!