Chicken kabobs on Blackstone Griddle is great in concept but I don't think it can beat a gas or charcoal grill. A friend of mine over at Crafted Cook has been posting recipes of him cooking on the Blackstone Griddle. Check his site out if you have a chance. As I started to prep for this meal this question popped up in my head.
Why would you use a Griddle vs. a Grill for chicken kabobs?
You may only have a Blackstone Griddle.
You don't like flame broiled chicken or vegetables?
It is easier to cook skewers on a griddle. If an item comes off the skewer it won't fall into the grill!
You can cook everything hibachi style without the skewers.
There could be several reasons "why". I was thinking it could be that you don't have the ability to get the charring affect that you get from a open flame? However, I know that you can "slightly" char food without burning them on a griddle. I will talk to my buddy over at Crafted Cook, if they have been cooking anything on the griddle like this. This is an easy enough question and follow up I will come back here to discuss.
In my mind, there is nothing like cooking on the open flame. Just like this picture below… Keep the heat and flame UP to get a nice finish!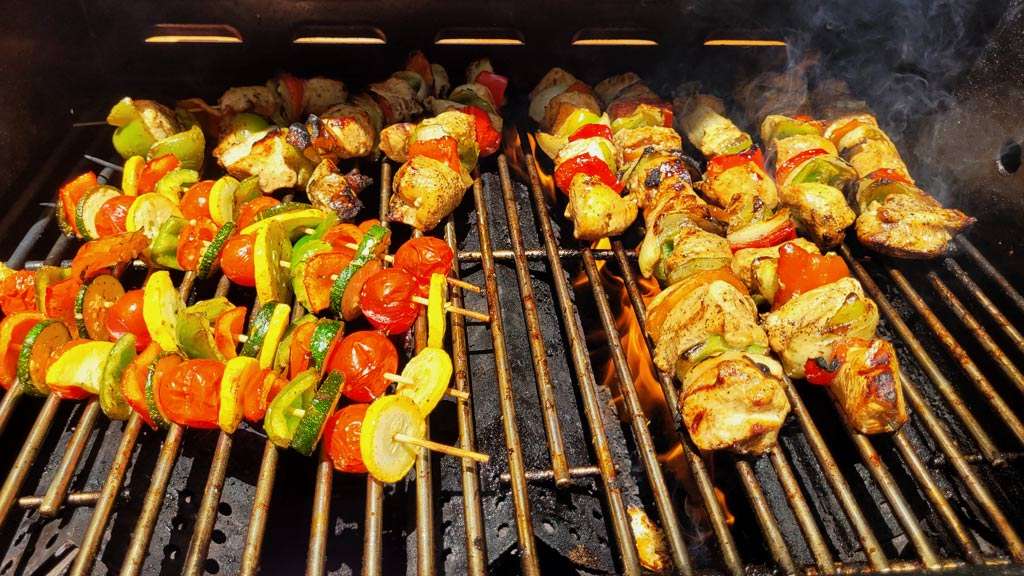 Keep the Flame UP for this Process!
---
Chicken Kabobs On Blackstone Griddle Vs. Gas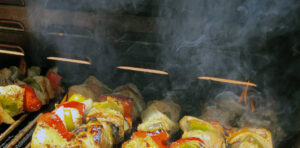 A simple yet filling meal that will leave your family with a smile on their face. Check out the video from another You-tuber that has his version of this recipe.
Keywords: Grilling, Blackstone
Recipe Yield: 5-8 People
Preparation Time: 30M
Cooking Time: 25M
Recipe Video Name: Chicken Kabobs on Blackstone Griddle
Recipe Video Description: YouTube description for Video: Prior to making the kabobs we soaked the skewers in water for about an hour in order to keep them from burning once they were placed on to the Griddle. We then started to build the Kabobs on the skewers trying to make them personalized for those that were eating. After heating up the Blackstone Griddle I placed some canola oil down and then started to place the kabobs on the Griddle. The key to this was to keep turning them so that none of the meat or vegetables burned on any of the sides. Once the meat was starting to look cooked I checked all the pieces with my meat thermometer. If some weren't close to done I would move them to the center part of the Griddle where the hot zone is at. After reaching the correct temperature of 165 and above the Chicken Kabobs were removed from the Griddle and plated up.
Recipe Video Thumbnail: https://www.my59ranch.com/wp-content/uploads/2022/06/Chicken-on-grill-wit-flame.jpg
Recipe Ingredients:
2lbs. Chicken strips or breasts
1 whole Green Pepper
2 Whole Red Pepper
1 Whole White Onion
1 Large Zucchini
2lb Whole Cherry Tomatos
Olive Oil / Lemmon Juice / Soy Sauce
Salt & Pepper
Pam Spray (for grill)
---
Chicken kabobs Recipe
Cook Time 25 minutes
Clean and Chop your Vegetables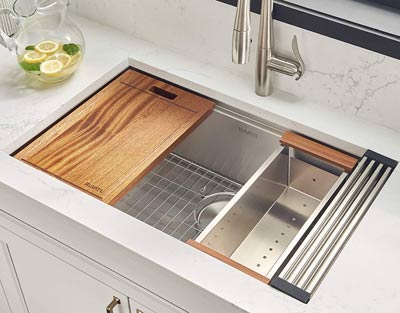 Take all of your vegetables and clean them in a strainer in the sink. We love our workstation sink by Ruvati, it comes with its own strainer that makes washing vegetables, draining pasta etc. EASY. Dry your vegetables or let sit in the sink until dry. Start to cut them up in chunks 1 inch by 1 inch.
Cut up Chicken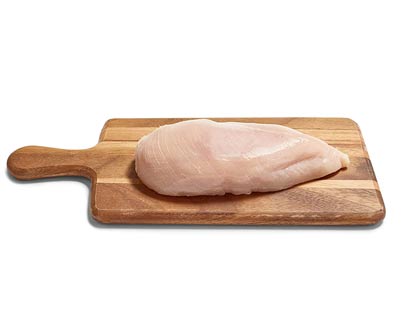 Take your thawed chicken and use a pair of cooking shears, something dedicated for this type of job works best (check out this cost effective pair). Go for 1-2 inch chunks depending on how many pieces of chicken you have. One thing that amazes me, when doing kabobs we always end up with leftovers. Somehow you can extend 2 decent sized pieces of chicken and they go along way. No-one ever feels like they did not get enough.
Skewer and Grill Prep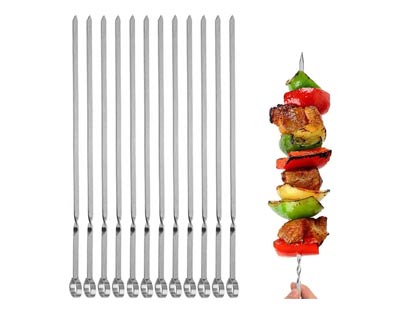 Grab your trusty skewers for the grill, and start to throw on your ingredients. We like to start with a piece of chicken, then add 2 pieces of vegetables. so a 2 to 1 ratio. Lay on a flat try and start to drizzle the chicken with a mixture of 3 tablespoons extra-virgin olive oil, 2 tablespoons freshly squeezed lemon juice and 3 tablespoons of soy sauce. Then salt and pepper to liking. I don't like to put a measurement on both salt and pepper as people have their own tastes. However, I sprinkle enough salt and pepper on the skewers that I can easily see both salt and pepper on the skewers. An alternate method I use sometimes is to throw it all in a zip lock bag and let sit over night in the refrigerator.
Grill Prep and Cooking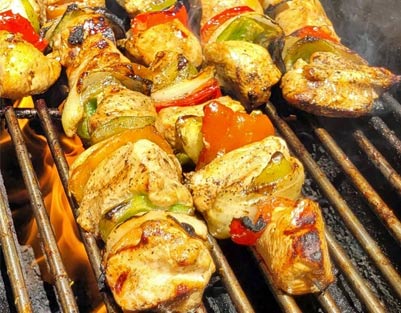 Turn on the grill and spray down and clean the grill with pam. This is an easy way to also prep a griddle that is already seasoned. I also use a wet paper towel to clean the grill once the grill is up to heat. Place your skewers on the grill and cook until you start to see the vegetables and chicken start to char slightly. This will take 20-25 minutes on medium high heat. End result is the chicken should reach a minimum of 180 degrees. Also note, depending on your grill it might cook faster. If you chicken starts to appear dry, use a knife and check to see if the chicken is done. You don't want to over cook.
Ready to eat? That is all there is for this recipe it is straight forward and easy to do. you can prep a day or 3 before hand too. Just throw them in the fridge but not too long (keep the expiration date of your chicken in mind). All in all a great and really simple meal.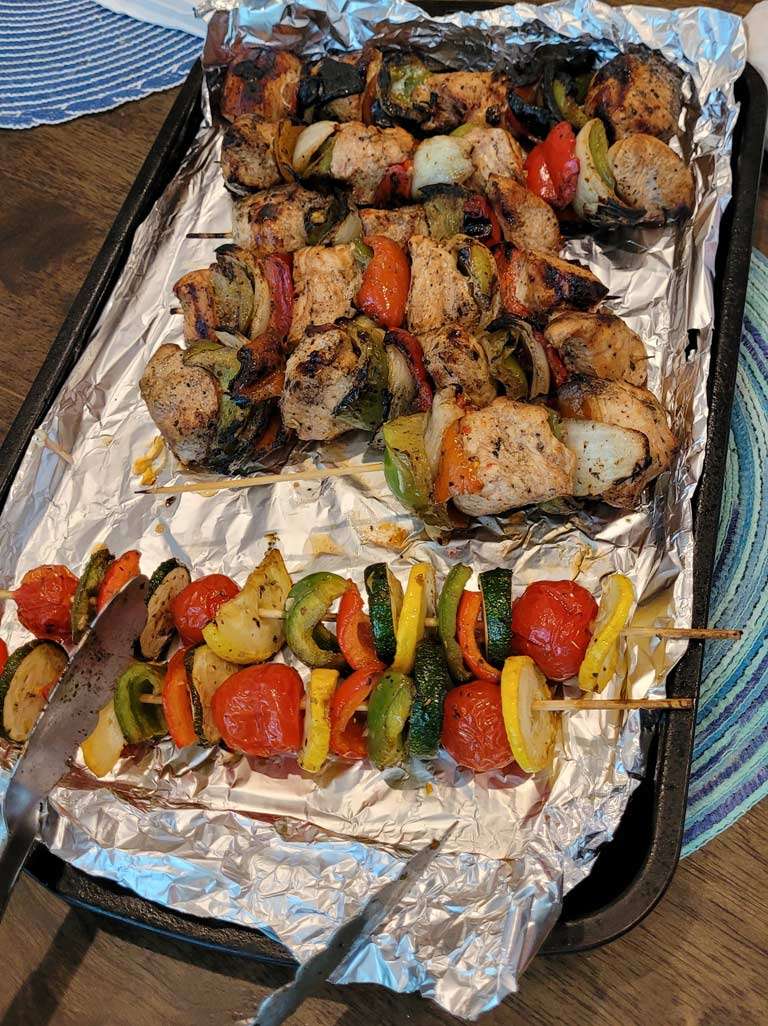 Final Product – are you hungry yet?
We hope you enjoyed this simple recipe for chicken kabobs. Chicken kabobs on Blackstone Griddle or on a Gas or Charcoal grill? I think it all depends on two factors. What equipment do you have? What is your flavor of choice? Over a flame or fried on a griddle? Either way I am sure this will bring a smile to your face. If you like Chicken we also made something similar to this recipe and of course we are working on other recipes for the blog… so more to come.
Thank you for stopping by!
Until next time!