Split Pea Soup is a warm and welcoming dish that I enjoyed as a child. I was talking with my mom and she did not remember making it (but I think she did at some point). We talked about how it may have been my Grandmother Marge, (her mom) that made it for us. Whomever it was, I enjoyed this somewhat different type of meal. While technically it is called a soup, it is thicker than regular soup almost like a chili. Either way this recipe might be similar to what your mama used to make. We hope you enjoy but the flavor is not for everyone.
A simple recipe but it does takes a little time to cook. So grab that leftover ham and let's get down to business.
---
Re-Introduced to Split Pea Soup with a Twist while in Sweden
Working for Volvo Trucks has given me opportunities that I never thought I would have in life. I have literally traveled around the globe to far off lands and to some destinations I would have never considered as a destination. One of the common cities I go to is Gothenburg Sweden. This is the home of Volvo Cars, Trucks and many other Volvo Group brands. (FYI- Volvo is not associated with the brand Volvo Car as it is owned by a Chinese company). They do pay a nice royalty to Volvo Group and we share the brand look.
If it is fall through spring, I look forward to Thursday's (a tradition dating back centuries) for Split Pea Soup and Pancakes. The pancakes are more crepe's vs. the American style pancakes. We use regular pancakes in our house – no need to get so snooty with pancakes. The pancakes are typically matched with strawberry preserves and whipped topping.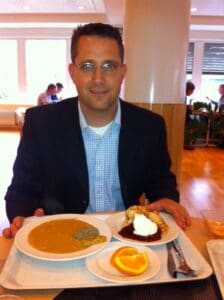 Chunky Split Peas Soup Recipe
Chunky Split-pea Soup Recipe for Crock pot
Total Time to Cook: 7 hours and 5 minutes
Prepping the Ham Bone

Take your Ham or Ham Bone and place it in your Crock Pot. It can be frozen if left over from another meal (no need to thaw it). Set the timer for 2 hours to start to loosen up the ham for the next step in the process.

Add Chicken Broth

If you have it in your pantry – a real time saver is to use Chicken Broth or "Cooking Stock". Add 32 oz. to the crock pot and then add an additional 2 cups of water

Turn on Crock Pot (High for 2 hours)

Depending on your Crock Pot – you may have a simple two hour setting or "high". Crank it up and wait for two hours.

Chop up the Ham

After 2 hours, remove all of the Ham from the pot and set to the side / dry. Take a knife and remove the ham from the bone if still attached and chop up in chunks. It is up to you, but I like to remove the pieces of fat and gristle. I like to have high quality ham in my soup. Then place the ham back into the crock pot.

Chop up 1 whole yellow Onion

Dice the onion to the appropriate size, in this recipe I like to keep it a little larger than say what you would do for Spaghetti. Something a fork could dig into. Throw it into the pot.

Chop up about 5 sticks of celery

Grab 5 fairly large celery sticks, chop them up and throw them in the pot.

Chop up 6 oz of Carrots

Chop the carrots in small slices (I am using baby carrots for this too so we are starting small). Throw them in the pot.

Add 2 tablespoons of Garlic

If you have available (as a time saver and a flavor booster) grab Spice Worlds "Squeeze Garlic". Drop in 2 tablespoons to the mix.

Add 1/2 – 1 tablespoon of Black Pepper

Dump in 1/2 or 1 tablespoon(s) of black pepper, can be from a simple can or freshly ground if you have it. My girls like it a little on the mild side, so perhaps start with 1/2 and let everyone else add to their desire when eating.

Add a 14-16 Oz bag of Split Pea

Take your dry bag of Split Peas and pour them into the mix. Then Add 2 cups of water.

Set And Forget

Set the Timer for 6 hours (low) and walk away… That is it. Up next get ready to make some pancakes.
---
Serving Split Pea Soup and Pancakes
Pancakes are pretty straight forward but make sure you have the following on hand. Strawberry preserves, Whipped topping and also Lemon juice. I always mix in a couple of tablespoons of lemon juice in my pancake mix (from scratch or box). It adds a little zest (literally) to the flavor of the pancakes. Once you have your pancakes made, add a dab of your favorite Strawberry preserves and whipped topping.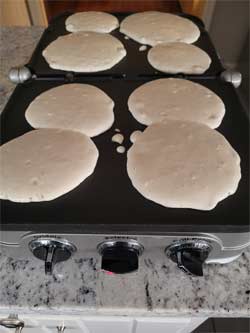 For the Soup, you can add spicy brown mustard or also Grey Poupon Dijon Mustard (really your choice of mustard) on the side to dip the spoon into. I have not had Grey Poupon Dijon Mustard in some time so I tried it out. For me, I will go back with Guldens, Spicy Brown Mustard as my preference.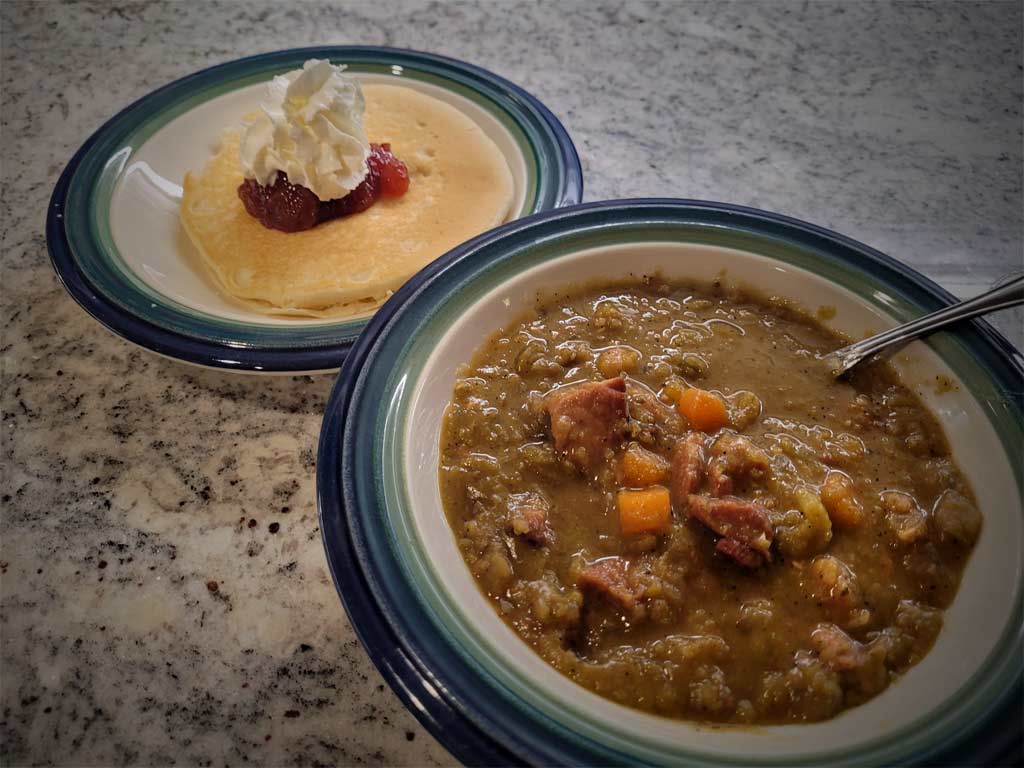 Split Pea Soup and Pancakes
Thanks for stopping by and we hope you enjoy and any of our recipes from our home to yours.
Until Next time!