In this follow up post about refurbishing our deck railing, I have finished sanding all of the deck railing and started working on filling and staining. Overall, we are really happy with how this is turning out. I am adding a needed step for the floor boards and steps to brighten the wood. With foot traffic comes extra dirt and it will be needed. So I am soaking and brushing and pressure washing (very light pressure as you don't want to penetrate the surface) floor boards. I will cover this in the final Deck post on what was done.
Final Sanding of the Deck Railing
After a couple of days with rain on and off again, the railing dried out enough to mix up the wood putty and fill in cracks wherever I could. I also added to area's that had more damaged wood to see how long it will last. Mainly in the corner joints. It will look much nicer and "finished" with a smooth surface vs. jagged edges between the boards. An experiment but the people at Lowes seem to think it will be fine. Time will only tell.
Pro Tip: to color match the putty, replace some of the needed water with stain. This should make it almost unnoticeable.
Final Product Using
I ended up using two coats of the THOMPSON'S WATERSEAL TH.041851-16 Transparent Waterproofing Stain, Woodland Cedar. The stain says you can use only one coat, but due to the amount of rain we get (PSA – I hear in the past year we are equal to or above the annual rainfall of Seattle) I wanted to ensure the maximum amount of protection.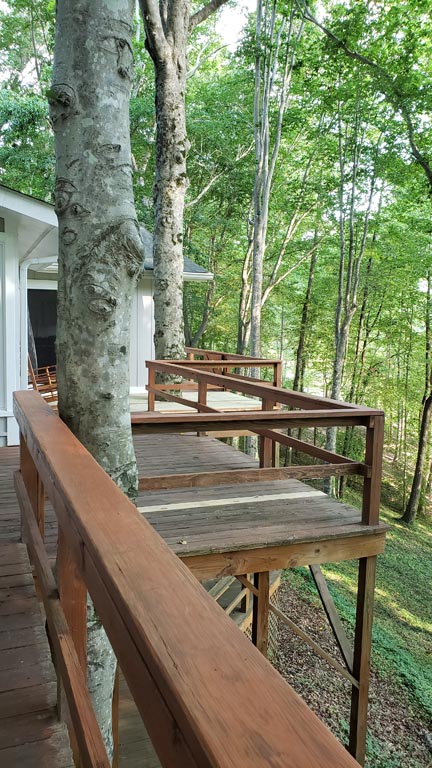 Once we were done, we took off to the mountains and went on a hike to Waterfalls in a local North Carolina park called Hanging Rock. It is a really relaxing place and was good to get out and about with people.
Project Costs
Belts (Home Depot) – 5 belts for $10
Belt sander: $100
Stain: THOMPSONS WATERSEAL TH.041851-16 for $34 a Gallon
Until next time!