Have you ever tried a lettuce wrapped chicken sandwich? This maybe one of the best grilled chicken recipes that can be made in no-time. If you try KETO, more than likely you have. Trying to cut carbs at every corner is not easy, but meals like this make it a pleasure vs. a pain point that so many fellow KETO eaters suffer from. Why not indulge on something that is simple and very low in carbs.
This Sunday, for our lunch we had one of what I will call "Nana's Special". Nothing too complicated this week, but full of flavor. In this recipe it is essential to make sure to slightly char the vegetables. This adds to the unique flavor to the dish.
Sundays at our house, we get together with my family and Nana to enjoy many meals. While we don't always capture what is cooking for the week, our goal is to record some of these as time passes. A great way to record memories but also to come back to relive them by making this or another dish down the road.
Grilled Lettuce Wrapped Chicken and Vegetables
Grilled Lettuce Wrapped Chicken and Vegetables
Low Carb for KETO, or other diets that typically include vegetables and low carb. Simple to make with little prep time, grilling these ingredients on the grill and then wrapping in fresh CRISP lettuce
Ingredients
1lb. of boneless Chicken Breasts

1/2lb. of Artichokes (hearts0

Package of Romain Lettuce

Green Zucchini (3)

1/2 cup of sun-dried tomatoes

Olives (can be stuffed)

Olive Oil

Salt & Pepper

1 Tsp of Italian Seasoning

White balsamic vinegar

Optional: Italian dressing
Directions
Take your 1lb. of Chicken breasts and place them into a plastic bag. Try to do this the day before as you want the chicken to absorb the spices. IF you are in a hurry, drop in about 1-2 cups of Italian dressing. Mix around to cover all the chicken. If you want something a little more special you can use 1/4 cup of White Balsamic Vinegar, 1Ts of Italian Seasoning, 1 Tbsp of Olive oil, 1 tsp of pepper and 1 tsp of salt. Zip up the plastic bag and place in the refrigerator overnight.
Take multiple or a large zucchini and chop up in long strips. You don't need to be too concerned with the size as we will chop up in chunks later.
Clean and grab roughly 12 artichoke hearts.
Grab 1 1/2 or slightly more olives. They can be stuffed or pitted. Take a trusty pair of cooking shears (similar to these) and cut in half.
With a small mixing bowl add in the following: 1/4 cup of White Balsamic Vinegar, 1 1/2 tsp of Italian Seasoning, a heap or 1 tsp of salt and pepper. Mix well. In a large zip lock bag, add all the vegetables into the bag and pour in the dressing. Seal the bag and shake.
Let it sit UP TO 24 hours.
If you don't have a grilling basket, make sure to pick up a stainless steel unit as it is the best choice. We have one that has Teflon too and it works fine, however stainless steal is really the best alternative to use to not have the results of Teflon on your food. Use PAM or another non-stick spray. Turn the grill on medium high to warm up the grill, then back down slightly when you add the vegetables. Stir the vegetables multiple times until you start to see them get grill marks and darken. It took about 10 minutes on each side to cook.
Take the Chicken out of the bag and place directly on the grill. Cook roughly 9 minutes on each side until slightly charred.
*Note: IF you have a searing burner like what is on our Kitchen Aid Grill – you can also let each piece finish up on the searing burner to add additional flavor. Slightly charring the outside.
Take a medium sized bowl and chop the vegetables and chicken with your shears into cubes. Small enough to eat and bite into, on their own. Add in the olives and the 1/2 cup of sun-dried tomatoes and lightly stir everything together.
Take the butter lettuce (2-3 pieces) and make a shell to hold the mixture. Don't overfill, you can come back for more or make another wrap. Just remember don't over season grilled chicken – let the grill bring out the flavor! ENJOY!
A simple meal that literally anyone could / can do. However, it tastes like what a skilled chef would make.
WE hope you enjoy this meal or one of our other recipes at your house. Let us know if you try it and tell us how it turned out!? Nana wants to know too!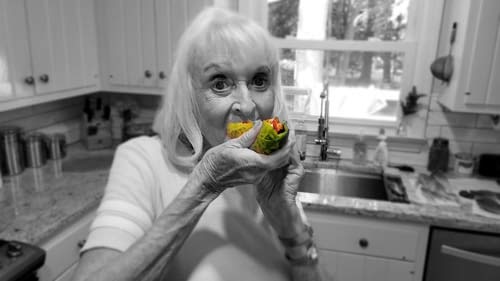 Until Next Time!