On our journey to restoring our home, we started to look for various pieces of furniture like this Mid-Century Dresser. Some could say this is a Mid-Century Modern design too… We try to find items that would be of interest to us and our readers. In continuing this series that started with a Mid-Century Electric Credenza Bar by Alfons Doerr KG we bring you a Mid-Century dresser that needs some love from Facebook Marketplace.
---
As you can imagine, there are always those fully restored pieces that look amazing. They also come with price tags typically in the thousands of dollars. However, almost all of them (unless they were in a museum or a house that had little to no guests) needed some work. What does a piece look like that needs restoration? What could be that new centerpiece to one of your rooms? It could start with something like this Mid-Century dresser set.
According to the seller it was just pulled out of storage with no time to address it's flaws. While I may not like the color you can sit back and see the potential. The design of the drawers with the pull handles has a real opportunity with the right paint or stain (or both) to look amazing. It would be some work, but there is usually a big payoff too. Especially when you can say, "I did this".
From the listing:
Solid wood set that could use another set of paint. The back of the furniture seems to be a cardboard/particle board mixture I just took it out of the storage unit. I just don't have the time to repaint it

Facebook Marketplace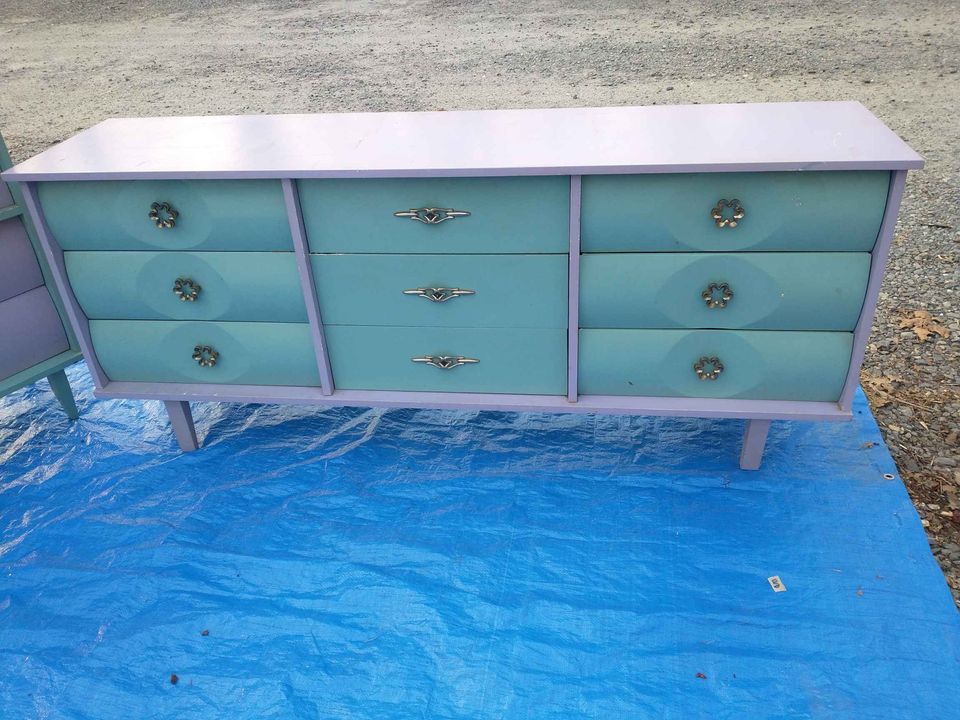 While you can't tell from the pictures, if this is a high quality wood (you need to see that in person) it presents well. With the price point at $125 I don't know if you have anything to lose. However some indicators show it is "design" vs. authentic. The seller does not state it is authentic but notes it has cardboard or particle board on the back. Something that would not be typical of that era. The drawer bottom also looks like it could be fake (almost like it was printed). I have seen many items in pictures that look real but you have to see them in person to be sure.
Is this a real era correct unit? Sometimes only seeing the item in person can you make that call. In our case this could be fine for one of the girls bedrooms, that is as long as the quality is good enough to last. At the end of the day while we would shoot for authentic furniture.
---
Is it a Real Mid-Century (Modern) piece?
These couple of tips can and will save you time before driving out to a place to buy something that ended up being a 1980 or 1990's retro furniture.
Ask the seller:
Many times they are trying to get it out the door and will tell you. They have owned it for 50 years or Grandma did. I have found this many times the case.
Ask for more pictures:
If it is some distance away, they will send you additional pictures. Look for signs of cardboard, fake wood drawers that are stapled together vs. "Dovetail". newer furniture typically does not have the age old construction methods due to the type of material they use. It is not possible to Dovetail the cheaper materials. Only glue and staples. – Learn more about this building process.
Price seem too cheap?
It can happen that you run across a really good deal – however if the price tag is too low many times it is not a real period correct piece.
Ugly factor:
sometimes either from paint or abuse there are some ugly ducklings that actually could end up being amazing. If you see something that looks totally disgusting – try to get past that initial impression. This can be signs of an old piece of furniture that with the right amount of clean up, paint and stain can be amazing.
---
This post is one of many that we will focus on authentic time period correct items from the 50's, 60's and early 70's. We also need your help. If you see an item on Craigslist, Facebook Marketplace or Ebay – let us know. We will showcase your name (only if you like) to give you credit for the find. Who knows how this will evolve but we are excited to capture and share with you great items.
Until the next find or project!