Did you know that your electric company may offer a home energy assessment for free that could help save you Thousands of Dollars? I have gotten notices from Duke Energy for some time asking me if I would like a home Energy Assessment. They either deployed some type of AI (artificial intelligence) or black magic trying to convince me to get my FREE audit. It was in my monthly paper statement, email and I am 90% sure a phone call or two. This has been part of the campaign you may have seen in your mail. You know the one, the usage guide that always portrays how your neighbors are better than you. Almost like "Energy" shaming, in the hopes you will sit in the dark and be cold. Your neighbors have the energy "efficient" home (that I am 99% sure does not exist) 10x's more efficient than you, cooler house, better cars and more attractive than you. These evil marketing people… one day I tell you! Well, I was fed-up and done with this marking scam and I finally broke down and took them up on the offer. I would show them!

I called the 800 number and setup an in person home energy audit in December when I would be off of work… Of course, during the COVID19 pandemic it was not so easy to get them to come out. They had to cancel the session and I did not have an opportunity to re-schedule. I took this as the AI engine or whatever wizardry they deployed discovered what was up my sleeve… Once we got into February, they must have forgotten and I set an appointment for mid April (hands rubbing together).

There was not much I needed to do, except wait for the appointment time. I was however, curious of how would they actually help me save money? After all, we already made several energy efficient upgrades. For example: we installed high efficiency windows with hurricane proof low E-glass. Added missing insulation in our basement crawlspace. We changed out several doors that let in not only cold wind during the winter but heat in the summer. So who knows, but their pitch below, sounded pretty good. Who wouldn't want something valued at $180 for free?
What to Expect on the Day of the Home Energy Assessment
Our appointment was right after lunch and the guy from Duke Energy showed up on time. I greeted him and asked him to come inside. We started to go over the various tasks he would perform and had me sign an electronic agreement on his Apple I-Pad. Here is what he went over and would cover during the inspection:
Inspecting Windows and Doors
Checking outlets (specifically exterior wall) for insulation or cold drafts
Insulation in the attic and lower accessible areas
Looking for duct work issues / problems
Condition of main appliances from HVAC, water heaters, kitchen appliances
Hot water pipes
Review of lighting (high efficiency bulbs)
Smart Thermostats
Electrical Panels – general inspection looking for obvious issues
Unfortunately it was not cold or hot enough to use the thermal camera. You need at minimum, a separation of 20+ degrees between inside and outside temperatures for the camera to work effectively. That would have been valuable to show where hot (and cold) air was escaping the house. While I feel pretty confident we have made major leaps toward a more efficient home, I will get our house surveyed in the future.
He started going from room to room, into the attic, basement, crawl space and exterior. Overall he spent about 45 minutes to an hour and shared some notes.
Initial Home Energy Assessment Review
We started by looking at the information I had from the Duke Energy online report. He was shocked I even knew what my energy use was. He said, most homeowners are not proactive so it was good to see I was informed. It made his life a little easier. You see, many people they visit are looking to reduce their bill, with the hope they fix problems vs. identification of the issues. So keep that in mind – they are there to help you know where the issues are. Not to FIX them.
In my yearly graph below, you can take away a couple of things that point to efficiency as well as problem areas. I highlighted in the timeline, the months that our house is most efficient (Summer) vs. 3 months in the winter. Further down the page, the automated home energy assessment. You can see what they believe how our bill breaks down based on common energy usage. If there are items that "run" all the time they make some assumptions. It is not 100% accurate, but it is getting better every day.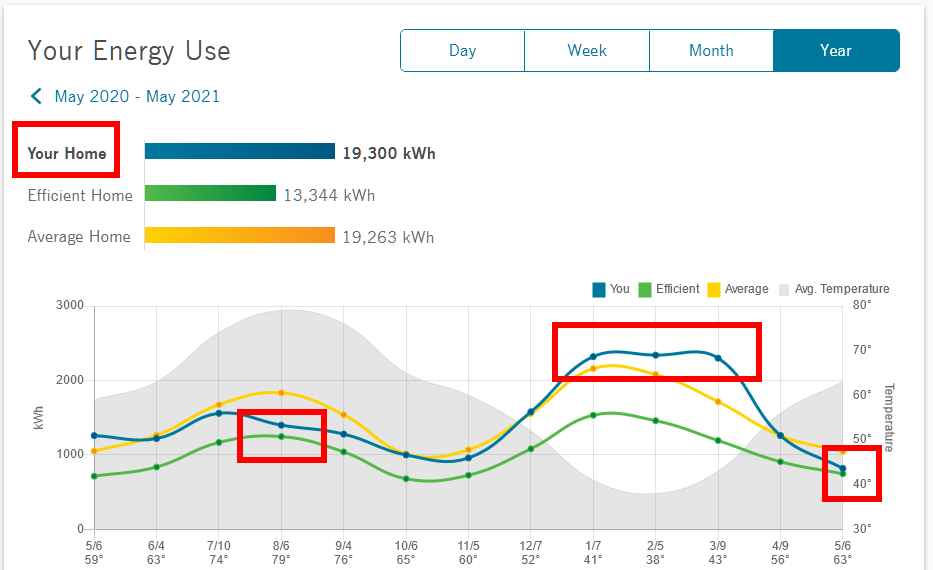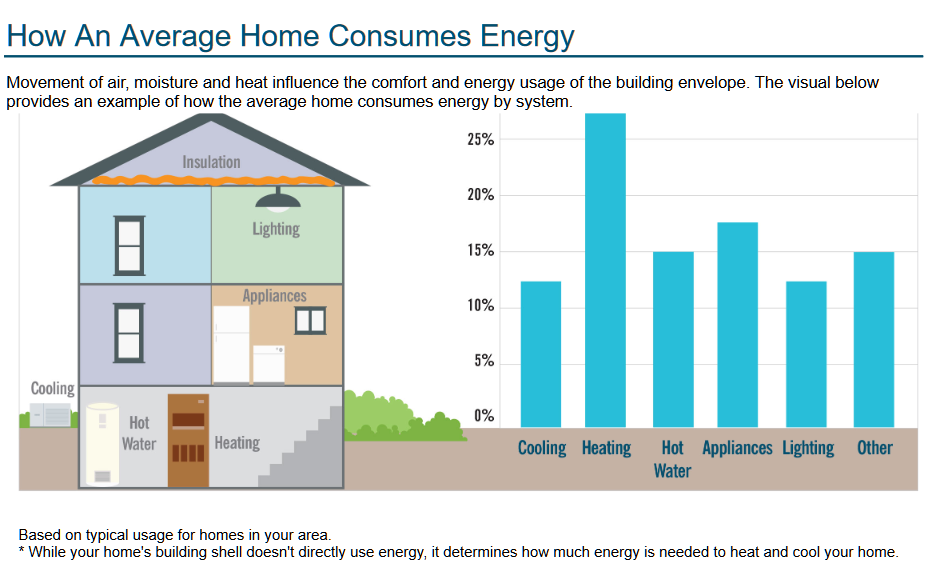 Duke Energy Online Report
So you may ask what does it look like when you login to Duke Energy? Here is a snap shot of my account. You can see it has many helpful areas to translate what you are paying for. Obviously their technology does not know 100% but their Machine learning and AI robots do give you an inside view of what is using the most energy. Use this information as a general guide. I for one had an indicator showing we had a hot water tank running all the time. I ended up wrapping it in a foil blanket and sealing it up. To my surprise I saw a 5% decrease in that category. It only cost about $29 for the blanket but it will pay off in a month or so to keep my overall bills down every month (every little bit helps).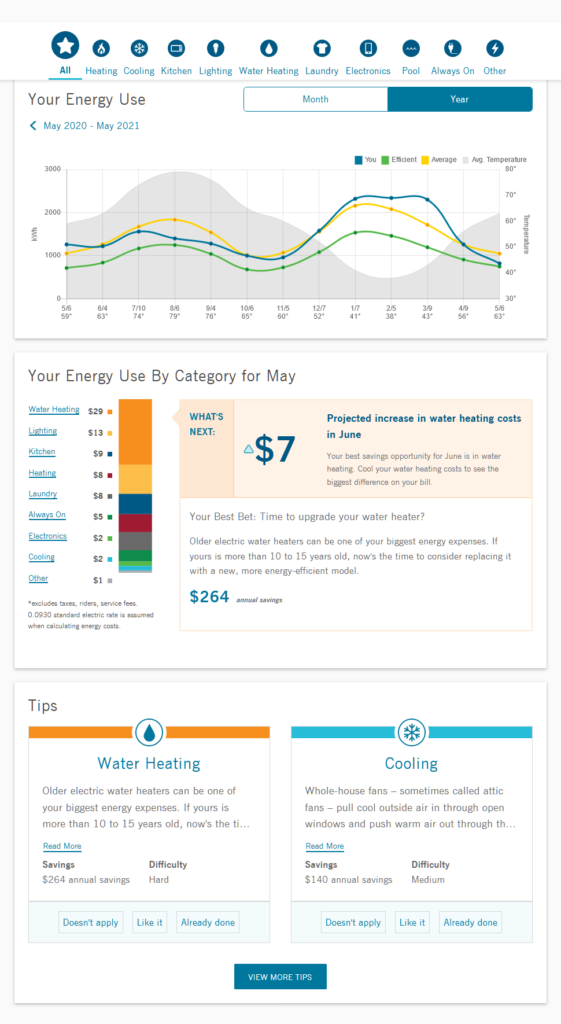 Below I will show you the results of the report but to help understand HOW they calculate an "Efficient Home". This will tell you IF you need an home energy assessment done.

This is a VERY simple method to see how efficient your home is:
Take the Square Footage of your home: 2500 Sq ft
Identify the amount of energy you use: 2340 kWh
2500 sq ft should = 2500 kWh or LESS of energy to be efficient
So essentially that is your call to action – it does not matter if like our house is a little less in some parts of the year (after all we have huge trees keeping shade on our house) you really want to flatten the curve as much as possible. Grab your monthly kWh values for 12 months and average it out. He said on average efficient homes are just north of the square footage of the home. So that was good to know we were actually about 300+ kWh less.
Our whole home energy assessment was very easy and informative. The Duke Energy representative was friendly and open to discussion on how to help reduce our bills with many tips and tricks. Some of them I knew about some I really did not think of (like making sure you have a attic tent). They also offered a friendly service when you ask for your home energy assessment. You can request to order and install smart thermostats like the Google Nest. They really try to make it as easy as possible to save every dollar. Check out the notes from our report below!
Our Home Energy Assessment report

About Your Home
It helps to know where you should take action first. Your personalized energy assessment is designed to improve your comfort, enhance your understanding of how your home uses energy and find ways you can save.

See the summary below for an overview of your home's energy performance based on our analysis.

Duke Energy Offerings
Learn about other available programs and rebates for qualifying customers. Details and contact information are included below.
HVAC Install Your heating and air conditioning equipment may be using too much energy. If your HVAC equipment is more than 10 years old, or it isn't keeping your house as comfortable as you'd like,it's time for a change. You can get a new heating and cooling unit for your home and we'll help you pay for it! Receive up to $450 in rebates on high-efficiency heating and cooling equipment when using one of our referred contractors. Call 866.785.6209 or visit finditduke.com
Pro Contractor Referrals When you need to find a reputable pro, the last thing you want is to waste time and money looking for the right one. No matter what your home improvement need is, we take the stress out of finding a great pro. Whether you're looking to improve your HVAC system, insulation, or plumbing and electrical needs, give us a call and we'll connect you with above industry-certified professionals who are prescreened and continuously monitored by Duke Energy to ensure that no matter what your home improvement need, we have the right pro for you. Call 866.785.6209or visit finditduke.com
Shop the Online Savings Store
The Duke Energy Online Savings Store offers amazing deals on a variety of ENERGY STAR certified LED specialty light bulbs. Today's ENERGY STAR certified energy-efficient LED lights use up to 90 percent less energy than traditional bulbs and last at least 15 times longer. Visit their online store at for instant discounts on lighting for every room in your home. You'll save today, and for years to come. Purchase limits apply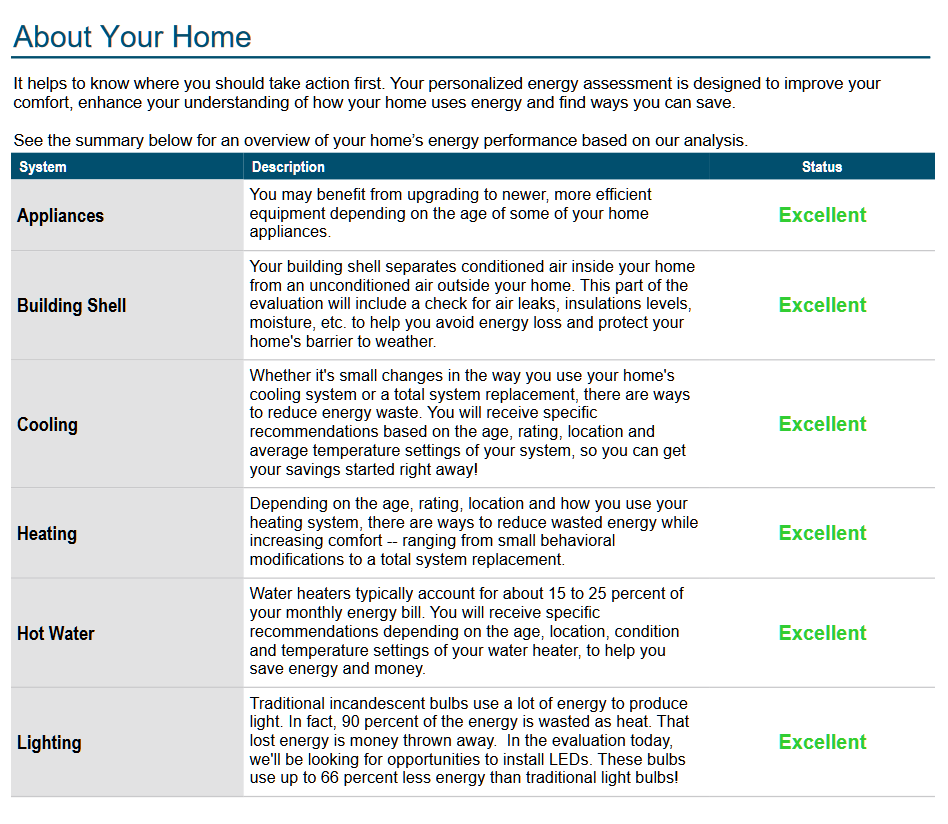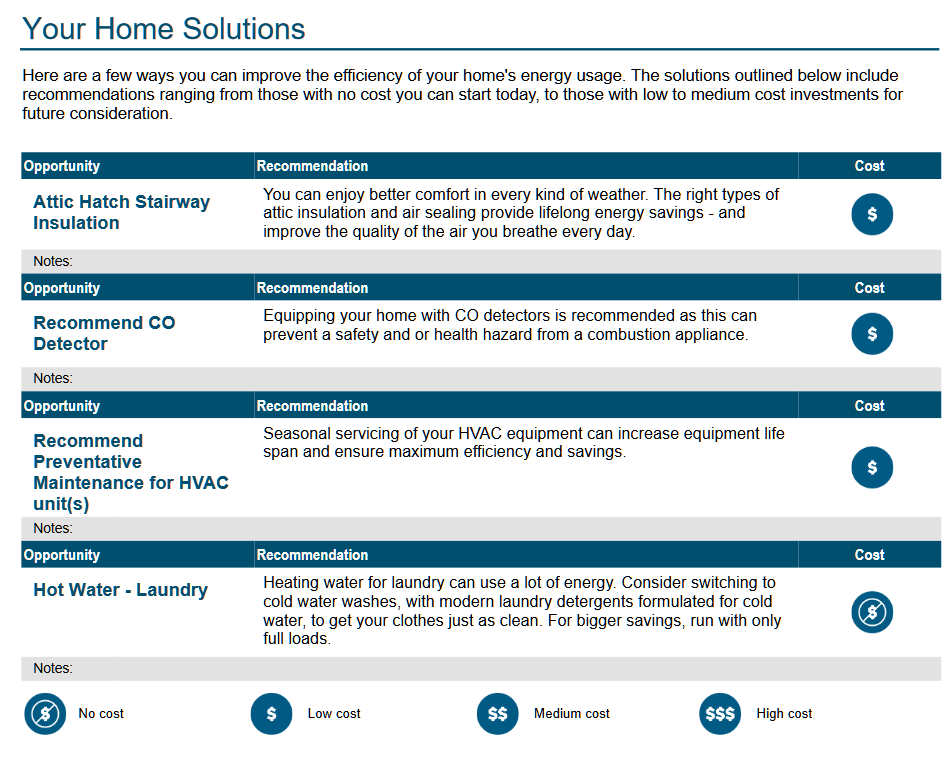 ---
Common Questions on How to Reduce your energy bill
Finally, I got this follow up email including the PDF report. It was a nice simple touch to the experience.
Dear Joe
Thank you for participating in Home Energy House Call. We hope some of the low- or no-cost tips your energy expert provided will help you prevent energy loss and make your home more comfortable.
Your customized energy report is attached to this email and includes recommendations for improvements you can make in your home to save energy and money. Some of the improvements may even qualify for valuable rebates from Duke Energy.
Be sure to use the items you received in your FREE starter kit to start saving today. If you have questions about your report, please call 844.DING.DONG or email us at duke-energy@homeenergyhousecall.com.
Sincerely,
Your Home Energy House Call Team
---
Now you know the truth.. No more Energy Shaming in our house – we are squared away. Be like the reset of us and contact Duke Energy today for your Home Energy Assessment. It can literally help you save thousands of dollars. Our couple of small issues were simple enough to fix and helped us tightened up our belt one more notch. We found an unexpected value in having someone from outside inspecting our home. As humans, we "get used" to things. Having a neutral party doing an assessment will expose issues that you may have forgotten.

We would love to hear from you if you had an Energy Home Assessment – share your story below!
Thanks again for stopping by,
Until next time!