The 1900s Mid-Century homes were ones that did not disappoint. Many of them were designed with simplicity and nature in mind, especially for those that were successful. Case in point, this lovely studio turned into a home of the Charlie Brown Creator, Charles M. Schulz built in 1966 is for sale. It sits atop a knoll in a wooded lot in Sebastopol, California. You can view the full listing (while it is active here on Zillow).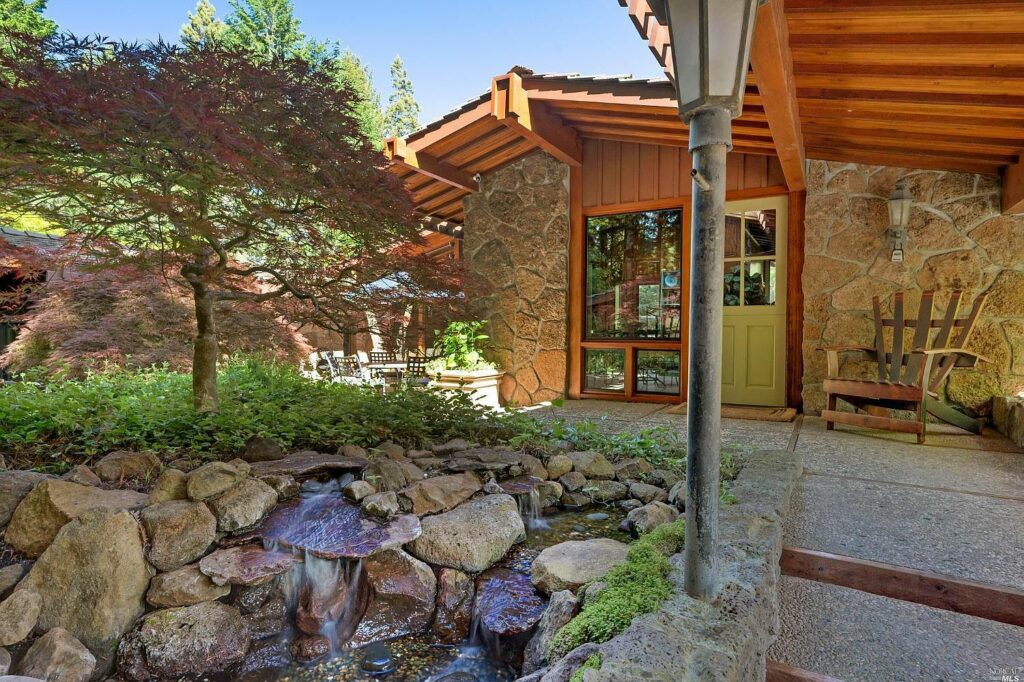 Mid-Century Landscaping
I am more of a fan on the longevity of this property and the wooded lot it sits on. Today you won't find many developers keeping old trees on the property, you see them cut them all down and leave a barren surface with only grass in its place. Seeing a wooded lot such as this, as well as strategic landscaping of stone and various ponds is a welcome and unique experience. It however not only takes time, planning but also consistent effort to groom the grounds. In typical mid-century modern or classic style, it always incorporates wood. I love the concrete walkways that are outlines by the wood beams simple but yet very classic and heartwarming.
The home was owned by Charles M. Schulz, famous for creating Peanuts and its characters Charlie Brown and Snoopy
For sale at $3.9 Million in Sebastopol, California
The one bedroom, two bathroom property spans 1,484 square feet set on a 27-acre estate
This Mid-Century Home was built in 1966
It was Schulz's former studio, and converted to this one bedroom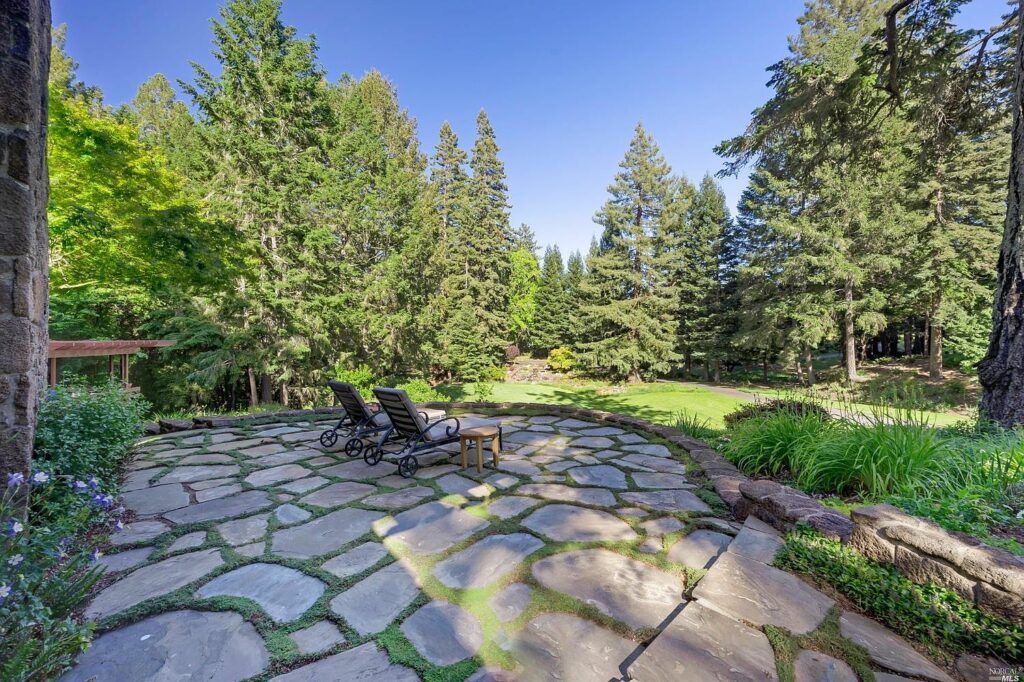 The use of stone is incorporated not only in this patio, but you will see the flower beds are lined with natural stone, and then it is brought inside to the fireplace. A perfect way to keep nature and simple low maintenance surfaces near the home.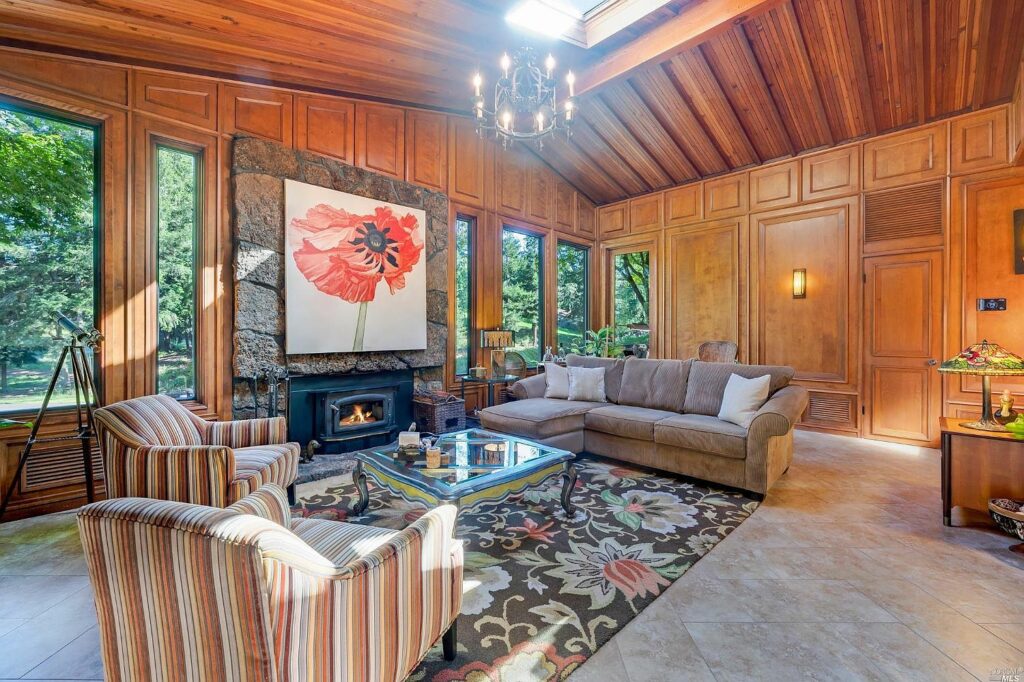 This home has been used for years as a rental home and visitors were greeted with a great experience.
It was built in 1966, and designed by architecture firm Steele & Van Dyk. This home contains the art studio (turned into a bedroom) where Schulz drew his most famous characters.
Outdoor Mid-Century Patio and Stone set in Concrete
A classic feature for some of the walkways and this outdoor patio is this area with the stones set in the concrete. We had this in our last home's neighborhood pool. It would withstand a nuclear strike we think. While not friendly to bare feet, it was very hardy and as you can see here is holding up well. In my mind, we have two walkways from our carport that could use this treatment vs. our wooden steps today.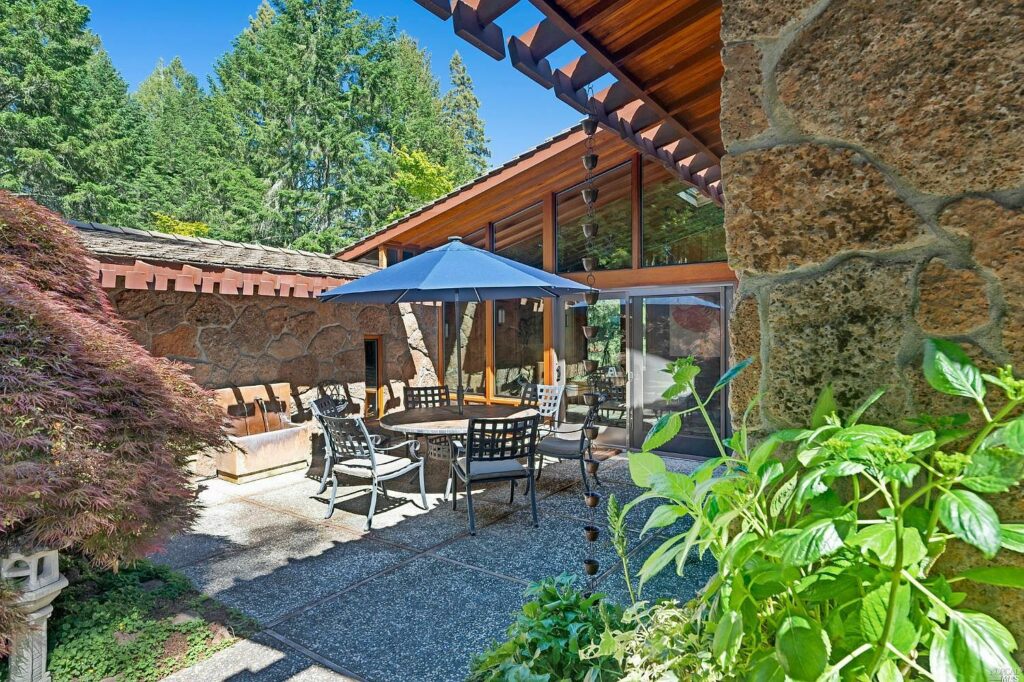 ---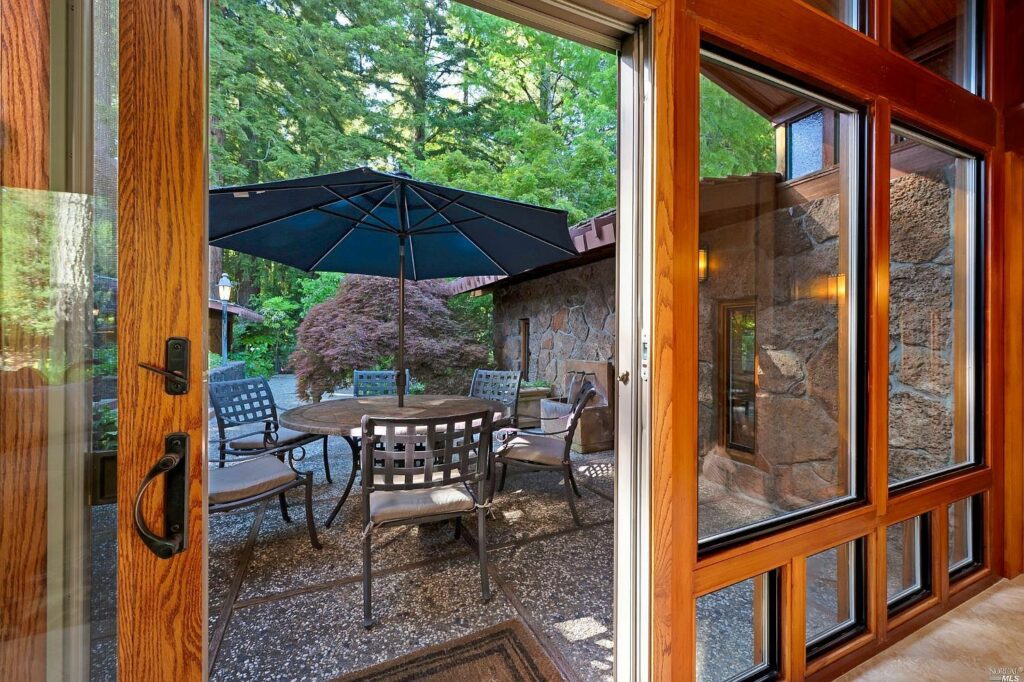 ---
Final Thoughts on this Mid-Century
Most of the homes you may look at can give you great ideas on things your can incorporate into your Mid-Century, or Mid-Century Modern home.
The truth is, the more you consume various designs styles from this time period, it will solidify your decision making on what you like. It can be on various topics like the exterior, and what type of materials are used. Then translates over to the interior and artwork, lighting fixtures, flooring and more. The main key is having an open mind to the possibilities of what is true Mid-Century, unmolested and timeless.
Your home or Mid-Century project does not need to be 100% authentic, I think some people feel that way – but in reality you need some modern influence.
Windows as a simple example – sure you can go with "era" correct models that will cost a fortune – but what benefit do you get out of them. Many of the modern windows (like our examples) look the part and are highly functional too including low-e glass.
Personally, I enjoy looking back in time at these house tours. It not only helps me to see what to do while planning a repair, or next task but also to reflect and enjoy what yesterday was. Even if a glimpse to an imperfect world yesterday, it was a different time with different dreams.
Never stop dreaming, otherwise why are we here?
Highlights details from the listing
Bedrooms and bathrooms
Bedrooms: 1
Bathrooms: 2
Full bathrooms: 1
1/2 bathrooms: 1
Interior Features
Window features: Skylight(s)
Interior features: Open Beam Ceiling
Other interior features
Total structure area: 1,484
Total interior livable area: 1,484 sqft
Total number of fireplaces: 1
Parking
Total spaces: 7
Parking features: Covered, Garage Door Opener, Uncovered Parking Spaces 2+, Workshop in Garage, Paved Driveway
Garage spaces: 2
Covered spaces: 2
Lot
Lot size: 7.32 Acres
Lot features: Garden, Landscape Back, Landscape Front, Secluded
Gallery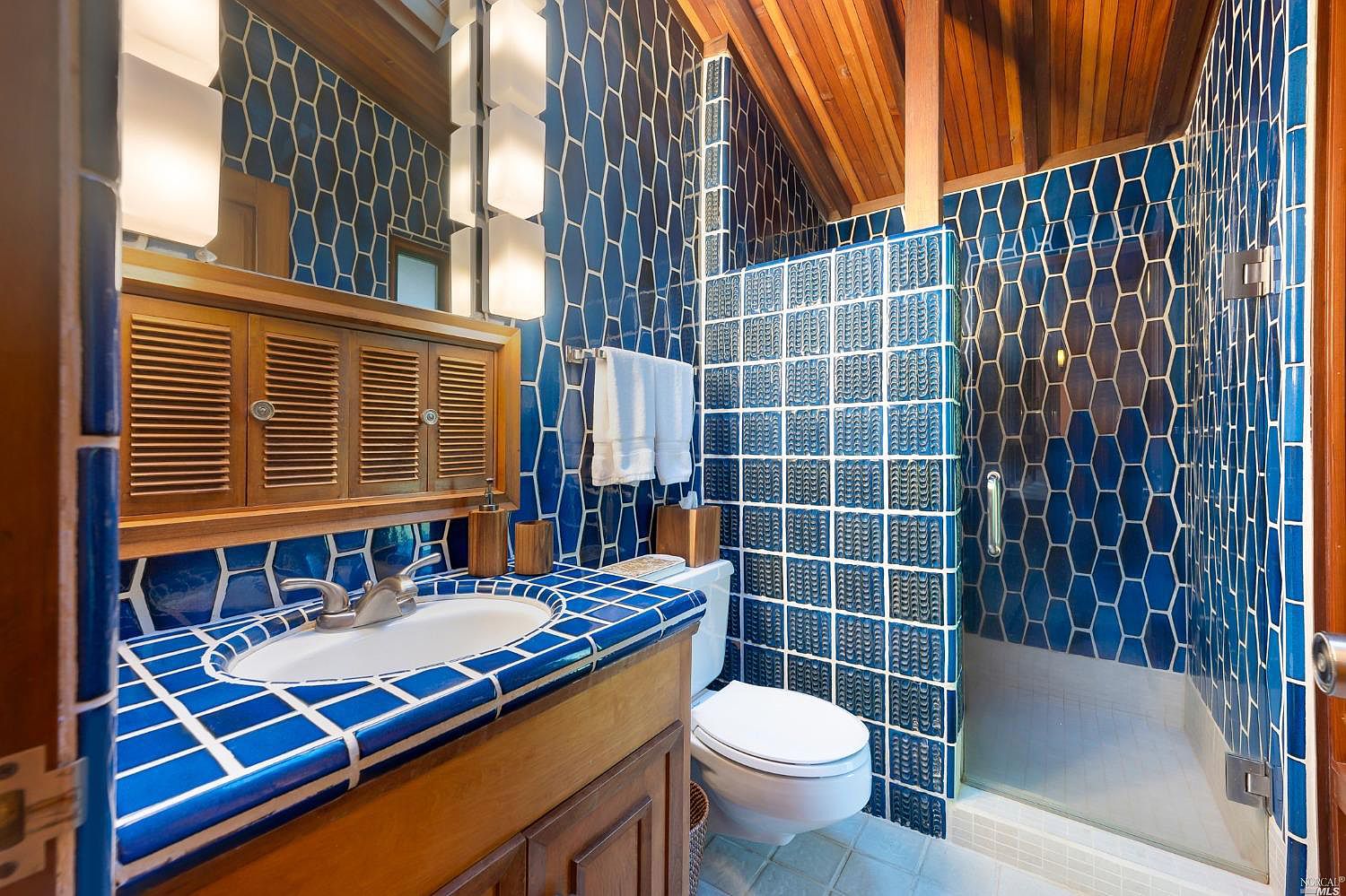 ---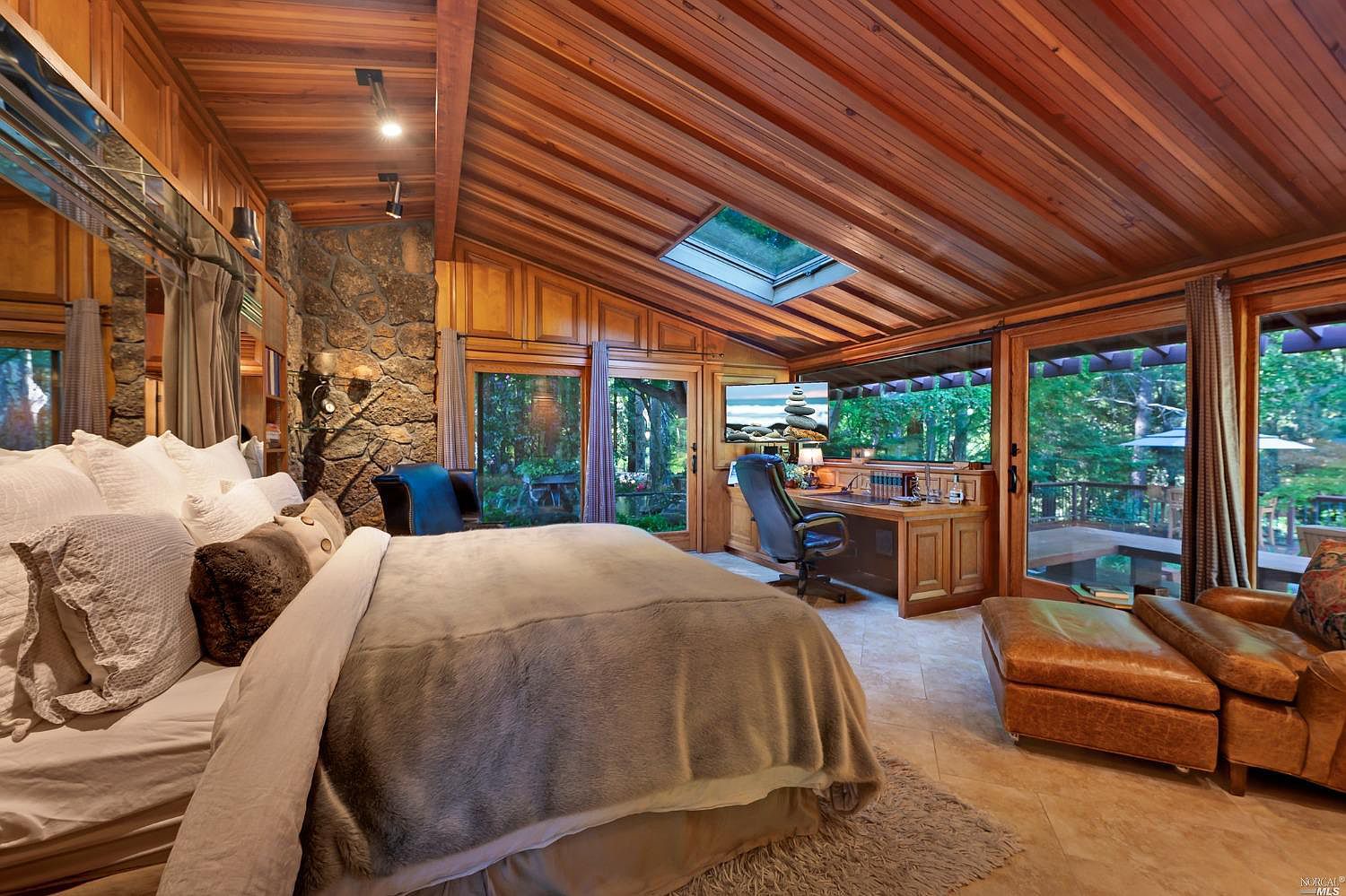 ---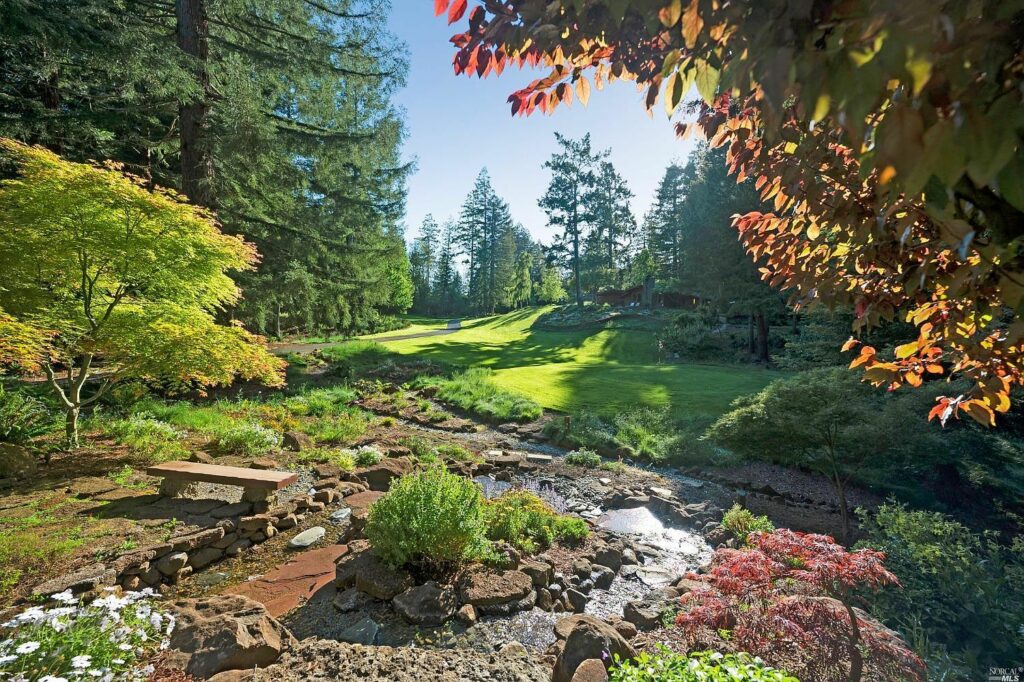 We hope you enjoyed this house tour of this wonderful Mid-Century property. The home to wonderful characters that filled many heads with dreams that last unto today.
Until next time!