As our projects start, stop continue sometimes forever we ALWAYS have left over construction debris. Maybe a project that took too long and had more leftover material that you would have liked? Most of the time if I have a contractor doing the work, they will take it as part of the job. However it is not always a contractor doing the work. With that said, you may not be doing home improvements but have a need to move some clutter out of your house. It could be a couch or some other large furniture or some other things that you just don't have the strength and manpower to move.
If you did not know, a well kept secret is Craigslist or Facebook Marketplace (well I am sure you know the websites). They both offer free listings for giving items away.
I have used this process before for many situations that demanded things to be GONE quickly. For example, when my Grandmother was moving from her house to a Assisted Living apartment we needed to move the last bit of items. Her house still had multiple boxes of stuff that no one wanted, some old furniture that would not fit or fit in with anyone's house decor and it all had to go in less than 24 hours. What to do? My wife just had our 2nd child and other family members were not able to help. Well, I started taking photos of everything that was left. Then I uploaded to Craigslist and listed it all for Free (here is the key) SET A TIME-FRAME. Just don't list it like come and get it PLEASE, be specific. Say something like this in the title "Free Stuff, from 6PM-9PM TONIGHT ONLY)". If you have a special item that will grab peoples attention – put that as the primary picture. Add your cell number for text and get ready.
About 10-15 minutes later you will start to get text messages. It works like you would not believe, even in our small city. I was getting so many text messages it was crazy… People came out of the woodwork. In less than 2 hours, I had 12 cars outside and ALL of the things we could not physically move were gone.
EVERYTHING – BOXES included.
*Please respect your loved ones items, if there is something they might care about don't let it go in this way. This is for left over things like towels, old furniture and things that may be in decent or even broken shape. Dishes was one of the largest list of items we had to move. This will help you in a pinch.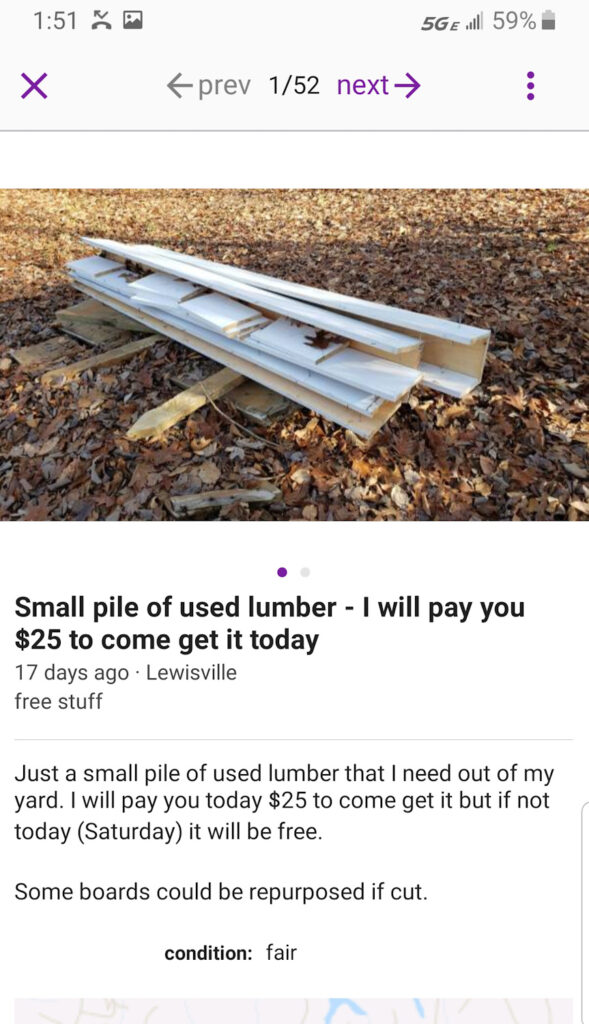 For this post, I have done this a couple of times now… my last one was for some decent and rotten wood. It was a pretty good sized pile and filled up the back of a full size pickup. In my situation, I was having guests over and I just wanted it out of sight and gone. So if you REALLY want to motivate people add some cash to the Free listing. I already had a quote of $125 to come and remove the pile of wood. I was not too keen on paying that kind of cash. I listed it for FREE and Offered $25 to come get it.
With that, in one hour I had 10 text messages (ALWAYS USE TEXT) it is an easier way to be clear as well that you want it gone ASAP. Not tomorrow. I had a couple of people saying I can get it tomorrow – but that was NOT what I needed. A guy drove out over an hour to come get it, I handed him the cash after helping to load it all up.
You can do this with literally anything you want to get rid of, just take 5 minutes post it up and the clutter will be out of your way. Even if you don't offer cash, it will be gone.
Until next time!