If you don't know of Lebkuchen cookie, these are not your typical cookies. It takes time to make them (Which was OK as my oldest daughter and I loved to spend time with her). She passed away in 2021 at the sprightly age of 103. This blog post was from 2013 on my old blog. As I move some items over here, I get a smile about many of them. Especially this one.
After growing up on Lebkuchen Cookies every year at Christmas, I could not wait to pass the tradition to my daughter Megan. We had a chance to cook these with my then 96-year-old Grandmother Marge. It amazes me to watch how hard the mixer was working to make these cookies. Then to think back to a simpler time, my Great Grandmother did this all by hand "with the help of my Great Grandfather"!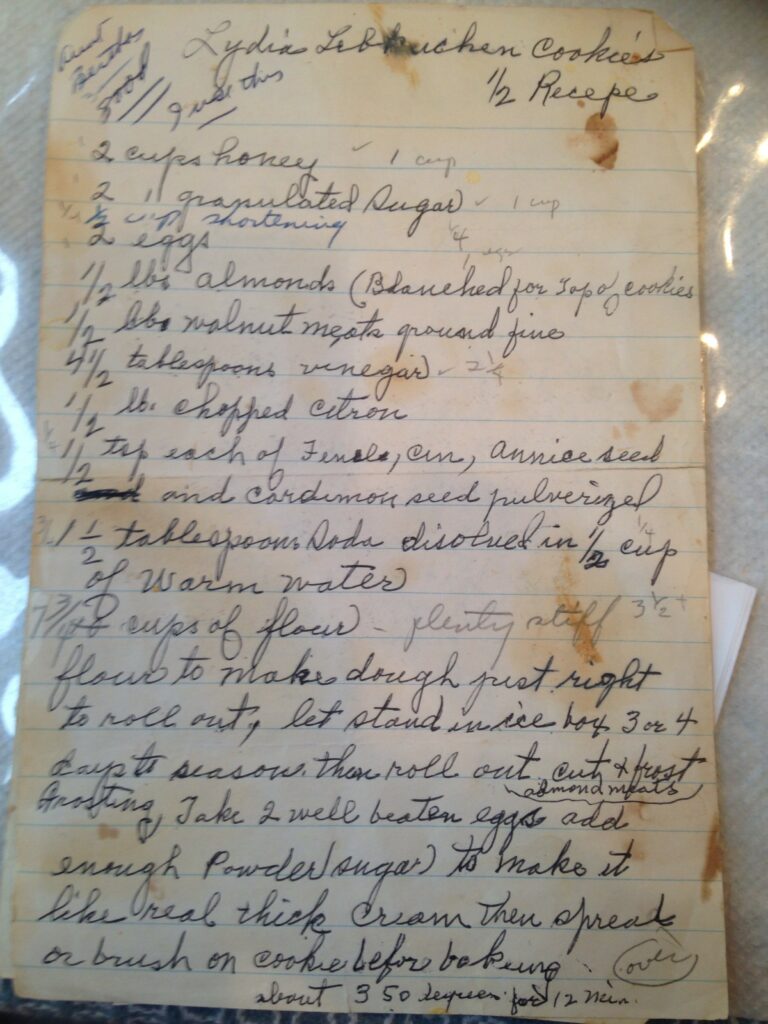 This recipe goes back over 100 years in our family – and is a tradition at Christmas at our house. This is not a long recipe but it is one that is near and dear to our harts. Thank you for stopping buy and check out some of our house projects or recipes on our site.
100+ Year Old German Lebkuchen Cookie Recipe
Difficulty: Medium, Hard
Total time
2
hours
40
minutes
Ingredients
1/2 cup Crisco

2 cups Honey

2 cups Sugar

2 eggs

2 cups walnuts (chopped)

1/2 Clove (optional)

1/2 lb. of Citron

1.5 tbs. Vinegar

1 tbs. Ginger (optional)

1/2 tbs. Anise Seed

1/2 tbs. Fennel

1/2 tsp. Cinnamon

1 1/2 tbs. baking soda

1/2 cup warm water

2 cups flour
Directions
Get your mixer and mixing bowl and add in the 1/2 cup of Crisco. Slowly stir in the 2 cups of honey and 2 cups of sugar. Mix until fluffy. Now add in 2 eggs and beat the dough, then let the dough sit in the bowl and go to the next step of ingredients.
Use a grinder to grind up 2 cups of walnuts and 1/2 lb of Citron.(Grind together).
WARNING: Do not use a curious mind to sample the Citron by itself. If you do this you will taste it for days and it is not very pleasant. Of course, my Grandmother did not warn me as I proceeded to taste 🙂
Dissolve 1 1/2 tbsp. baking soda in warm water 1/2 cup, then add in the nuts and Citron to the dough.
Then, include the following to the dough as well: 1.5 tbsp.. Vinegar, 1 tbsp. Ginger, 1/2 tbsp. Anise Seed, 1/2 tbsp. Fennel, 1/2 tsp. Cinnamon. Next, slowly add in 2 cups flour and mix until there is a consistent texture.
Cover the bowl with Saran Wrap and set the dough in the refrigerator for 24 hours – your first day is done. Kick back with a good German Beer.
Take the dough out of the refrigerator the next day. Remove the saran wrap cover and let it sit for about 10 minutes to warm up slightly.
Start to roll the dough out and use your favorite cookie cutter. Traditionally these cookies are square or rectangle. place them on a well greased pan.
Take 1 beaten egg and powdered sugar in a bowl and mix to a brush-able thickness. Then, take a few sliced almonds and place them in the center of each cookie. Now brush on the egg and powdered sugar before baking.
We hope you enjoy it.
Until next time!