Our journey at My59Ranch so far has been great. Thank you for the emails and comments. We are and will continue to mark the space with our projects and documentation around restoring our Mid-Century American Ranch.
Starting today, we will also start to bring you stories about related homes and furniture. Obviously we are passionate about it and hopefully this will be of interest to you. We will focus on authentic time period correct items from the 50's, 60's and early 70's. We also need your help. If you see an item on Craigslist, Facebook Marketplace or Ebay – let us know. We will showcase your name (only if you like) to give you credit for the find. Who knows how this will evolve but we are excited to capture and share with you great items and homes.
Mid-Century Electric Credenza
Our first highlighted item comes from a seller in California – "Mid-Century Mobler". The patent from Alfons Doerr KG for the electrically powered bar furniture BARIOMAT was submitted in 1968. Probably only produced in small series production runs. This unit looks to be in excellent condition and is priced at $15K. If you have one of these in the corner of your basement or attic you might want to dig it out!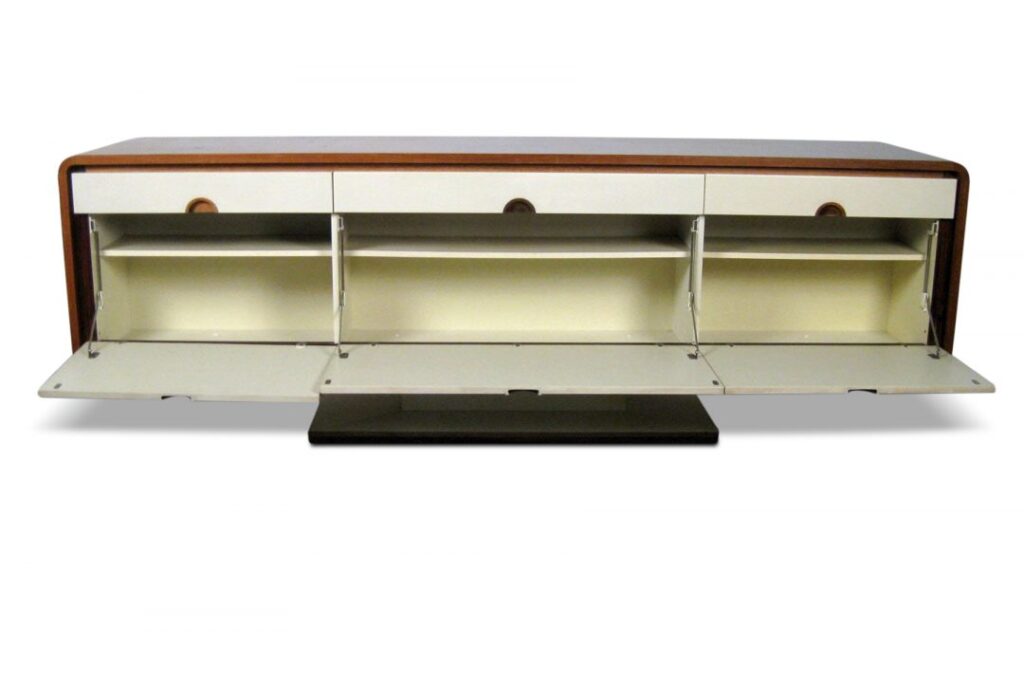 Origin: Germany
Designer: Unknown
Manufacturer: Alfons Doerr KG
Era: 1960s
Materials: Rosewood, Laminate
Dimensions: 98.5" wide x 22.5" deep x 33.5″ tall (bar closed) 49" tall (bar open)
This piece of history looks to be well preserved. Notice you have a key to lock you valuables away from prying eyes or pesky kids. No sneaking into the liquor with this one. The only flaw I noticed was one of the lights from the electric-powered pop up bar.

Check it out here @ Mid-Century Mobilers website
Happy hunting on finding your next MCM piece of furniture and drop us a line if you run across something unique and interesting! Until next time!