In a continuation of our series of interesting Mid-Century / Modern (MCM) furniture from the 1950's, 1960's I found this on eBay from a Brazilian designer, a full set of Jacaranda Cantu Chairs. While many MCM – Mid-Century Modern designs typically are focused on designs starting in Sweden or Denmark, this South American Designer Sergio Rodrigues has many popular and now expensive designs under his belt. This weeks highlighted furniture focuses on the another simplistic chair design with a solid structure and leather that has lasted until this day. This one however comes at a price.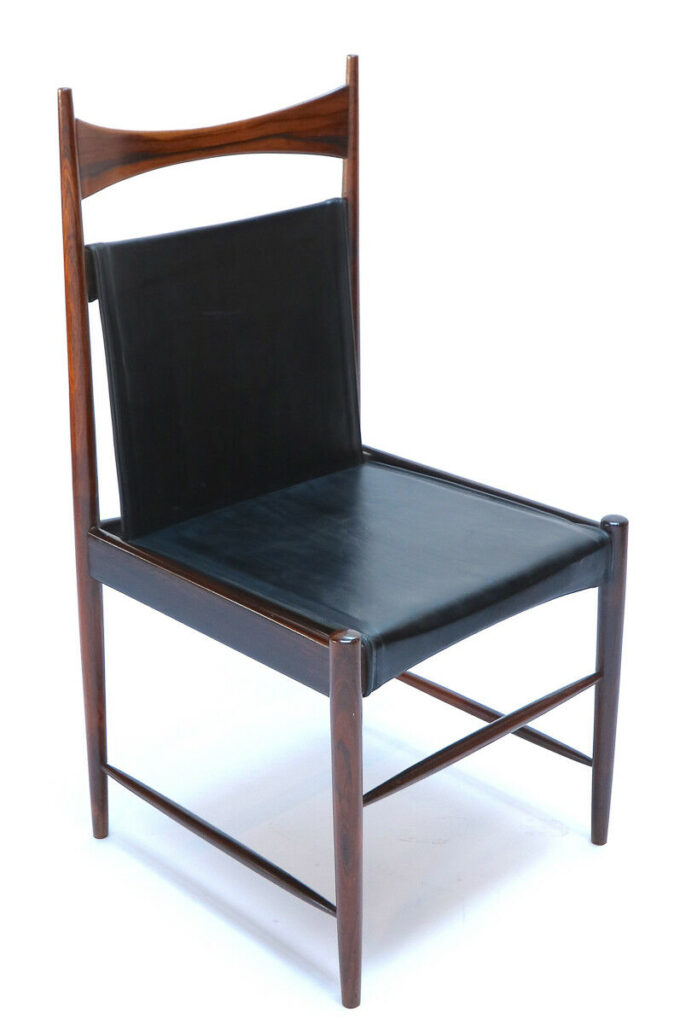 Description from the Seller of the Brazilian Jacaranda Cantu Chairs
Set of eight 1960s high back Brazilian jacaranda Cantu chairs upholstered in black leather, designed by Sergio Rodrigues in 1959. S-275
Item Specifics
custom color brown
country of origin Brazil
creator Sergio Rodrigues
Dimensions width: 19" x depth: 20.5" x height: 40"
Material leather and wood
Period1960 – 1969
Style Mid-Century Modern
Year created1960s

| | |
| --- | --- |
| Seller Notes: | "Good vintage condition" |
About the Designer Sergio Rodrigues
I would say if you look at the auction on eBay, the steep price tag has not allowed these chairs to sell. However, as time goes on many of the pieces of furniture in good original condition will dwindle. Also the amount of pieces that can be restored will be minimized as well. So at $32,000 today does seem rather high, it is at the level of what do people put value at for excellent condition Jacaranda Cantu Chairs? Only time will tell, it can be a way to raise the prices for items like this and or "force" people to call them and use eBay as free advertisement space as well.. either way – we think they look pretty cool and that is what our story is about. Seeking MCM Mid-Century Modern pieces out and reflecting on the current trends that look to this time period as guidance.
---
We also need your help. If you see an item on Craigslist, Facebook Marketplace or Ebay  – let us know below what you found or use the contact us form. We will showcase your name (only if you like) to give you credit for the find. Who knows how this will evolve but we are excited to capture and share with you great items and homes.
Happy hunting on finding your next MCM piece of furniture and drop us a line if you run across something unique and interesting!
Until next time!