When you wake up to no water (and a light bulb goes off "Could we need a Well Pump"), it is going to be a long day without water. Some things are simple to fix and you can handle them with no problem. Like the post I had on using Gorilla Glue to fix a loose shower tile. Even if you don't know, you can learn and Do it yourself (DIY). However, there are other jobs that require expert knowledge and also proper tools for the job. This is one of those times.
A couple of days ago we started having infrequent water pressure drop. We were not 100% sure what was happening. I changed out the water filter. Checked the pressure tank and chalked it up to something not identifiable. My biggest fear was that the well was running dry. Then we woke up with zero water pressure, nothing not a drop.
I made a couple of phones calls. Linwood who I do web work for at Waterpuro.com, recommended to call Clayton Well & Pump Service. First Linwood said, try and see if the switch / power is working properly and if so give Clayton a call. Linwood's company is great at setting us up and maintaining our Saltwater Water Softener. They are experts in solving difficult hard water problems as well as excellent installers. Look them up if you want to have cleaner better tasting water.
Troubleshooting Power to your Well Pump
I broke out my volt meter, and selected the proper voltage (alternating current AC) and proceeded to validate the well Air-Pump Pressure Switch. I thought I was seeing OK voltage, but decided to go to Lowes Home Improvement and pick up a new switch. This unit looked a little worn and the replacement was only $25.
I ended up with buying and installed: Square D by Schneider Electric 9013FSG2J24M4 Air-Pump Pressure Switch, NEMA 1, 40-60 psi Pressure Setting, 20-65 psi Cut-Out
Once installed, I validated the voltage again and all seemed fine. I then in turn had to go to the Well Head outside and measure voltage. It was a little painful to tear down all of the work I did for the well insulation as it kept the well pipes ice free on very cold days. Upon further inspection, I was getting consistent voltage at the power junction, but not from the pump. There must have been a short in the wiring or the pump itself.
I immediately called Clayton and they could come out the very next morning. It was somewhat of an unexpected reunion. They lived right down the street from where I grew up. We talked about the area and what has happened over time there. It was a great place to grow up and enjoy nature. That is one of the reasons why we decided to move out to the country side in Lewisville, NC.
Extraction of the old pump
The guys from Clayton showed up at the crack of dawn and immediately got to work. They hooked up this contraption to pull out our old well pump, hose and wiring.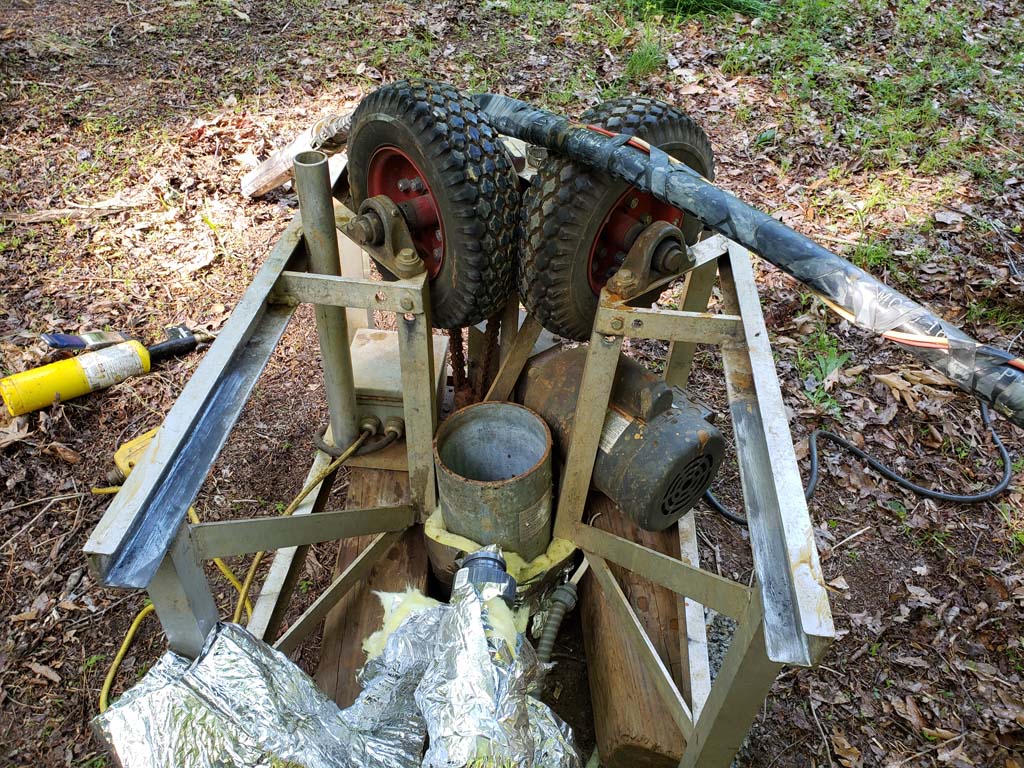 Once they got the pump out of the ground we discovered a couple of new things.

Our Well Details
Well depth 180ft
1HP submersible well pump (locked up)
The old wiring was not done properly (nothing to do with pump failure) but needed to be replaced.
---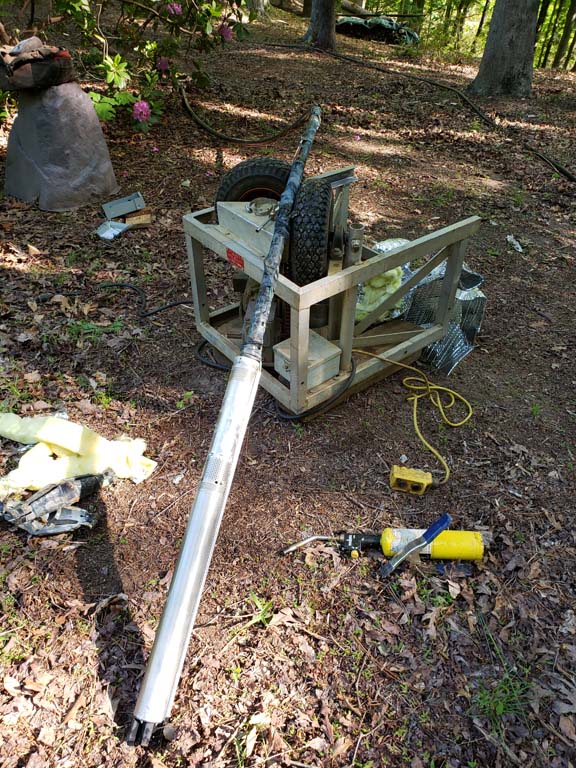 Selecting a Well Pump
The owner, Mr. Clayton said to me what type of use do you have for your water? You have a 1HP pump, which is usually a little overkill for normal home use. He was thinking we would not do much irrigation etc. to which he was correct. He recommended a 3/4 HP unit. However, the replacement 1 HP motor was all stainless steel and had better impellers and multiple motors. I did not know why the 1HP was installed prior to us, and we have such a long Ranch – it only makes sense to me to replace with the same specifications. So I opted for the more expensive 1 HP unit. Luckily it was a marginal difference.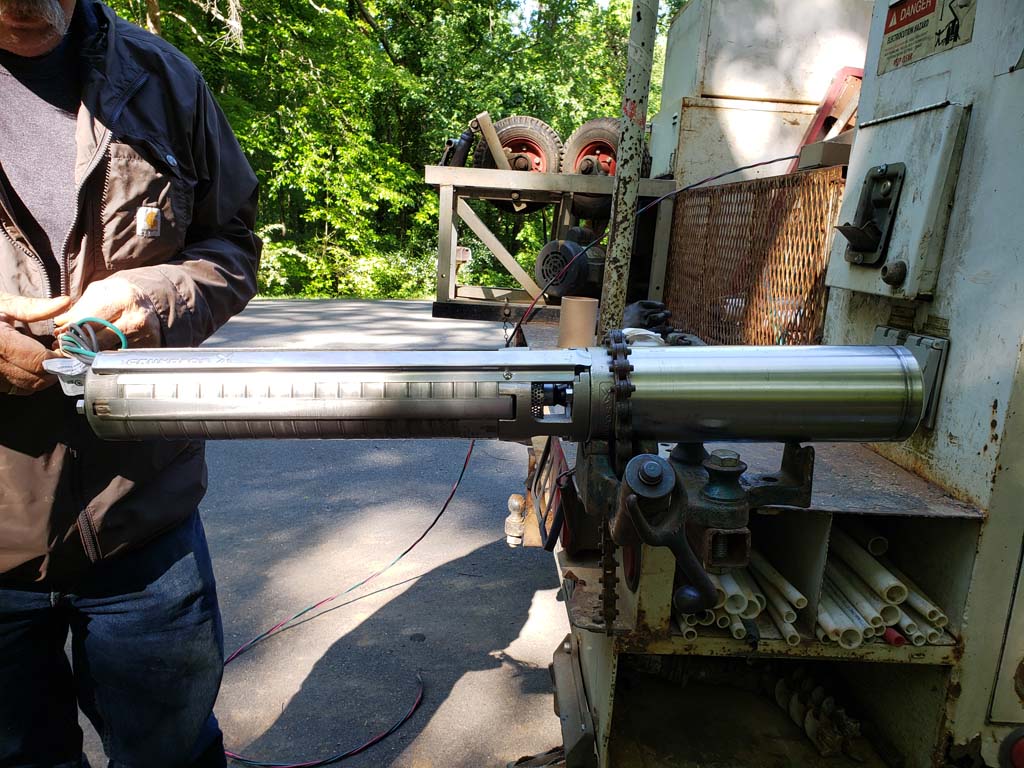 The Grundfos SP range was really impressive to look at. Impellers, and motors everything was 100% stainless steel. This is a Swedish based company, so it sits a little closer to home as I work for Volvo Group based in Gothenburg Sweden.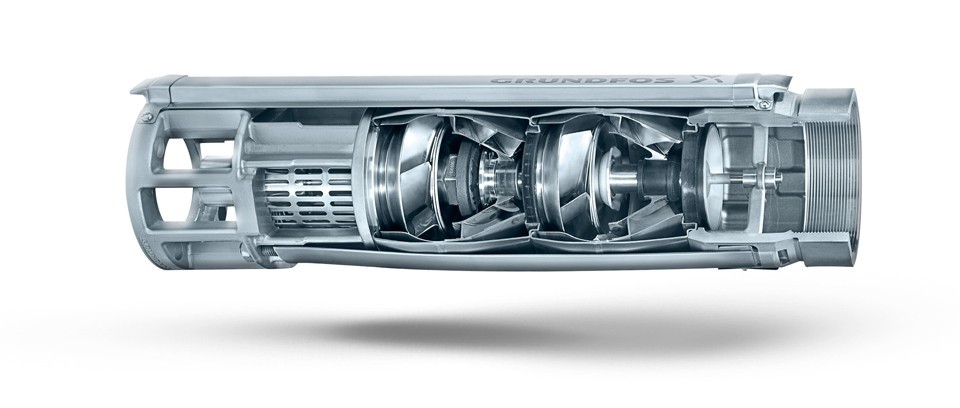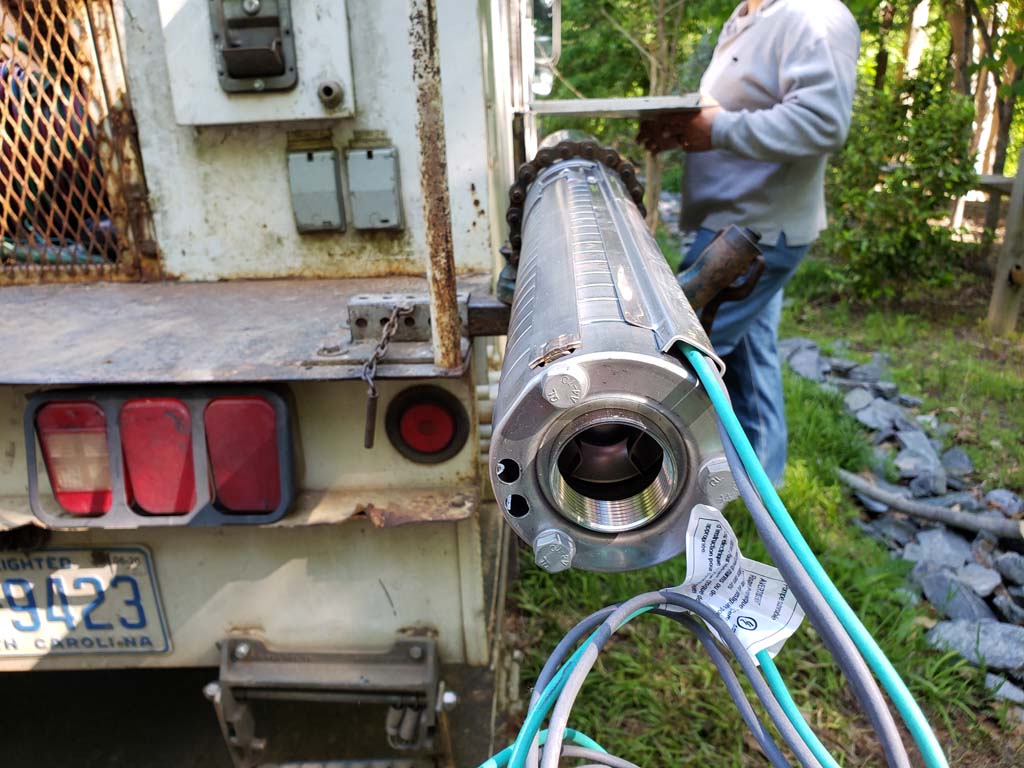 ---
Once the pump was back into the ground, they asked me to turn on the pump to clean / clear out anything in the lines. Since we have semi hard water, not only could there be build up but also, there could be debris from installation. In about 2 minutes it cleared it out completely. They also measured how well performing the well was.
Great news – we were getting about 12+ gallons per minute. Way better performing than minimum of 4 gallons and better that a good rating at 8. Mr. Clayton or one of his sons said we should never have a problem with this well as the water table was high and the water was of a high quality.
One thing I noticed with the new pump, it ramps up slowly when it turns on in a step controlled fashion. It not only saves the motor, but also does not disturb the sediment in the well. We can tell this pump is giving us a better quality of water than before.
I think the total time of pulling up the old pump to the time of me writing the check it was about an hour and a half. They were supper fast and efficient. This is not exactly something you want to spend cash on during a crisis, but I know with the quality work that was done we will be good to go with fresh water for many years.
---
Can I install a Well Pump on my own?
Yes essentially you can, but is it practical? That is the question – without the proper gear, wire it will become a task that is not only difficult but years of experience also help to determine if there us a problem in the well.
Here are the two companies we referenced in this article from the Winston-Salem, NC area.
Project Costs
Well Pump Pressure Switch: $25
New Wiring for 180ft $200
Installation / labor: $600
Thanks for stopping by, if you need a water softener or have other water problems check out the guys at Water Puro. If you need a well pump replaced, Clayton can help you out.
Until Next Time!
---
Well Pump Replacement Best Product for Your Home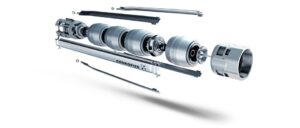 An all stainless steel high quality product that you don't have to service or worry about failing this well pump is for you.
Product Brand: Grundfos SP 1HP Well Pump
Product Currency: USD
Product Price: 800
Product In-Stock: https://schema.org/InStock