Mid century modern design is a popular style that has experienced a resurgence in recent years. If you're looking to add a touch of retro chic to your living room, a mid century modern TV stand is a great choice. These stands are characterized by their clean lines, natural materials, and sleek shapes.
One of the key features of a mid century modern TV stand is its minimalist design. These stands are often made of wood, and feature simple shapes and geometric forms. They often have a low profile, and are designed to blend seamlessly into the surrounding decor. This makes them perfect for smaller living spaces, as they won't take up too much visual real estate.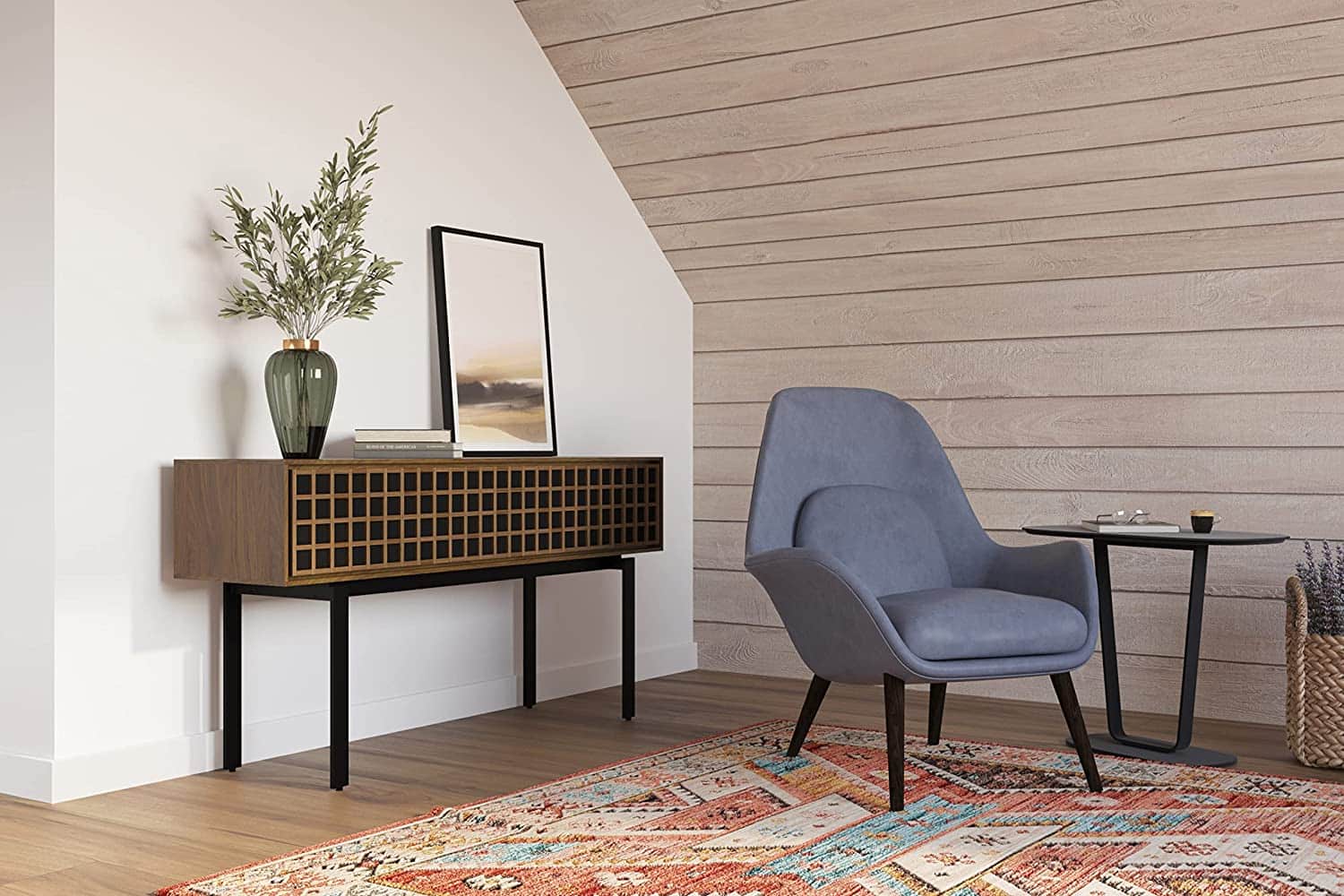 Quality.
Depending on your need for a mid century modern TV stand, a new buffet for the dinning room, or storage for office equipment quality is key. This is the main reason for this blog post. After we stopped by Bowen Town and Country Furniture Co. seeing the BDi stand up desk and their cabinetry we were sold. Even with the larger price tag it is worth the price of entry because it is not cheap junk.
Form and Function of a Mid Century Modern TV Stand
In addition to their sleek design, mid century modern TV stands are also incredibly functional. Many of them feature multiple compartments and shelves, which can be used to store and display your media components, books, and other items. This makes them a great choice for those who want to keep their living space clutter-free and organized.
The BDi Corridor 8179 is an award-winning design distinguished by its louvered doors and durable satin-tempered glass top. Ideal for complete gaming systems, the cabinet boasts adjustable and removable shelves, allowing a total height clearance of up to 17.25 inches, perfect for even a vertically positioned PS5.

The remote-friendly and acoustically transparent louvered doors—along with ventilation built into the bottom, rear, and top panels—allow heat to disperse evenly.

Read more on the BDi Blog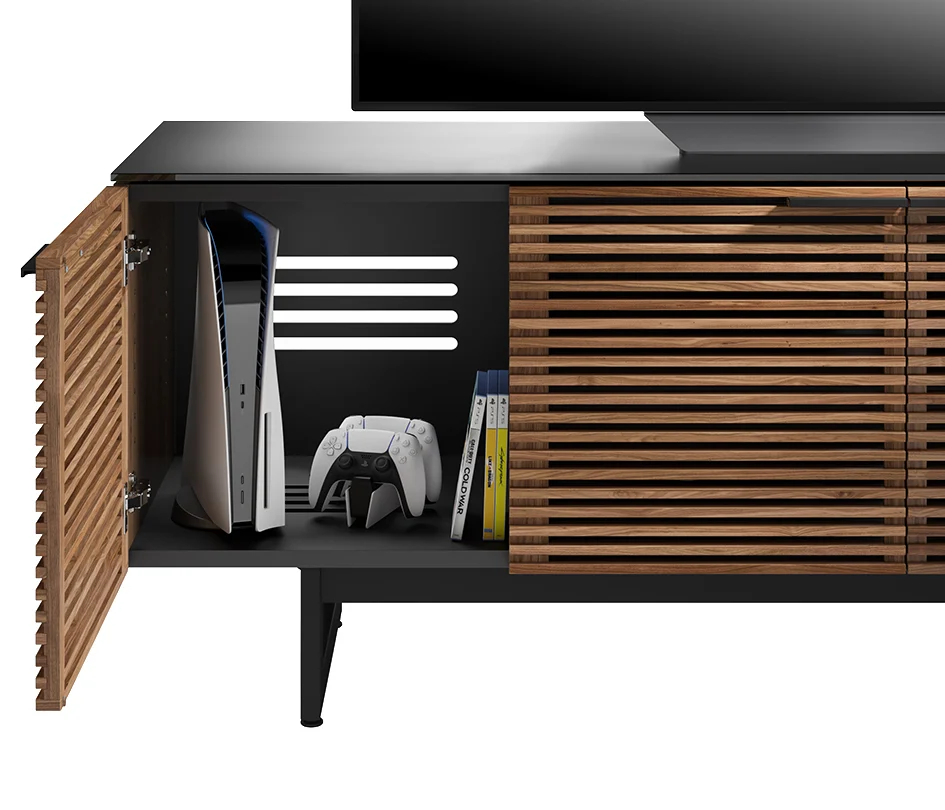 Measure twice cut once, Remember that and you will be OK. It's important to consider the size of your TV and the overall layout of your living room. Look for a stand that will provide a stable and secure base for your TV, and that has enough storage space to meet your needs. You'll also want to think about the material of the stand – wood is a popular choice for mid century modern TV stands, but there are also options available in other materials such as metal or glass.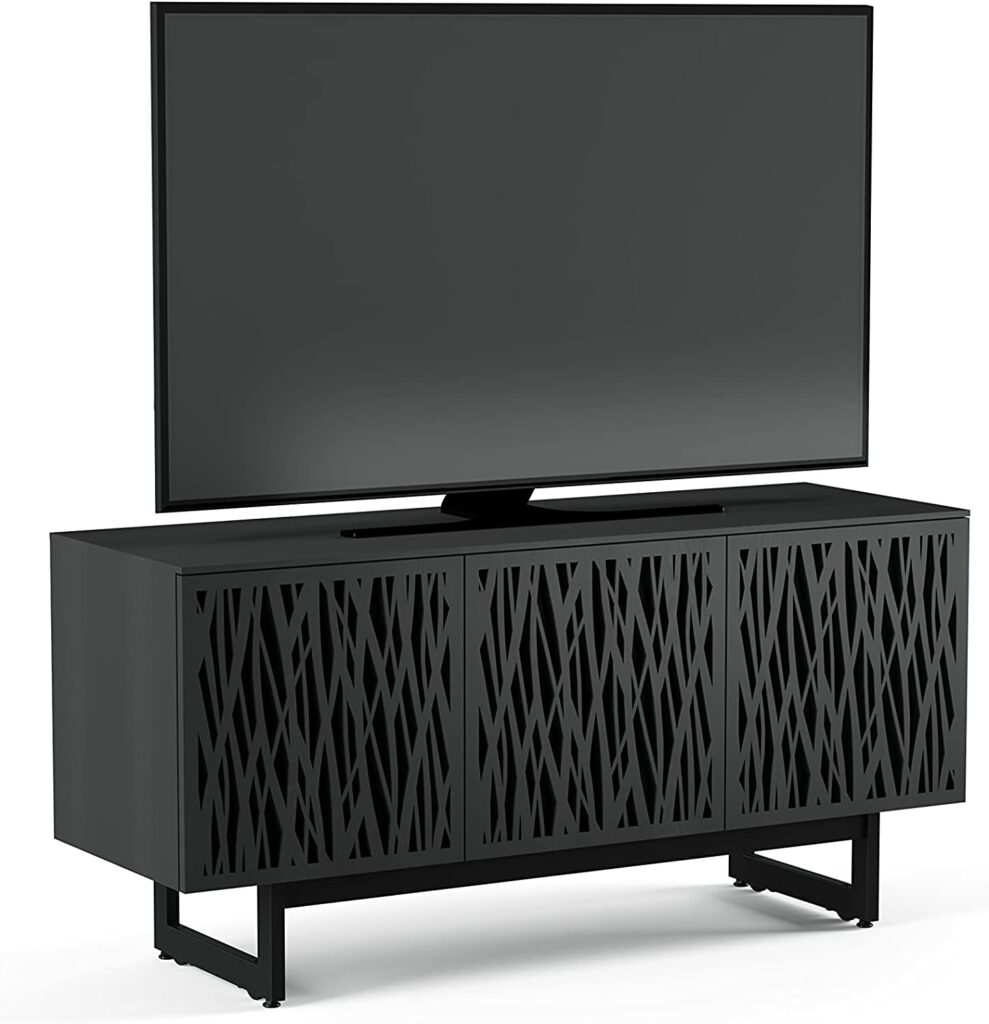 Period Correct Mid Century Modern TV Stands
There are several locations that you can find original units that are typically in the same price range of the BDi units. I often factor in with my budget the thoughts of period correct furniture and lighting. Until BDi – I would say buy the period correct units. However since they are so practical and on target it is hard to beat. After all you may spend MONTHS trying to find "just the right" piece vs. buying one of these.
To see period correct models head on over to Mid-Century Moblers site – they might have exactly what you are looking for!
Overall, a mid century modern TV stand is a stylish and practical addition to any living space. Whether you're looking to add a touch of retro flair to your home or simply want a functional and organized storage solution, these stands are a great choice.
Until Next time!