If like our house we get mold and mildew that is a pain to remove – with this 30 second tip you will be off and running in no-time. We hope we are past the monsoon season here in NC. It has been raining and raining forever. The latest joke during time change was "At least we have one less hour of rain". So true and sad. With all the rain, it means that mold and mildew thrive. We have somewhat always here in the south had this problem… however the past year or so has been so moist that we actively had to treat our entire house vs. just spot cleaning.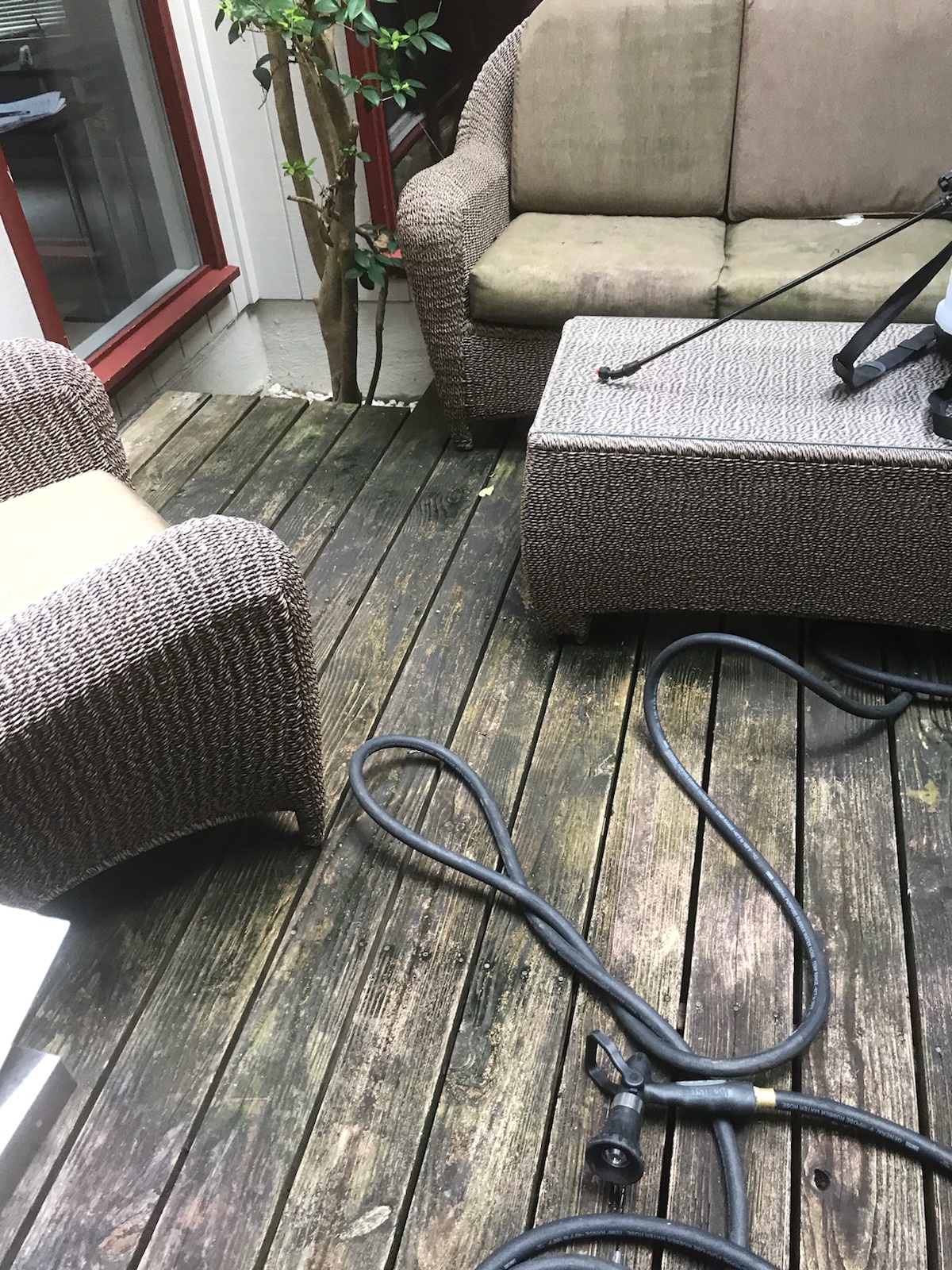 Have you ever had that fuzzy green stuff or dark mold growing on the side of your house? How about on the eaves and trim? Maybe on your deck and patio furniture? Well, this blog post is for you… I will show you before and after pictures that will blow your mind.
So what did we use?
Buy these product from Amazon:
What does this product do? How easy is it? I will honestly say that if this product does not save you thousands of dollars (YES THOUSANDS) I would be shocked. Here is a little story of what the product does, and why it would save you thousands of dollars.
30 SECONDS Outdoor Cleaner cleans stains from Algae, Mold & Mildew, grimy green, slippery black, algae, moss, mildew, and mold from all outdoor surfaces
Works on a variety of different surfaces: Cleans wood decks, steps, siding, gutters, fences, pathways, wood, painted surfaces, concrete sidewalks, asphalt driveways, brick walls, most canvas awnings, plastic outdoor furniture, vinyl siding & more
Safe to use around your lawn and plants when used as directed as it breaks down once rinsed into the soil.
Just spray on and hose off! No more pressure washing. In some cases, I just spray it on slightly more diluted and leave it. Especially IF it is an area that will get wet the next rain and it is somewhat neutral in color.
NONE of these photos have been altered in ANY way. They are straight from the camera and to this web page!
In this example you can see it would not take long to save thousands of dollars. I have had several contractors tell me… Well, we can pressure wash but then we would need to paint. The siding might need to be addressed also once it dries out before painting. The pictures of the deck and deck furniture, the replacement cushions were over $300 each. There was literally nothing wrong with them, they just needed cleaning. I dropped the sprayer mixed up, ready to go at his house. He was calling me back later that day singing to high Heaven how great this product is.
*A couple of things to note and just be aware – this is easy to use the product but it is strong. Don't be afraid to do this at all, but just take these mental notes.
Pro tip for Cleaning with 30 Second Cleaner
Wear clothes that you don't care about. Dark colored (even light color) clothing will get misted on and it will make spots.
Keep some glasses on and don't spry into the wind.
Depending on the surface rinse thoroughly. Like the cushions above, you need to rinse properly as this CAN rot the seams. Nothing to big of a deal just rinse the product away after a couple of minutes.
Time allotment – this might be the easiest thing you do this year. For my siding, I mix the recommended 50/50 mix. I spray using the fan nozzle tip. It goes on well and is light enough to spray and walk away. Depending on the surface, this may be all that is needed.
I hope you enjoyed these tips and I know you will enjoy the product.
Until next time…