While it might sound easy to remove carpeting to install hardwood floors, it may not be easy. It does not matter if it is oak or in our case heart of pine hardwood flooring the process will be the same. So that is the good news. A repeatable process.
Like many projects, we did run into a couple of problems in our dining room. Our first problem was that we wanted to match the 1850's Heart of Pine wood floors in the rest of the house. Then we discovered we needed a sub floor repair.
The last step not for the faint of heart. It was also something we needed to done properly.
Dining Room Hardwood Floors
Our focus was the Dining room carpet, I tried to clean it, to help it last longer and to put off this project. But if you have cleaned your carpet regularly, you know it can start to grow some nasty things in it. If someone spilled a drink, dropped food or you have pets – more than likely your carpet has things growing in it.
To make matters most padding is not sealed. So anything spilled on the carpet will penetrate the pad. Then, of course, bacteria will grow on top and below the carpet. If you have older carpet, you may really want to think about getting it replaced even if it doesn't smell or look worn. It really depends on the priority of the room.
Ours was a dinning room, so we wanted to get going asap.
Along our journey, we discovered the sliding glass door had a leak at the base of the frame. It not only damaged the padding, but the sub floor and all the way into the insulation below.
With that we started this project .
Replacing your Carpet with Hardwood floors – Project Costs
Cost of hardwood floors
Installing hardwood doesn't come cheap. Bob Villa says the average cost for popular woods such as oak, maple, walnut, or cherry is around $5 to $10 per square foot. Installation is typically around $4 to $8 per square foot.
It's an expense that a majority of experts say is well worth it.
In our dining room area there was some decently high quality carpet that had some minimal stains and smells but nonetheless you could tell it was time for it to be replaced. Our next step was figure out what replace it with. We have talked about tile and selected a tile we liked from Home Depot. They had a tile we ended up being really happy to pick it up along with the backer board the next morning.
At the 11th hour (like 3 in the morning) I did a search on Craigslist filtering for our town of Louisville. This fella (Murry) had heart of pine flooring from the 1870s.
Two reasons why this is important for our and any house.
The original wood flooring in the house was from a similar time (1850). We felt if we would invest in hardwood floors (and found a close enough match) we should try to buy older similar-aged wood.
Older pine versus buying new pine today has a couple of benefits. Older wood is harder and denser. The forests were not cut down and harvested as frequent and the trees had time to mature. That is not exactly what is done today.
Keep in mind older wood will cost you a premium. I was able to find current new pine flooring for $7.20 a square foot. The older 1870's wood cost slightly more at $8 a square foot. The dining room measures 12 x 16 which equals 192 ft.². I had to buy the whole lot from this guy, which totaled 300 ft.². I still have about 90+ square feet left over after installation.
*Also keep in mind, this is just for raw material. Even though this wood was in good shape you would need to: A. Install an underlayment B. cut and install the wood floor C. sand the floor D. apply the polyurethane (multiple steps here). So if you don't do this yourself it can be THOUSANDS of dollars quickly. Here is the pile wood in my car port.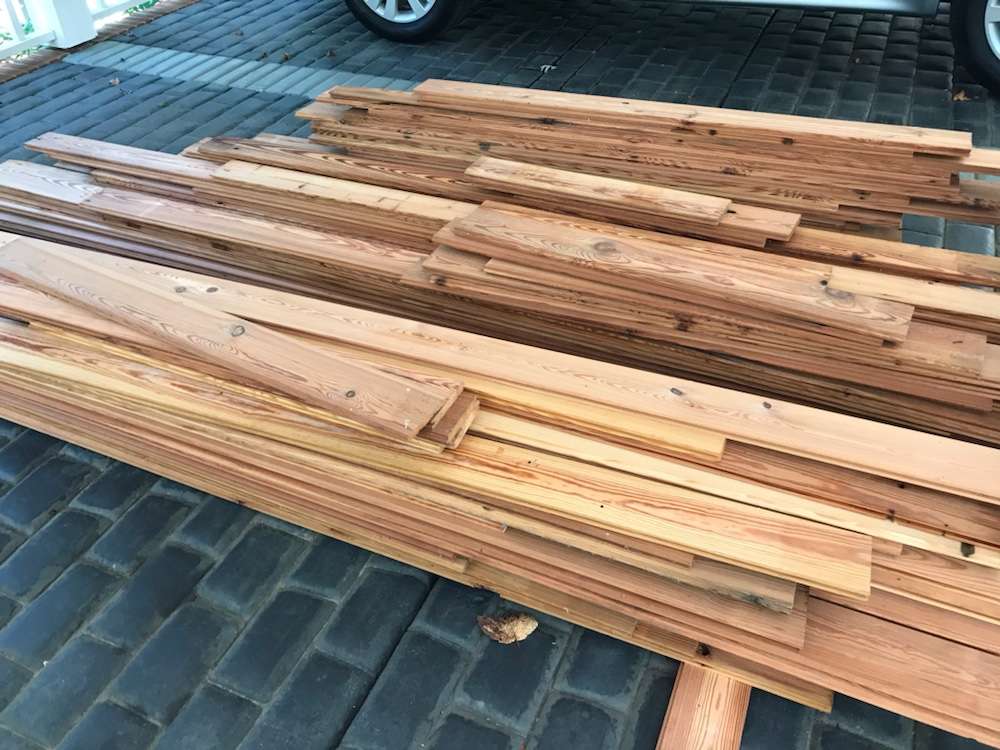 Hardwood floors give you a good return on investment
Besides being an attractive amenity for potential buyers, hardwood floors have proven to have a good return on investment for homeowners. The average ROI for installing hardwood floors hovers in the 70%–80% range, depending on the specifics of the project, flooring layout, and your property's location, according to Alex Biyevetskiy, a home remodeling expert with RemodelingImage.com. When done right, he says new hardwood floors can add up to 2.5% to the sale price.
Refinished hardwood flooring was also one of the projects that are most appealing to the buyers, according to the 2017 Remodeling Impact Survey from the National Association of Realtors®.
Now that I have acquired everything that we needed it was time to rip up the floor!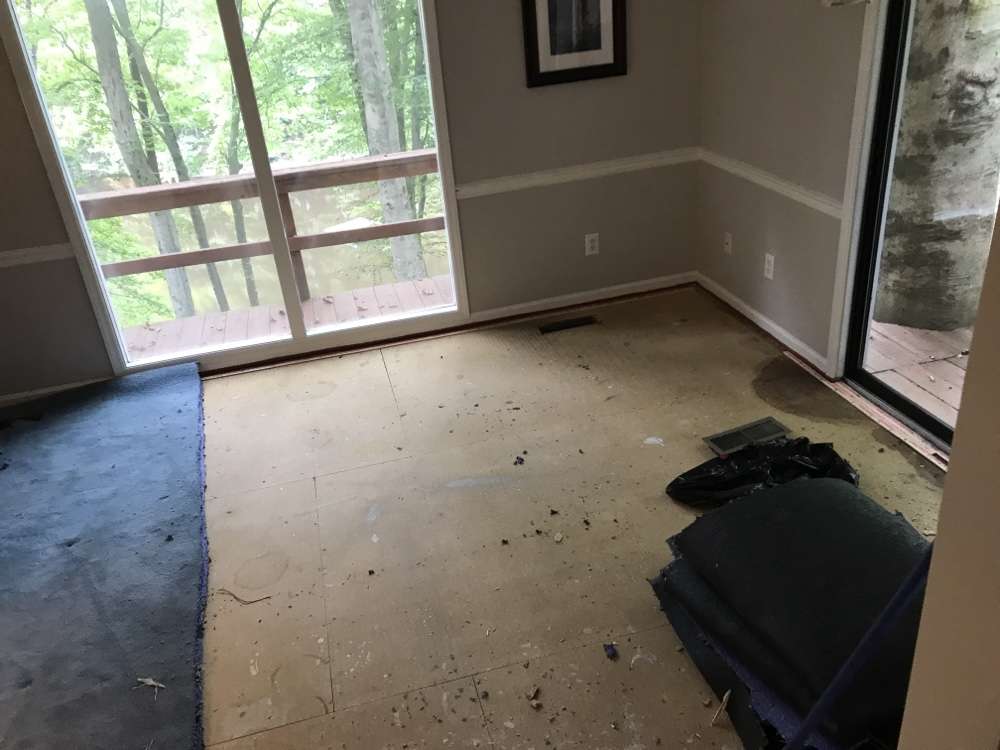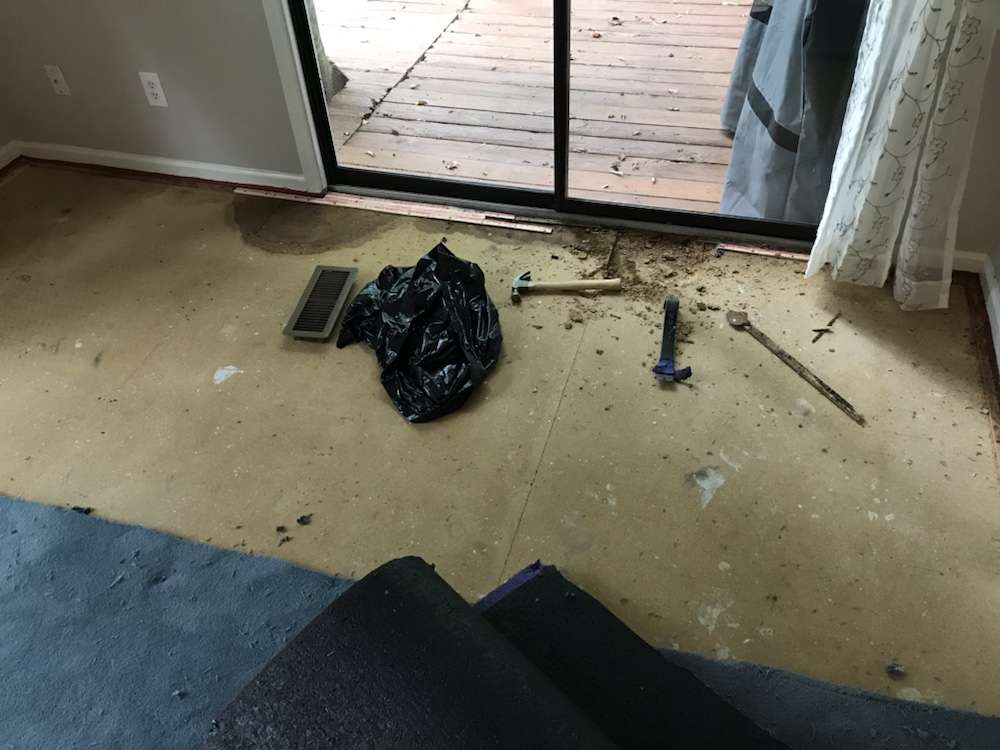 Immediately there was some calls for concern around the sliding glass door. Once I finish ripping up the rest of the carpet and the padding and then I had to get the work in determining how bad this particular damage from the sliding glass door leaking while hopefully it did not affect anything but the sub-floor and plywood underneath.
Quotes referenced above from Hardwood Floors Magazine article here:

Hardwood Floors Magazine
Until next time – hopefully everything will turn out better on the other side!