Our deck when we bought our house needed many structural fixes. Deck repairs were needed as it looked a little worse for wear. Our steps coming down from the carport had boards that were loose and rotting on the ends. Also in a previous post (New Steps down to the lake) before we even moved in, it had to be totally taken out and repaired. In this post, we will do some repairs and also start on refurbishing our Deck Railing by using a belt sander and also putty to fill in cracks and rotten sections where we can.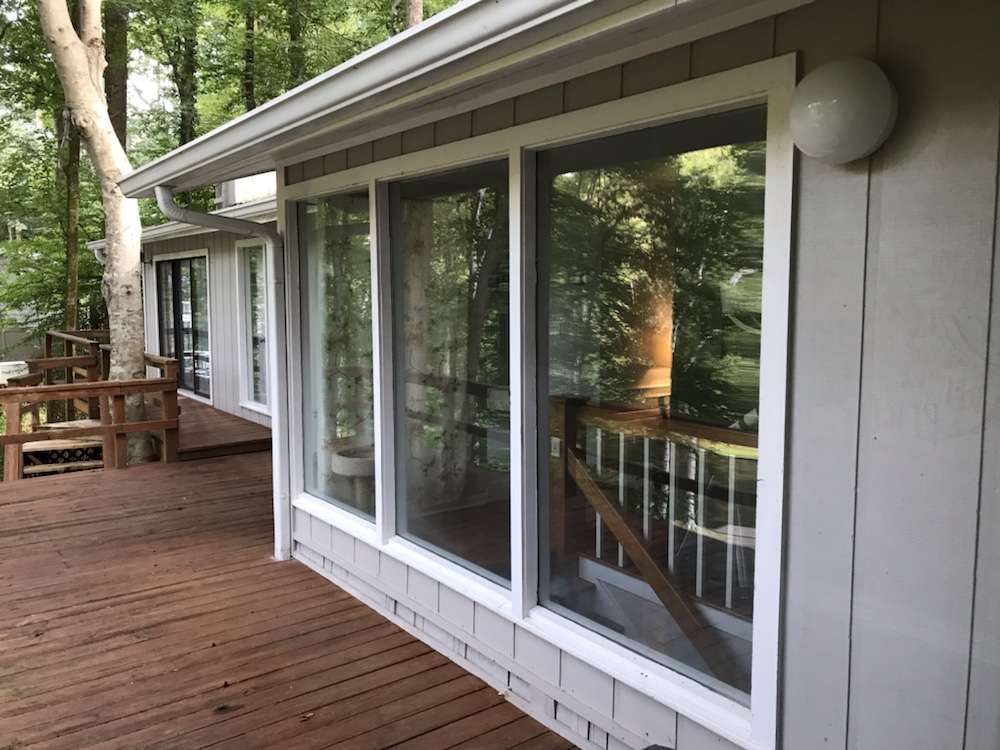 Practical deck repair assessment
We hired our contractor to get the most critical areas addressed. Then I tackled some work as well. My intention is to inform you about a couple of things to think of when you are considering repair vs. replacing your deck.
We started off with getting multiple estimates to replace the deck. The numbers were staggering. At a low end of $40,000 up to $60,000. It was not going to be cheap. In this house I would say we enjoy more time here on the deck than our last house, however that level of spending is not in our budget by any means.
A final thought, did we want to change the deck color? After all we did not choose this color – what would that mean. We looked at the pinwheel color chart below on the Home Depot website… we ultimately thought let's keep the same color (somewhere between Natural Cedar and Redwood). It would be too much extra work to make that change.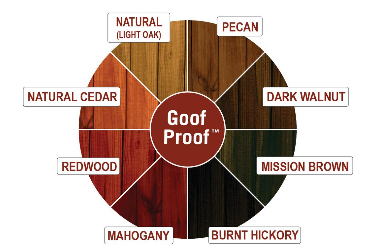 Budget and reality hits home
What do you do when you have deck repairs needed and you don't have the needed amount of cash? How to finance the improvements? My thoughts:
You could refinance your house and use some of the equity. (pro tip) I would never recommend this as long term, you get into a cycle of debt and continuous refinancing.
Get a second job and save up the cash (Major WIN, hard to do).
Sell things you own or barter (I love this and use it all the time!).
Save the cash over time. Why pay someone else (the bank) interest on this project? It is YOUR money YOU worked and saved for. By saving the money, not only does it make you think about it twice before spending, you will appreciate the changes many times over. OR totally regret it and never make that mistake again.
The last bullet, save the cash over time and repair as much myself hit home with me for two reasons.
The overall cost spread across time. My Grandmother (who is 102) and lived through the depression, always told me weigh the cost of something and if it does not need to be done today: save. Save until you have enough, and then you are at a mature point to be able to make a non-emotional decision. That simple.
I had a guy come out to our old house. Let's call him Bob. He was a unique deck guy as he wanted to do what was best for the deck. When I say that, he would do everything and anything you want but his recommendation would be to keep and repair. This not only keeps our landfills empty from old lumber, but also the older wood is actually harder and treated to last many years. New lumber does not have the same pressure treated properties and breaks down faster.
---
As you can see repair vs. a replacement is a HUGE cost difference. Bob is a firm believer in oil based stain and sealers too. Oil based stains penetrate the wood better and something I will look into for the floor boards. We will replace the rotten wood when needed and sanding. YES, YOU CAN resurface your wooden deck outside by sanding it like your living room floors.
With that thought in mind, I called up our main contractor to get moving.
Deck Repair
Replace rotten boards on the deck and steps.
Trim off the stair board edges for a fresh clean end.
Improve the structure around our Beechwood tree.
Address faulty cedar siding and seal up weak spots.
Sand deck railing.
As I stated before, we have two steps up front. Each uniquely designed and needing attention. We started with replacing the rotten wood on both staircases.
As you repair things… sometimes you find more to repair. Some of the wood near our sliding glass door was in need of repair. Also, I found a small hole under our windows that I think a mouse was getting into the basement from. I found a bottle of anti mouse / rodent foam. Apparently they do not like to bite this foam as it has metal in the foam and it cuts their gums. Problem solved. Here is a link to the foam on Amazon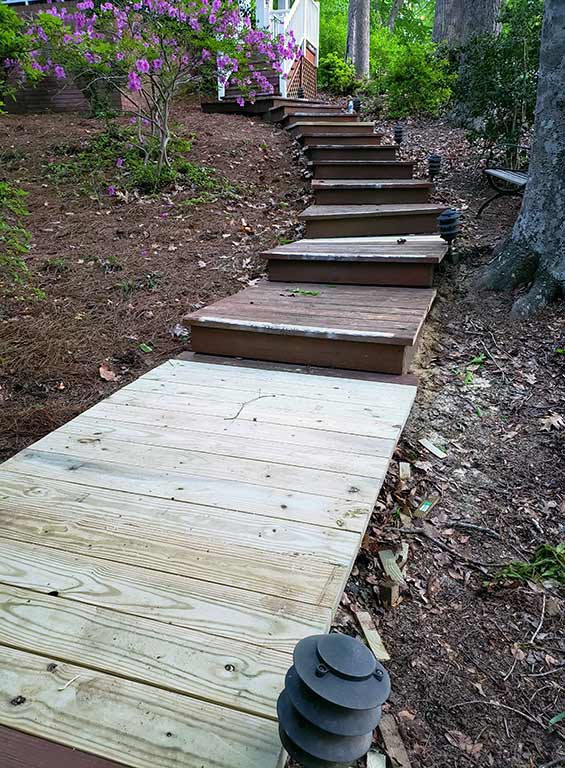 After replacing the wood and treating the remaining wood, we totally sealed the area up with PVC wood boards. I used these in two other problem areas of the house and it worked out perfectly. After a final caulk and then paint (I still need to tape out and do a final cut) we are extremely happy.
Deck Railing
My last experiment is to start the process of sanding the deck and staining. My first part of this was to start with the deck railing.
I started sanding with a belt sander (in this case my brother in-law lent me his, THANKS MARK!). I started with 50 grit belts, 80 and finished with 120. It takes more time but worth the extra effort.
I rounded off both top edges to be smooth. This makes it much more enjoyable for us humans.
Then stain.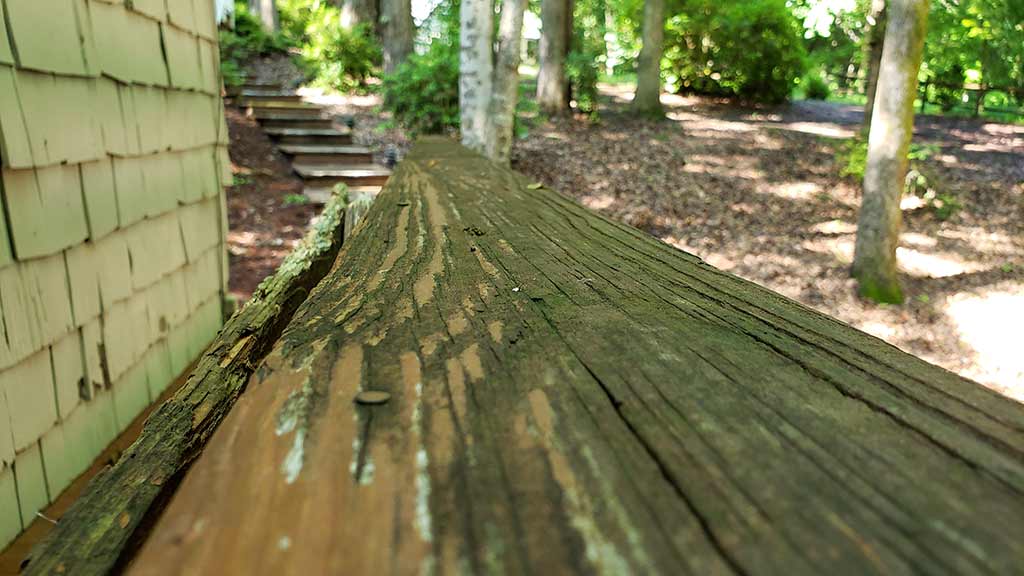 Here is a short clip of that process.
Costs for this project:
Belts (Home Depot) – 5 belts for $10
Belt sander: $100
Stain: all sorts of ranges: $34 a gallon
Replacement of many boards and stair repair: $1100
Until next time!