One of the quests we had, was to replace the staircase runner when we bought this house. Last summer we replaced the carpet in the lower bedroom that we use as a den / guest bedroom. It was replaced with a grey patterned (physical indention) carpet. We elected at the time to not replace the staircase runner with the same carpet. I guess when you are replacing other floors too, the budget steps in.
My argument eventually won over Melanie. It was mainly, don't we want something with color, a pattern and something to break up the grey and white trim? She agreed and added her ideas and we set forth to find a staircase runner. Below is where we are starting from: not horrible but it just doesn't match and is worn (30 years old). Some of the padding under the carpet is totally flat.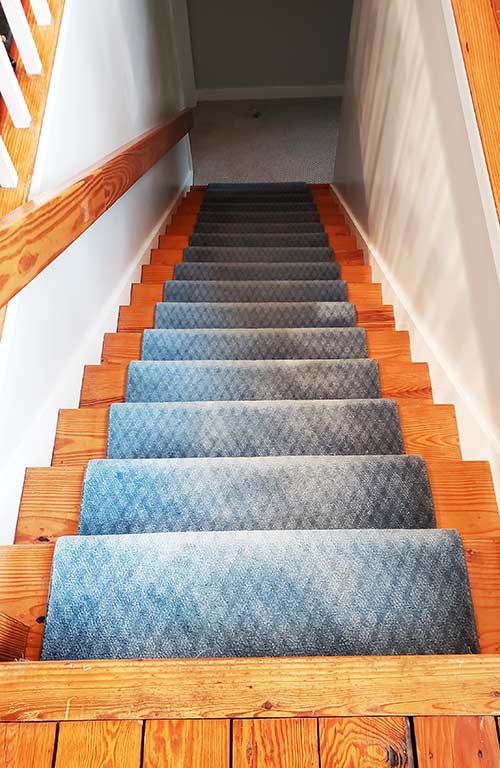 Finding the Perfect Staircase Runner
Watching too much HGTV and home remodeling shows like Flip or Flop, Home Town or Renovation Inc. (some of our favorites), make everything look way too easy. They bring in color and pattern experts or use a group of consultants on current and timeless trends for making design choices. Well…. this is the Joe and Mel show and we don't have those resources. So we might buy a thing or three before making or finding the perfect fit. We also do have YOU, who sends us text messages, emails and phone conversations. We appreciate ALL feedback we get from you – it makes our day when we hear from our fans. So the shows make it look easy to pick out and find these things but in reality, it really is not.
We went to several locations around town. All custom carpet stores that specialize in unique carpet and flooring. We did find many patterns that looked good and we agreed upon. We brought several samples from several stores home as well to try them out. Here are some of the pain points we ran up against.

The hard part about selecting a Staircase Runner
Selection; sometimes too many choices is not helpful. Try to limit a pattern or style so you are not overwhelmed.
Most carpet runners don't come made ready to install. "Just cut the length you need and all done". They are typically carpet that is cutup to the size and dimensions you need. There are some runners that are "pre-made" specifically for runners (stairs or otherwise). They are on large rolls, include binding (edge of carpet treatment) however we could not find the quality or pattern we liked.
Expense; we had price ranges from $899 – $1800+ with binding for regular carpet. That was with me installing it. OUCH, just for carpet on our staircase? Some of the reason is because it is "regular" carpet for a room and is not prepped for living its life as a runner. For example, if you have a pattern you need enough carpet to cut and join the ends. This is where the cost comes from as you have to buy more than you perceive you would need. Then edge treatment known as binding needs to be done.
Final option and what we are exploring here: can you buy a couple of nice rug runners and install them yourself.
Our choices from Amazon
With the hunt locally for carpet staircase runners and not finding something in our budget range of $700 or so, we decided to try online. We found many rug carpet runners and thought lets give it a try. After all, we have several other runners placed in our house and we like them. I also did some online searches (see at the bottom of the page) So we ordered up the following two rugs. Both of them laid out well and were easily manipulated to attach them to the staircase.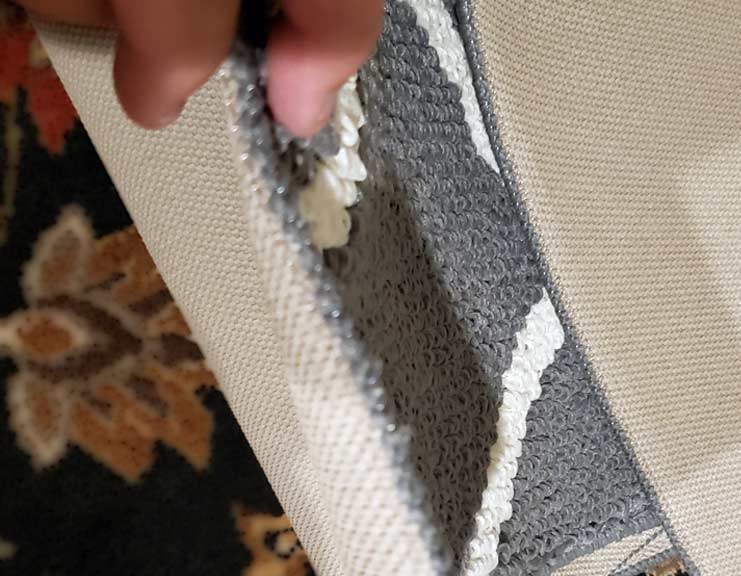 At the end of the day, we were not satisfied with how well the carpets matched the existing carpet. Through this process, we did see how easily rug runners can make a staircase runner. It is totally possible.
We also fell in love with the quality of the wool rug. We might actually order that rug up in black or blue. I would encourage anyone to go down this route first. It will save you literally thousands of dollars if you can find what you want vs. ordering a custom runner.
Measure for a Staircase Runner
What you need: measuring tape
Make sure to pay attention to the riser (board that forms the face of a step) that meets the tread (top or horizontal surface of a step). When we measured the height of the riser and depth of the tread boards we found it was much longer than our staircase length (from top to bottom). The straight measured distance from top to bottom was 23ft. Adding in the riser boards it ended up at 32 ft. So it adds up quick. This means we would need 3 rugs on average, totally doable and keeps us way below our target budget!
Once you have your rugs, you can follow many techniques – I will cover what we ended up doing when we find the rug we want.
Resources
IF you are ready to install, doing a quick search (you can use our Pinterest page here under "Design Ideas") to find a number of excellent tutorials. I follow this blog (The Sweet Best) who has their own story and also pointed to these sites for inspiration. Yellow Brick Home's tutorial, the Young House Love identifies on how to use a staple gun, then rug joining techniques from the Annie Selke runner install guide. All of this was great input to our wants and needs.
Staircase Terminology: brought to you by Pike Staircase
---
Joe and Mel will keep hunting for the perfect runner. We certainly learned a thing or two along this journey and we hope you enjoyed this post. If you want to get in touch with us, leave a comment below or use the contact us form. We are always looking for feedback, ideas and your questions on our projects.
Until next time!