You may not live in the country or in a city that has access to local farmers but supporting your community farmers is key to having a free and open society. In recent years, the focus to get everything from big box stores has increased more and more. Think about the lock downs and the overall oppression of smaller businesses. Walmart and Sam's Club were not closed down but somehow smaller stores with limited space for social distancing were not allowed to be open, or felt to compelled to not open due to society stigmas during the pandemic.
The key to our free society is to meet your neighbors. Find out who in your town and city owns businesses, even small ones. By doing this, you are supporting your town, your city and your neighbors. The good news is there are multiple ways to do this. Supporting local farmers is a simple way to meet people and express appreciation. You are there to support each other even if you may not agree on all topics in this ever polarizing world today.
Community Farmers – Meet and Greet
More importantly when talking about supporting your community farmers you should know this. They are cut from a different cloth than the rest of society. Hardier and more in tune with Gods green earth and what is happening around them and also easy to talk to. I would say salt of the earth, down to earth people. As a teenager, I worked for a high school buddies family business. It was mainly for Landscaping but they had a nursery and farm. It was great work and I cherish the memories even to this day. They currently have a strawberry farm (I wrote about it here), called Jone's Strawberry Farm. If you are in town in the spring then it is a great place to visit. Mark your calendars as inventory disappears quickly.
Harmony Ridge Farms
I searched a while back to find multiple local farms that we could meet and support. One of them, Harmony Ridge Farms sends our weekly news letters via emails about what produce, meats and other inventory that they have available. You can sign up for this news letter by registering at their website. This week was a good one with multiple items we were interested in. On Saturday, since the weather was a little cool and we would not be doing anything outside too early, we talked about visiting them. So we hopped in the car and headed that way!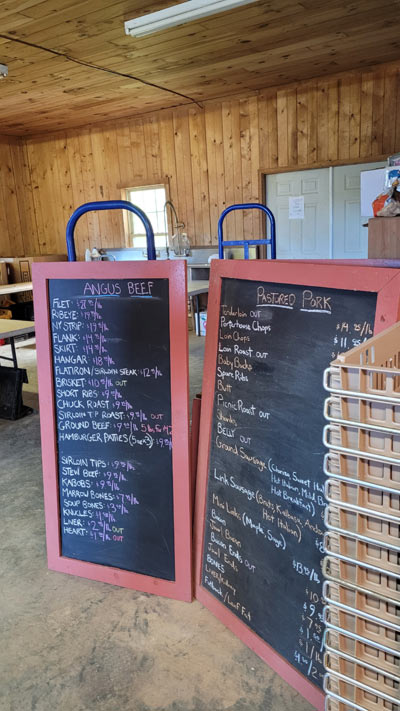 They have two locations (on site at their big Barn 3835 Bowens Rd. Tobaccoville, NC and downtown Winston-Salem, NC at the Cobblestone Market). We wanted to go directly to their farm vs. just the market which is for city slickers.
---
As we drove past several farms, I remember a friend of mine in High School who lived down this road in Tobaccoville. It is a curvy pleasant country road and we found the gravel drive to the farm. To greet us was Isaac and a neighbor who were having a chat. We spent some time speaking about a variety of topics and Isaac invited us into the barn.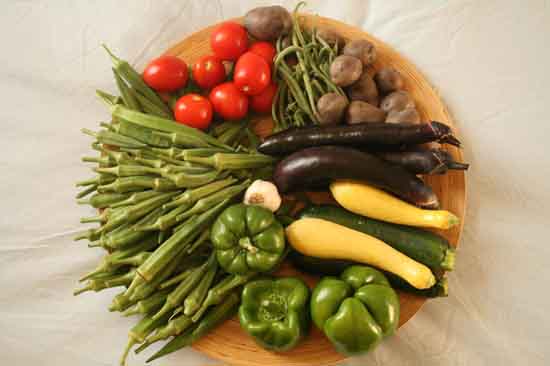 They also offer a program for families to join that is part of their CSA (community supported agriculture aka crop sharing). This program from them allows you to order fruit and vegetables and optional meats. They are delivered in what they call "Harvest boxes" and all programs include eggs.
I think we will be signing up next time (as it was already closed).
---
Don't think of it as an ancient rustic barn from 200 years ago. This is a modern facility that is neat and clean with a couple of freezers. We chatted about the history of the farm that he and his dad started in 2010. They sell and deliver (as you can see the information from the email we get weekly) to people as well as support various restaurants. All in all, it was a nice visit to speak with him and their passion for the farm. They have weekly offerings at the farm and also in Winston-Salem Cobblestone location. Check their website or social media for more information on times / dates.
What we brought home was fresh and tasted great. The steak will be grilled up on our new Weber Genesis e325 grill tomorrow for Sunday lunch along with the acorn squash. Everything is as promised and you won't be disappointed.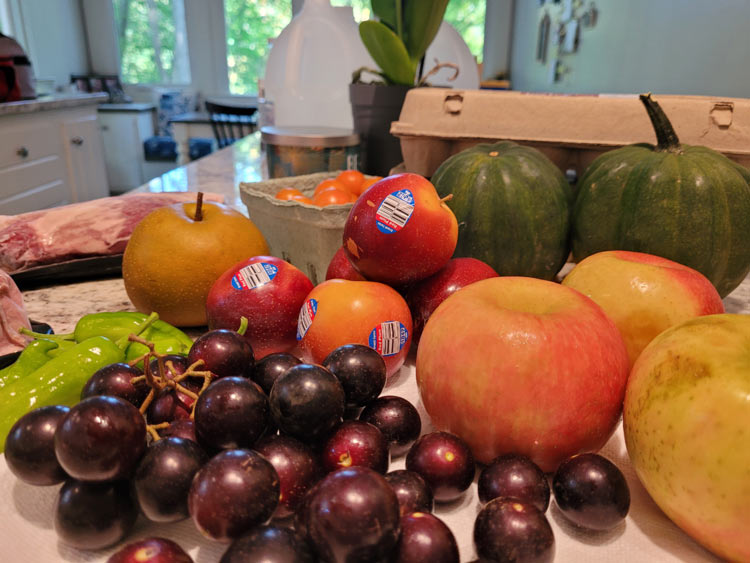 How They Handle Weekly Delivery: from their newsletter
Please order from the list below (simply respond to this e-mail with an order list before 10PM prior to delivery) and we will deliver directly to your doorstep on THURSDAY OR FRIDAY.  Invoice will be sent via square evening prior to delivery.  

$60 minimum order please – $5 Delivery Fee for orders under $100.  FREE DELIVERY for orders over $100. If you are outside our normal delivery area we ask for a $150 minimum order (includes Lexington, Advance & Mocksville)  

HOME DELIVERY SCHEDULE:   
THURSDAY: greater Winston-Salem area, Greensboro, Kernersville, King, Rural Hall, Walkertown, Tobaccoville, Pfafftown and places around and in between. 
FRIDAY: greater Winston-Salem area, Charlotte, Huntersville, Davidson, Clemmons, Advance, Mocksville, Lewisville and places around and in between.

Alternatively you may order for pick-up.  Minimum for pre-order and pick-up is $35. 
PRE-ORDER PICK-UP OPTIONS:
Thursday barn porch: Noon until 6 pm
Saturday barn porch:  9:30 to noon
Cobblestone booth 8:30-noon



Pretty easy to do, just follow the instructions. Of course you can visit in person which is somewhat the reason for this post – but I guess let them drop off your order next time? Either option will work.
Here is the Haul we brought back in from Harmony Ridge Farms
2 Dozen HRF pasture raised L grade A brown eggs: $6.00 per dozen
12 Honey-crisp Apples: $2.85 per lb Apple Haven Orchard, Hendersonville, NC
12 Red Plums Mix: $3.50 per lb Apple Haven Orchard, Hendersonville, NC
1lb Muscadine Grapes: $3.95 per quart Perez Farms, Fletcher, NC
1 pear
4 Shishito Peppers: 4 for $1 / 12 for $3 
2 Acorn Squash (about 1.5 lbs): $4 ea
Sausage (hot breakfast bulk): $6.95 per lb pack  4 for $24 
Sausage (sweet Italian bulk): $6.95 per lb pack 4 for $24 
Sausage (chorizo): $6.95 per lb pack 4 for $24 
3 Flank Steak (about .75-1.5 lb ea): $14.95 per lb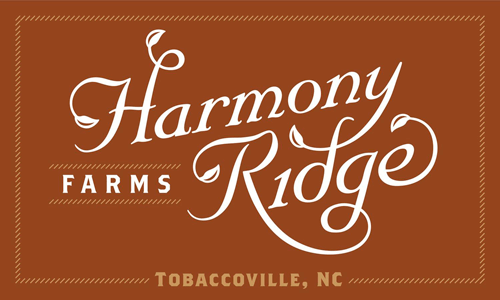 Harmony Ridge Farms
3835 Bowens Road
Tobaccoville, NC 27050
336.467.1052
Thanks to the Isaac and the team at Harmony Ridge Farms – we look forward to the next time!
Thanks for stopping by our site,
Until Next time!