The temperature has started to turn chilly in the past couple of weeks and our bedrooms prefab fireplace will be getting fired up soon. In a previous post here: we finished working on our fireplace in our living room and it has been working out great! However, the fireplace in our master bedroom will need some attention this fall in order to be ready for the cold winter nights. We have not used it much, due to a leak (or so we thought) from the flue. When we used it for a couple of fires last winter, it really heated up the bedroom and house (before we got smoke in the room and our smoke detector started to buzz sporadically) :(.
I am sure you are familiar with a Pre-Fab fireplace. It is essentially a wooden structure (known as a chase) with a metal fireplace stove, metal stovepipe and metal chimney chase cap and finally a chimney cap. We were a little concerned about rust showing around the fireplace unit itself when we bought the house. It raised some questions of could there be a leak/hole in the chase cap and then firebox.
We did wake up to hear the sound of what I thought was a leak. Sometimes when you hear such things, (especially when you just finished another project), you want to ignore a sound like this. However, it just kept happening over and over and I put it off long enough.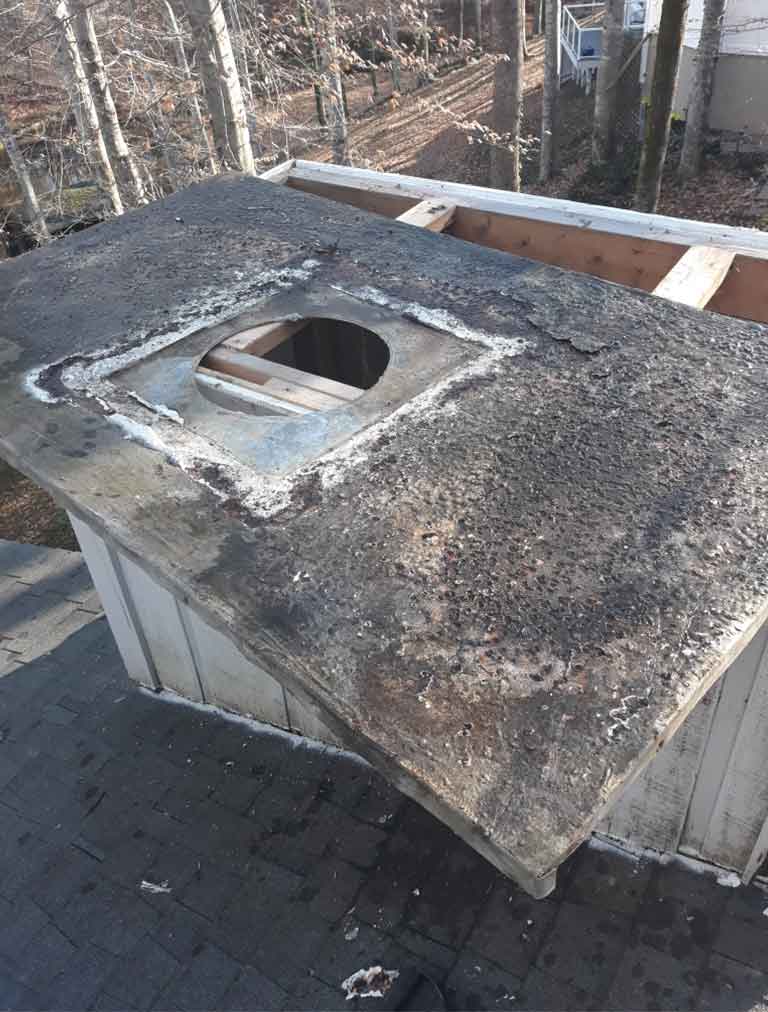 Upon inspection two things were evident. 1. The top of the cap that covers the wooden structure was concave. Water would sit on top of the box and it looked horrible! 2. There were areas of water that were being trapped and could not get out. It had what appeared to be seams that had holes / gaps in them.
I needed my contractor to come out and do an inspection and repair.
As you can see it was worse for wear but it was mainly only "ugly" in appearance and that would be easily fixed! They took off the metal cap and everything underneath looked great. There was slight evidence of a leak at some point but it was dry. I asked them to take and refurbish the cap if they could and put on a fresh coat of heat resistant paint. While the chase cap was off, they incorporated additional wooden support to eliminate any standing water on top. As you can see it turned out much better than what it looked like before.
There was also a couple of small trim boards that needed to be replaced and we took care of that. Nice to have this done after a coat of paint. These structures for the most part are pretty reliable as long as you can keep water out. Let me repeat, as long as you can keep water out.
We used the fireplace one time after the fix to the cap – however, we started to get smoke into the house. So we decided we would work on it this summer / fall. So I scheduled an inspection from a local fireplace experts at "A cleaner chimney".
One of the most important functions of a fireplace is to generate a draft. If you think of boiling a pot of water, as you see the water start to boil, the steam from the pot rises. The steam represents a mass of heated air. A fireplace, when you are burning wood, creates a similar mass of heated air (smoke) that rises up into the chimney. When the air rises, more heated air from the fire is pulled after it. This is what creates a draft that we are seeking. The draft is what creates a steady flow of air keeping smoke out of your house. As it gets hotter and hotter, the chimney will naturally create a stronger draft.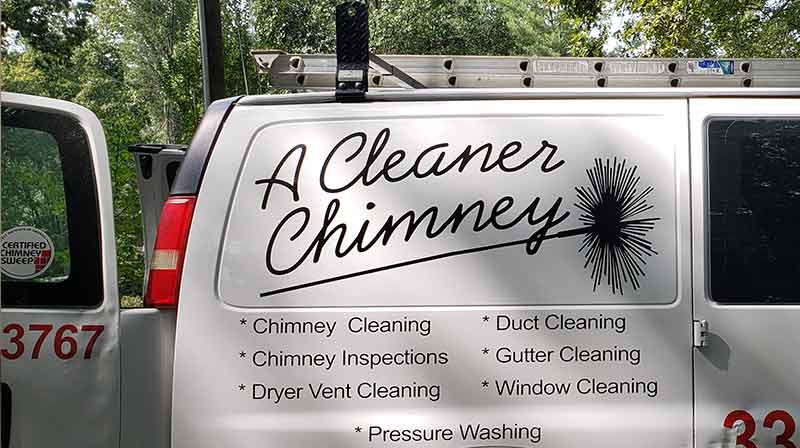 I spoke with Chris over at A cleaner Chimney and he said Kyle would be out in a couple of weeks for our appointment. Kyle showed up on time as promised to do the general assessment. I explained the situation to Kyle and described to him the problem. We checked for leaks and any type of visual indication that the fireplace was leaking into the house.
A Cleaner Chimney Contact Info
1020 W Northwest Blvd., Ste. A
Winston-Salem
,
North Carolina
27040
USA
Next up was to assess the draft / flow of the chimney and inspect the flue cap. Kyle also did a general assessment of the room and environment. One thing he mentioned which is relevant to ANY older home, is that if you do improvements like replacing old leaky windows and doors to get a bump in energy efficiency, it can cause a problem with your fireplace and the amount of draft you have .
Kyle said in one of his training classes, the instructor spoke about using a technique that helps to validate the flow of the chimney. There are two parts to this – but the science of it all is simplistic and effective. He did not have a situation yet to use this method and was excited to try. So what you see below is how we validated the draft of the chimney.
To replicate this process, you need the following items.
---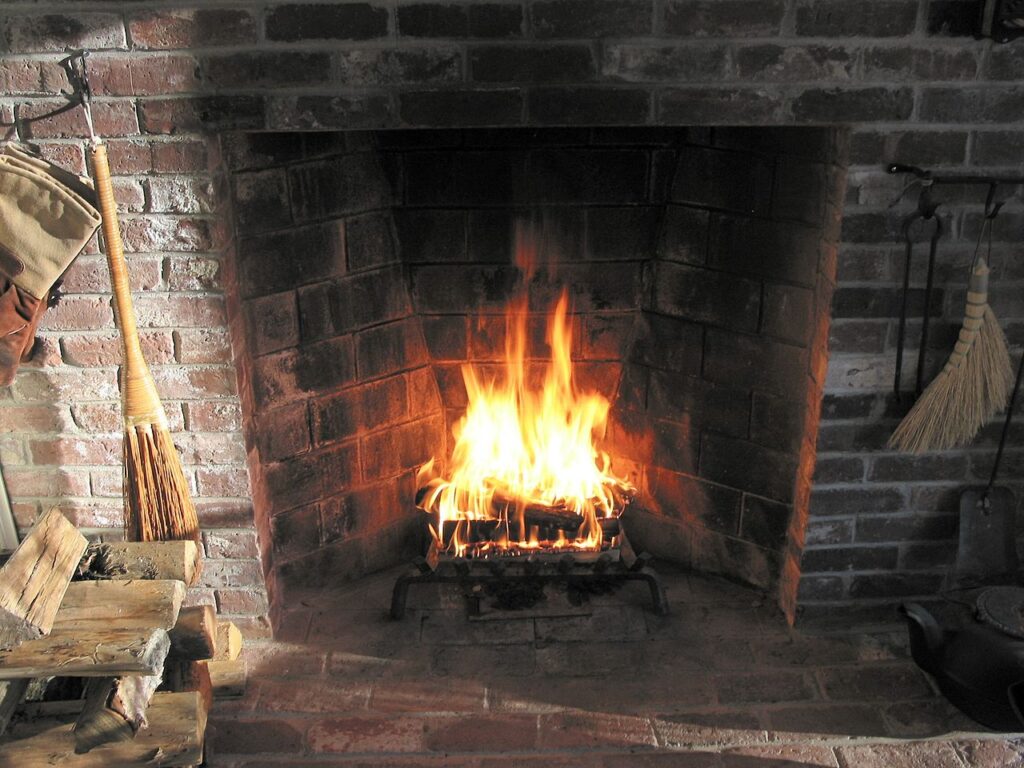 Here is an example of a great historically built fireplace. Many of the modern designs are based on the Rumford design for proper heat dismemberment and better draft. Our living room brick fireplace is a Rumford design.
"The Rumford fireplace is a tall, shallow fireplace designed by Sir Benjamin Thompson, Count Rumford, an Anglo-American physicist best known for his investigations of heat. Its shallow, angled sides are designed to reflect heat into the room, and its streamlined throat minimizes turbulence (creating better draft to keep smoke out of the room and reflecting heat back in). Wikipedia"
---