Happy New Year – we hope everyone is ready to move onto a new year and take on new things. Who knows what 2021 will bring but we are always ready for a new adventure in our house. Today's adventure centers around installing something old that is new never used old stock, a NuTone Starburst Doorbell.
As the saying goes, there is no replacement for the real thing. During our search for a house, when we decided to buy a Mid-Century home, we wanted to do as much as we possibly could to keep the look and "restore" where we could. There are so many aspects (and limitations you run across). In this case, the attention to detail will go a long way by adding something from the 50's / 60's era.

Old vs. New Tech
While yes we would want to have some modern items (like automation for energy efficiency) you have to think how will this affect the house. Sure you can go all out, rip out walls and install some of the latest tech but it is not always cost effective OR ascetically pleasing. For example in this posting, I bought for my wife as a stocking stuffer an authentic 1950's NuTone Starburst Doorbell. I found it on eBay and it was NEW old stock. While we could have done something like a new "Ring" camera doorbell but what is the fun in that :)? In many cases it was cheaper to buy a "Ring" camera. Also with other hidden cameras in our home, we don't have the need for such devices.
Finding a Mid-Century Starburst doorbell and Price ranges
You can find "synthetic" copies on eBay in the ranges of $45-$65. These are replica's made from one of the original models however they are not made of aluminum but epoxy resin. As it gets harder and harder to find the real McCoy, the "synthetic replicas" will become all the more common. My search went on and prior to Christmas, there were several new old stock units popping up on eBay. Most of these were the common brass coated / gold color. For our house we were looking for silver trim.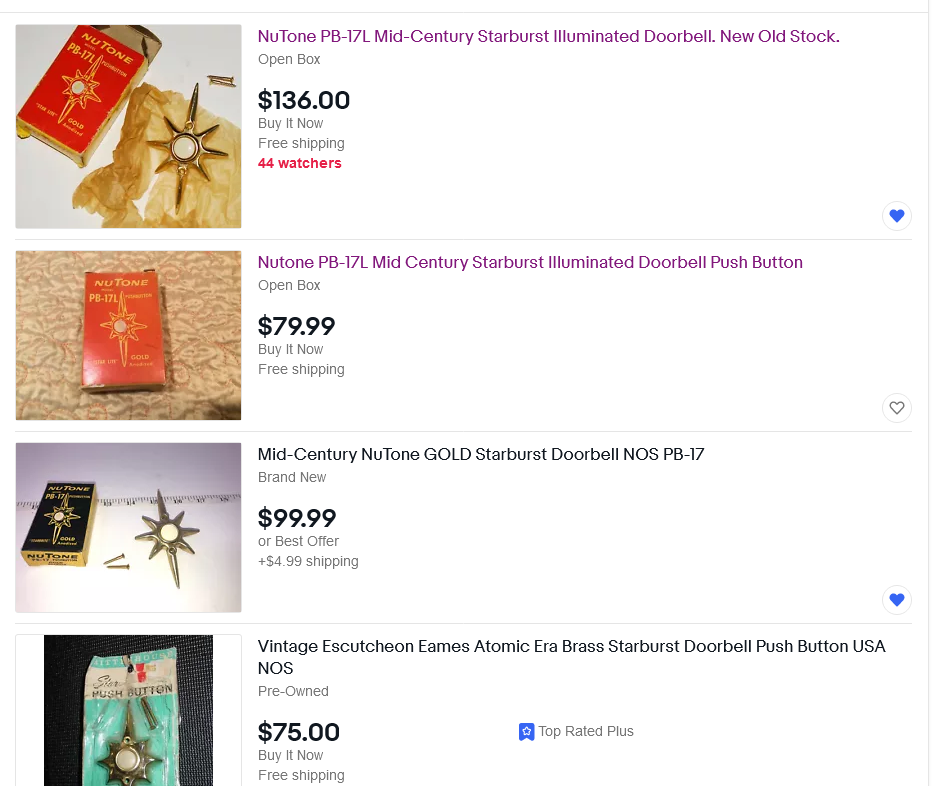 I was patient enough to find a new old stock aluminum unit. It was perfect with an additional bulb. While it was more expensive then the resin replicas it was well worth the price of admission.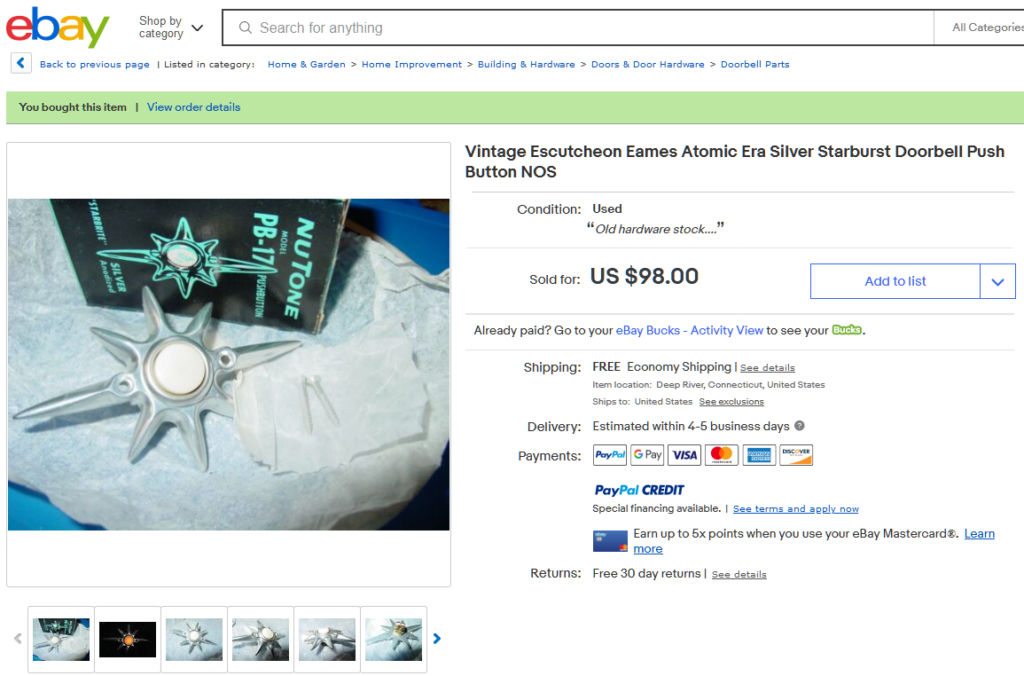 So I wrapped it up and put it in her stocking – just waiting for Christmas to install this unique item. While it was small it will add a nice flair of Mid-Century Modern style to the house. Again it is always attention to detail and why it is important. Personally I appreciate this era of Rockets and Space discovery… While I was not around, I grew up in the 80's with the Space Shuttle. So I connect with the Space Race and can imagine how dreams were made then.
Installing a NuTone Starburst Doorbell
Once we got past opening presents and a day or two later – I started the simple task of installing this NuTone Starburst doorbell. Overall it went pretty easily. As I started to disable the old doorbell I found out two things.
I scraped slightly some of the surrounding area where the old unit was mounted. I then applied a couple of light coats of paint. I would have done more but it was only about 34 degrees on this fine day and it would take some time for the paint to dry. The good thing is, our entry way is set back about 3 feet and the sun shines on it all afternoon. It was just warm enough for the job to progress.
After paint, and working on the wiring I was able to get this installed with no problems. As I said earlier the wiring was rather short. It took new found contortionist skills to get it wired up, but it worked out fine in the end. I can't tell you how many people came to the door while I was doing this (some people multiple time 🙂 ).
*Note: I did drill two very small pilot holes for the screws that came with the unit. On my ceder siding you could force the screw into the wood, however I wanted to make sure it was secured vs. cracking old wood and falling apart. Simple step but needed in this and many other occasions.
Project Costs
NuTone Doorbell: $98 (including shipping)
Paint: $12
We hope you enjoyed this update – Happy NEW YEAR to all of our followers and we look forward to our next project in 2021!
Until next time!