Last night the temps dipped down to 20 degrees, so we can say that winter is here early. All this week we have lows in the 20's. As many of our projects, we have discussed getting a fireplace door vs. just a screen. We came to the conclusion that we had three objectives.
See part 2 – Build a Stunning modern Fireplace Mantle
Keep sparks out of the living room
Have a barrier for cold chimney drafts
Keep the smell of burnt wood and ash out of the living-room as much as possible.
With those things, we made a decision to order a door. That seems like a simple task, right? The first store we went to had beautiful doors but they started at $700. While I can appreciate quality and we do want a good unit in the living-room we were not prepared for that price point. So we shopped around. Finally we got online and found a couple of nice-looking units on Amazon. I did a general web search and found out these same doors are sold by Lowes Home Improvement. The name of the door we were looking at: Pleasant Hearth AN-1012 Alpine Fireplace Glass Door, Black, Large. They come in 3 sizes, Small, Medium and Large.
A quick visit and it confirmed these fireplace doors had an excellent build quality. At the time, I was not 100% sure of the dimensions so I needed to go back home. Also in the south, they don't keep these in stock so they are a special order item.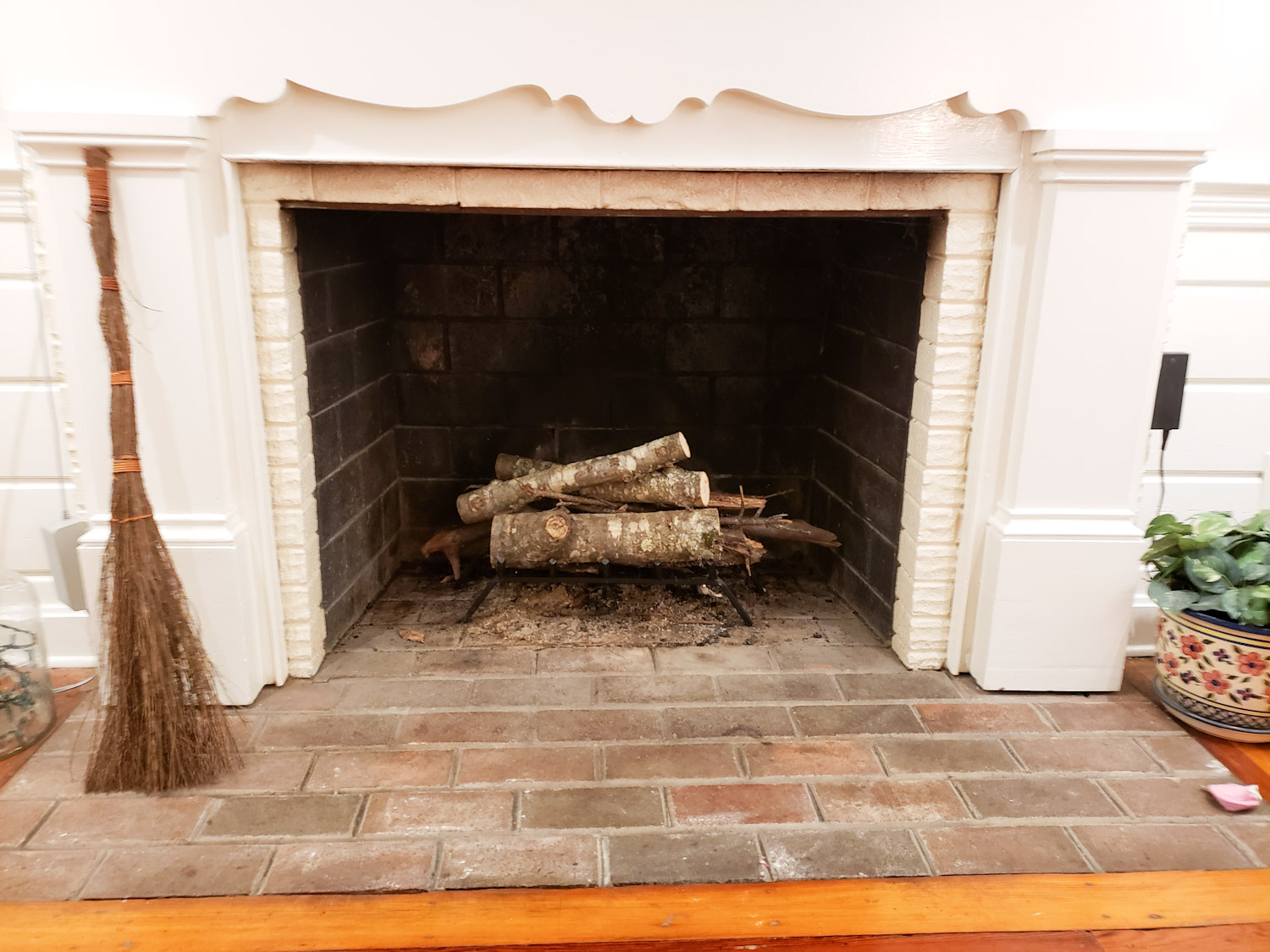 Selecting a Fireplace Door
Back home, I figured out we needed the larger door. We looked and looked and eventually settled on this door. Pleasant Hearth AN-1012 Alpine Glass Door. Fired up Amazon, and ordered it up… two days later was install time as it arrived!
As you can see, the box was rather large and they packaged up the door to make sure it was not damaged. They did an EXCELLENT JOB as there were no scratches!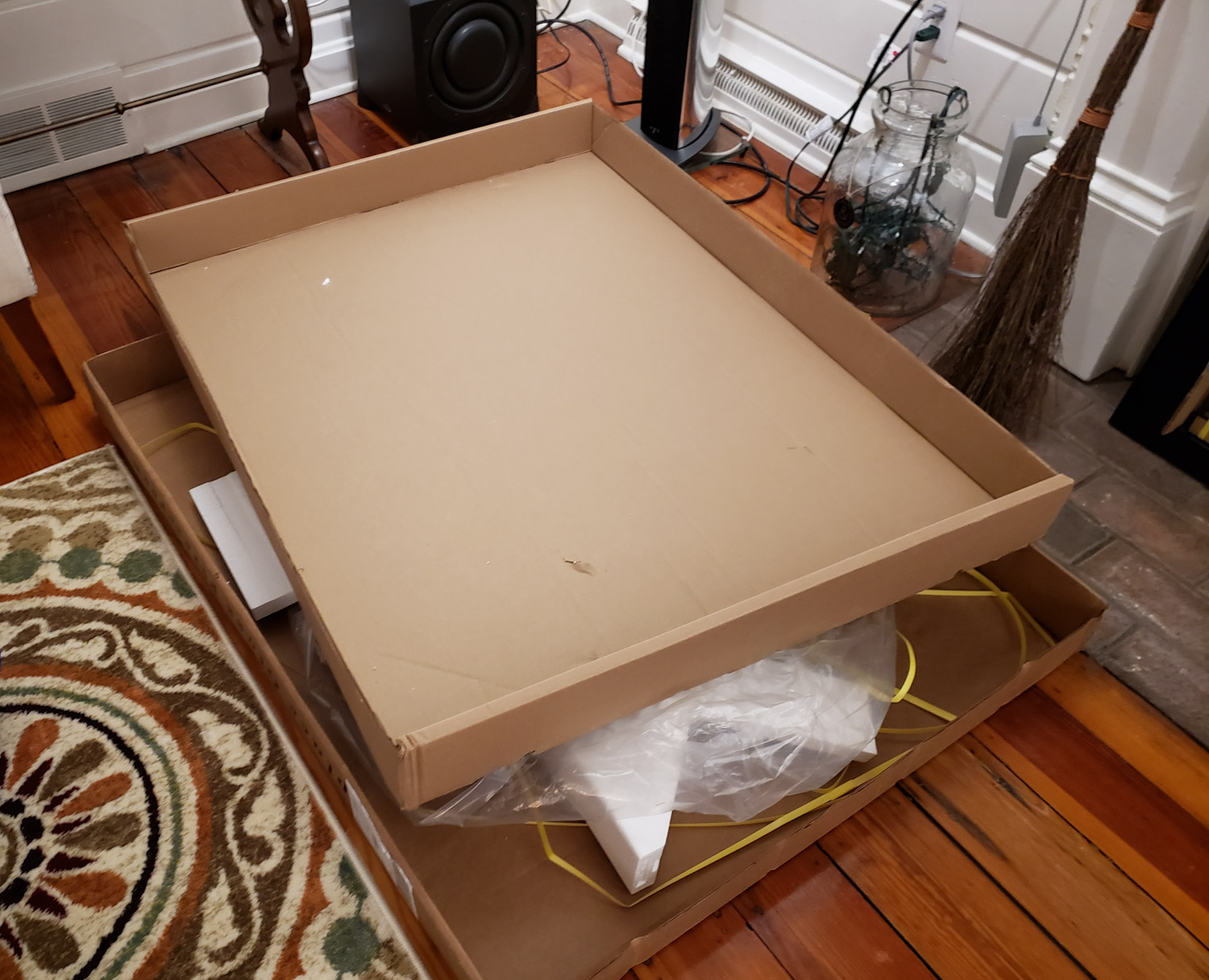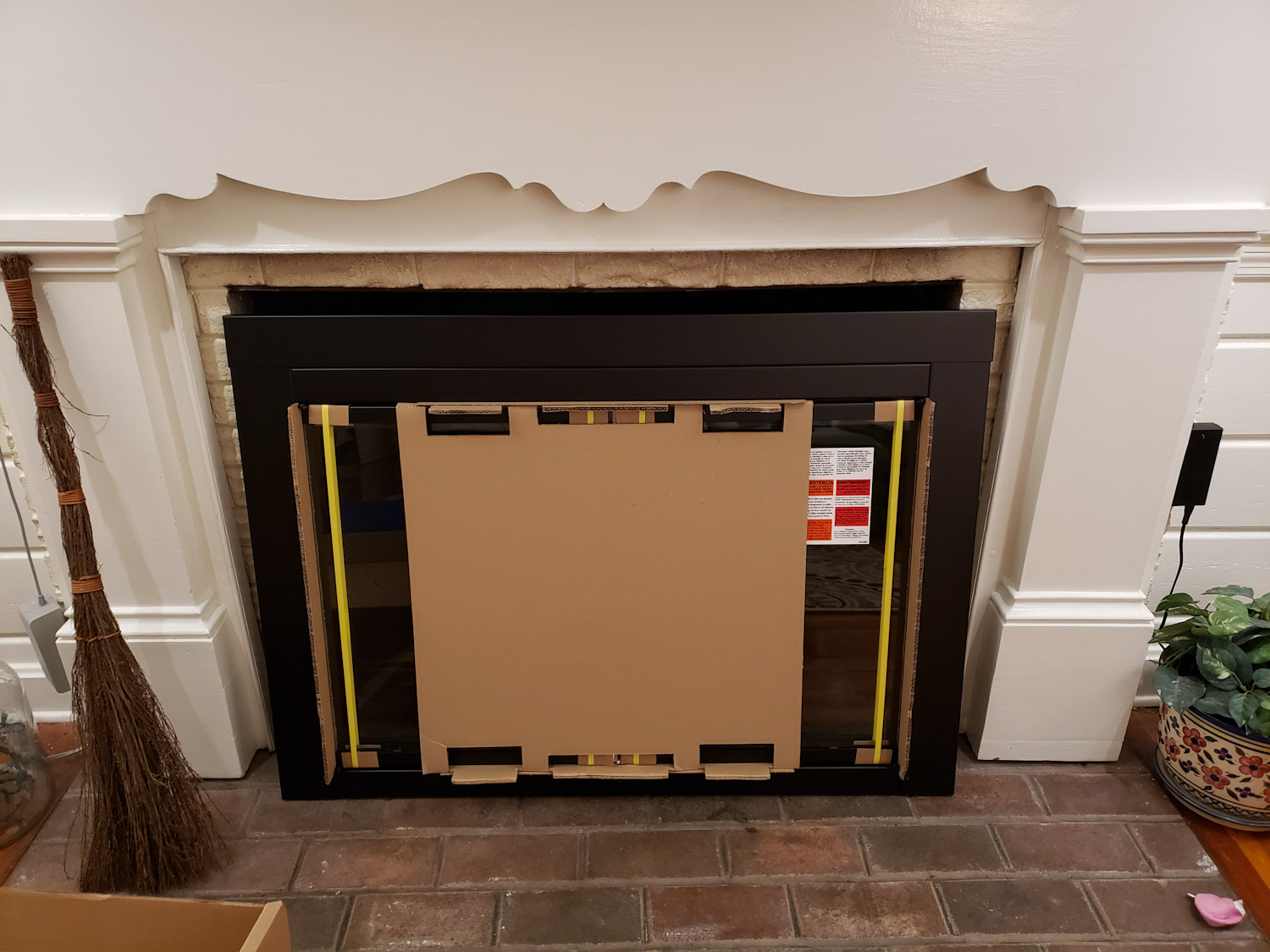 Here is the description:
The Pleasant Hearth Alpine features 3/16″ safety tempered glass doors open up 180 degrees, meaning you'll have the full view of your fireplace. These glass doors are held together by heavy gauge steel and 1 inch welded frame.
Secondly, two rigid mesh panels with easy catch magnets sit behind the glass door. These mesh panels protect your family from potentially dangerous sparks from the fire.
The all-black finish is sleek and classy at the same time.
The installation of the glass door is easy, only taking an hour or so to install.
The glass door is produced of quality materials: Thick glass and metal.
Doors are easy to clean
Time to install? 0 to done in 30 minutes.

To start installing remove all cardboard.

Now place the door face down on something soft. Install the insulation.

*Note I added additional stick on insulation at the top and side to totally seal the door.

Finally, add the brackets then install the door!

Screw-in the handy twist screws and away you go. All done (just follow the instructions and you will be good).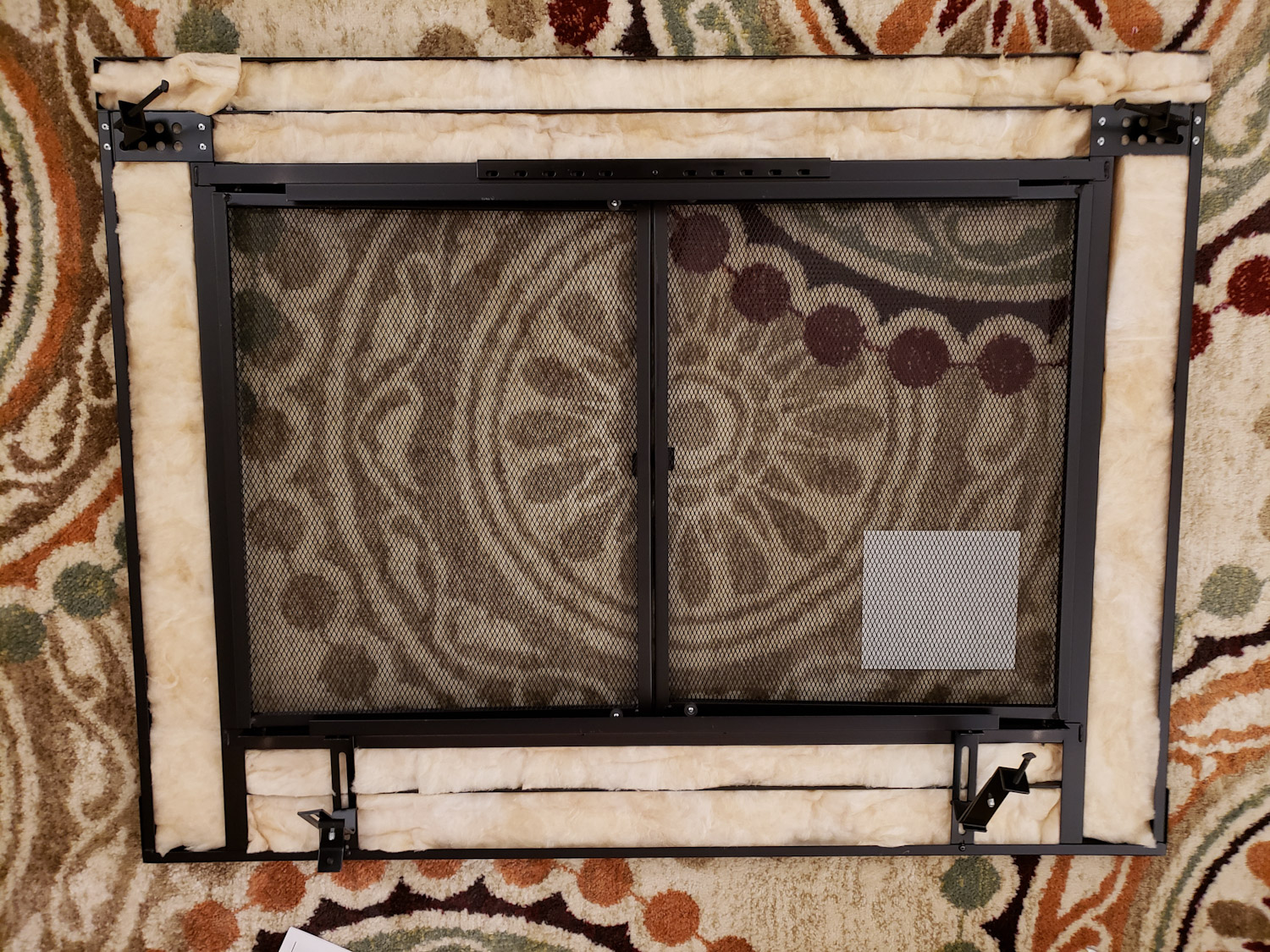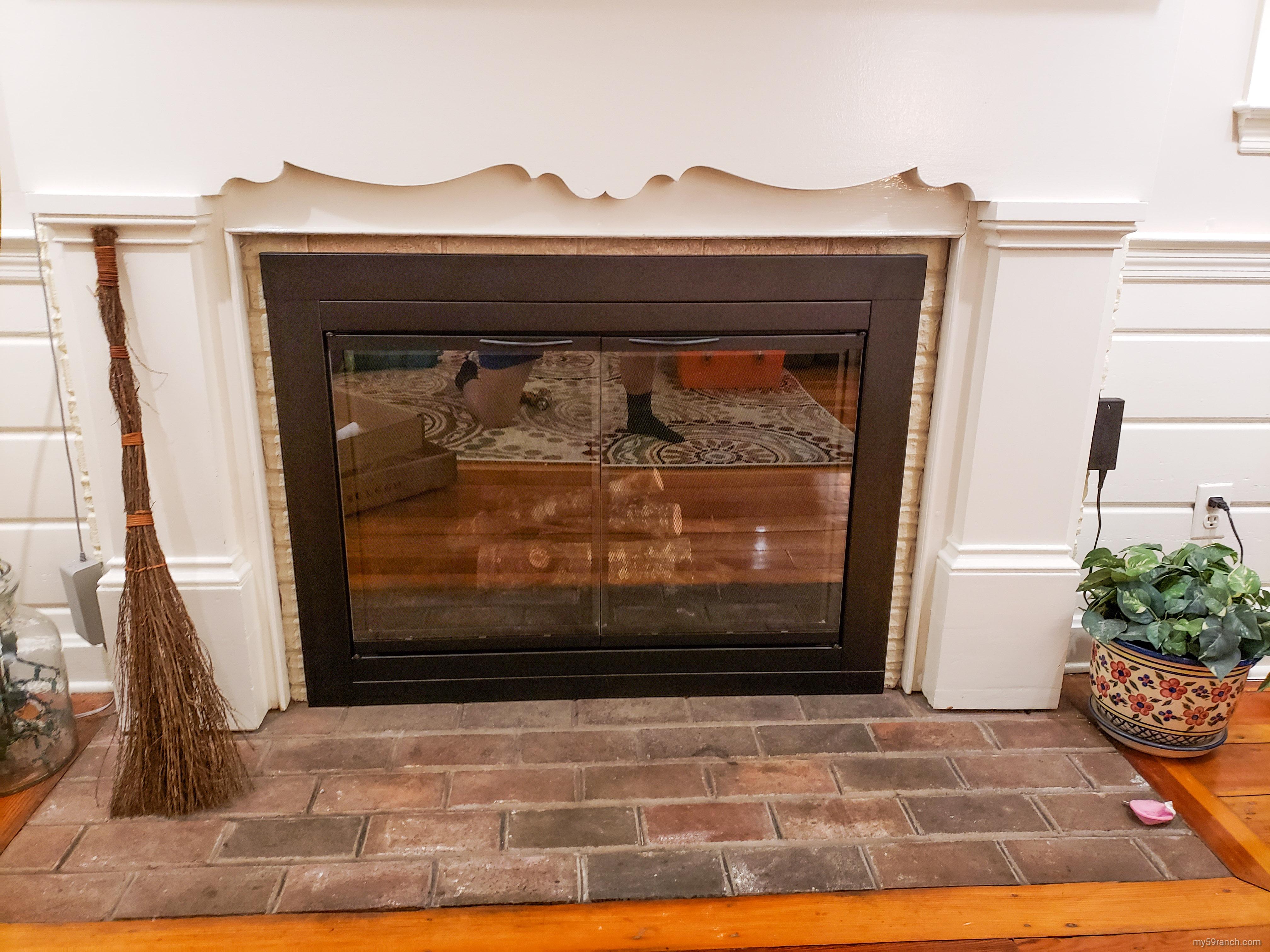 Project Costs
Next up will be swapping out the mantel and tile… but that is a little down the road.
Until next time!