When you have a white mid century kitchen, 0r a more classic white mid century modern kitchen you have many choices when doing a remodel. Of course it depends on how far you want to go. Are you stripping out the old cabinets? Going for total floor up remodel? Or are you going for addressing the general main issues? Either way we will go over some fresh Ideas to Bring New Life to Your Space! This is one of many projects we are doing on our house. The forever project house!
Mid century kitchens are renowned for their timeless design and functionality. With a focus on simplicity and functionality, they are perfect for those who appreciate vintage aesthetics and modern amenities. Our kitchen was updated in the late 80's, which means some things are OK, like our cabinets. They are in great shape and could use some sanding and painting however they are not our focus today. As we started to reflect on what should we do with our Mid-Century Kitchen, it did not take long to address the biggest eyesore (the countertops).
Our Functional Mid Century Kitchen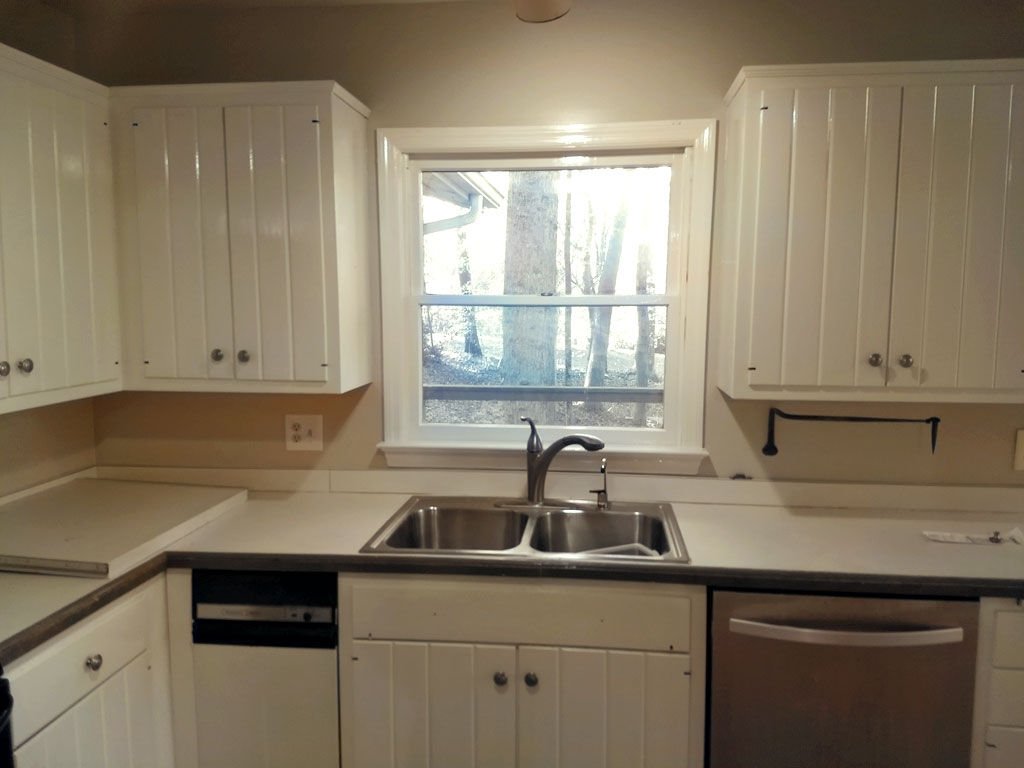 8 Ideas on refreshing a Mid Century Kitchen
1. Introduce Bold Colors
Mid century kitchens often feature neutral or muted color palettes. If you want to add some personality and modern flair, consider introducing bold colors. For example, a deep emerald green on the kitchen cabinets or a bright red accent wall can make a statement and add character to your space.

2. Replace Hardware
Updating the hardware on your cabinets and drawers is an easy and affordable way to refresh the look of your kitchen. Consider replacing old-fashioned knobs and handles with sleek, modern hardware in brushed nickel or matte black.

3. Add Textures
Textured materials such as concrete, marble, or wood can bring warmth and depth to your kitchen. Use textured tile backsplashes, add a concrete countertop or install wood paneling on an accent wall for an instant update.

4. Install Open Shelving
Open shelving is a trend that's here to stay and is perfect for a mid-century kitchen. Installing open shelves instead of traditional upper cabinets gives you the opportunity to showcase your favorite dishes and kitchen essentials.

5. Replace Lighting
Replace old, outdated lighting fixtures with modern, sleek pendant lights or sconces. This change alone can bring a new, updated feel to your kitchen.

6. Use Mid Century Inspired Pieces
Add some vintage charm to your kitchen by incorporating mid-century inspired pieces such as bar stools, chairs or a vintage inspired refrigerator. These pieces can add a touch of timeless style to your space while still being functional.

7. Replace Countertops 
Replacing old and outdated kitchen countertops is an easy way (albeit not cheap) to bring new life to your kitchen. Sometimes a color or material change is just what you need.

8. Backsplash Updates
From a bold pattern background to a simple subway tile, many mid-century updates include a backsplash to add color OR patterns. Depending on your kitchen and desires you can't lose, however try to find historical Mid-Century styles otherwise you run the risk of doing a "trendy thing" vs. a timeless upgrade. 
By incorporating these fresh ideas, you can modernize your mid-century kitchen while still preserving its classic charm. You may be able to do some of this by yourself, but more than likely you could buy most of these products at Home Depot. However tackling something like a granite countertop you will need extra manpower to move the granite as it is very heavy. Not for the faint of heart.
Our Updates for our Mid Century Kitchen
Here you can see how we started. This old kitchen was setup for the 1950's with one addition in the late 1980's. They added the island and also updated the cabinets and counter tops. So it is not the original kitchen but the good news is the cabinets were quality and are still in excellent condition. We thought about a rip out / replace but in order to do something totally different it would be a tremendous amount of work for little value at the end of the day.
The wood edge was a nice touch with the Formica top.
Countertops can make your whole kitchen look tired.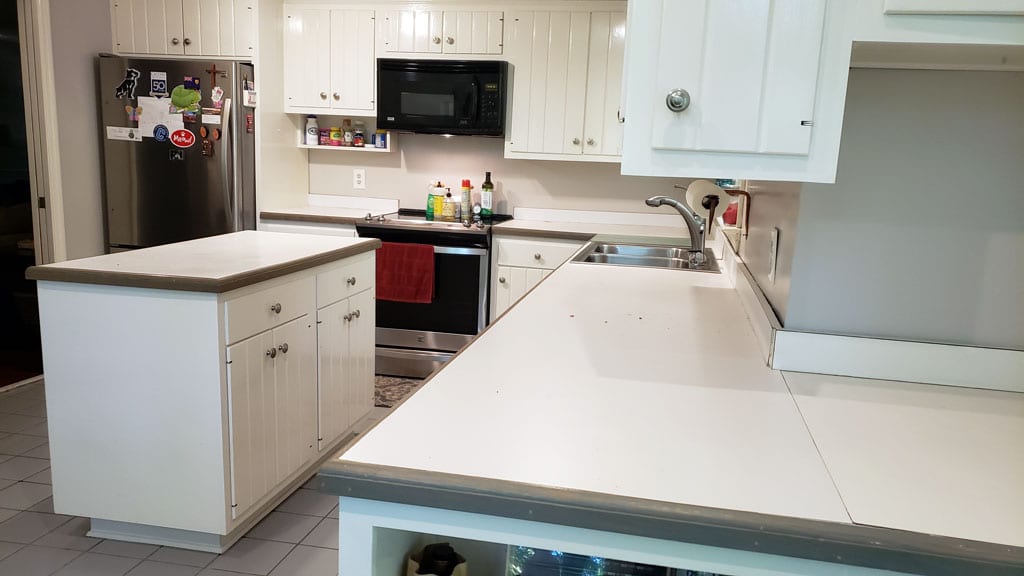 You can see a couple of shades of the old kitchen colors once the old kitchen countertops were removed. A 1950's Pink and then blue switched over to gray our current color. Amazing how many shades. I think there was also a yellow thrown in there at one point.
Removing The Countertops
You will also notice in the gallery above, the installation team installing additional wood frames to level everything out. A normal procedure after years of the old counters compressing the cabinets to make everything level. In our case, Granite will be the material of the new countertops and you need the surface perfectly level.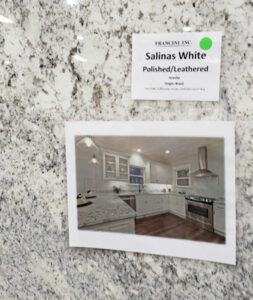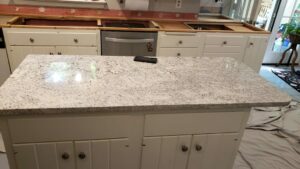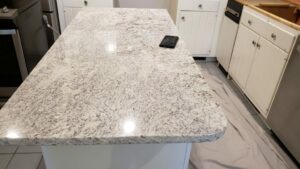 As we progress with getting this upgrade done to our Mid Century Kitchen, we hope some of our 8 tips will help you on your journey.We are only getting the island countertop delivered today (as they found a crack in some of the other pieces :(.
Whether you choose to make small updates or go for a full-scale renovation, you're sure to love the end result. Happy renovating!
Until next time!