This recipe Cherry Pie recipe aka "Clafoutis Recipe" was something from a Friday afternoon coffee break a.k.a. Fika at work. Working for an international company gives you a great chance to experience other cultures. The parent company for Mack Trucks is Volvo in Gothenburg Sweden.
A tradition in Sweden is Fika "to have coffee" an afternoon coffee break (similar to our unofficial coffee break in the U.S.). Typically coworkers bring in a type of dessert / pastry to share. Great for good conversation and taste buds but not so great for your waist line :(. While we have Covid going on, we have not been in the office and experienced a Fika in some time. That brought up this cherry pie recipe to my mind… It would really be nice to see people some time soon in person!
One of the guys in our group brought in this delicious French pie one afternoon for our Friday Fika (we only have Fika on Fridays). In our day-to-day, we need some things that are easy to do to make life fun. Easy things don't always mean they're not beneficial. This one is not only delicious but a great last minute backup for unexpected guests.
---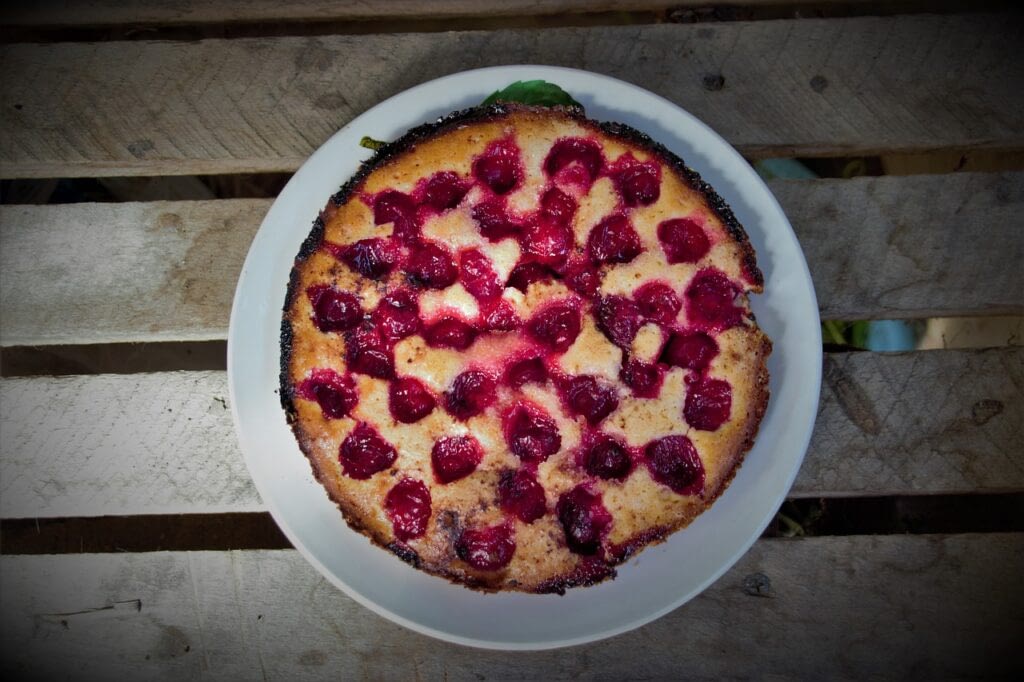 Clafoutis (French pronunciation: [klafuti]; Occitan: clafotís [klafuˈtis] or [kʎafuˈtiː]), sometimes in Anglophonic countries spelled clafouti, is a baked French dessert of fruit, traditionally black cherries, arranged in a buttered dish and covered with a thick flan-like batter. The clafoutis is dusted with powdered sugar and served lukewarm, sometimes with cream.

A traditional Limousin clafoutis contains pits of the cherries. The pits contain amygdalin, the active chemical in almond extract, so during baking a small amount of amygdalin from the pits is released into the clafoutis, adding a complementary note to its flavor.

From WikiPedia:
The Cherry Pie recipe ingredients you will need
1 pound sweet cherries steamed but not pitted
Three large eggs
1/2 cup sugar
pinch of salt
2 teaspoons pure vanilla extract
1/2 cup all purpose flour
3/4 cup whole milk
1/2 cup heavy cream
Confectioners sugar for dusting
Keep in mind that Cherries are used for this recipe, however you can use any type of fruit you like. I can see making this with strawberries, blueberries, apples etc. – I think the list is endless. Cherries can be fresh or you can use frozen as well. Keep in mind, if frozen do not thaw them prior to mixing up this dish.
Recipe Steps
Time to complete 1 hour and 25 minutes
Oven Preheat
Preheat the oven to 375 degrees F.
Prep the Baking Dish

Butter a 10 x 3 x 1 1/2-inch round baking dish and sprinkle the bottom and sides with 1 tablespoon of the granulated sugar.
Add Cherries
Put the Cherries in the pan evenly – across the bottom in a single layer.
Prep Other fillings
With a medium sized bowl, whisk the eggs until frothy. Then add the sugar and mix for a minute or two.
Final ingredients
Whisk in the salt, vanilla extract and the flour whisk quickly. In this case, whisk until the mix is basically like pancake batter.
Mixing
Slower whisking process – add in the milk and cream until well blended. Rap/Tap the bowl on the counter to remove any bubbles from the mixture.
Final assembly
Pour the mixture over the cherries (it is this easy)
Cook
Bake in the oven at 350 degrees F. for 35-45 minutes, until slightly golden on top. Use a knife to verify the pie is done.
If you end up with something like this you know you did a good job. I hope you enjoyed an easy cherry pie recipe!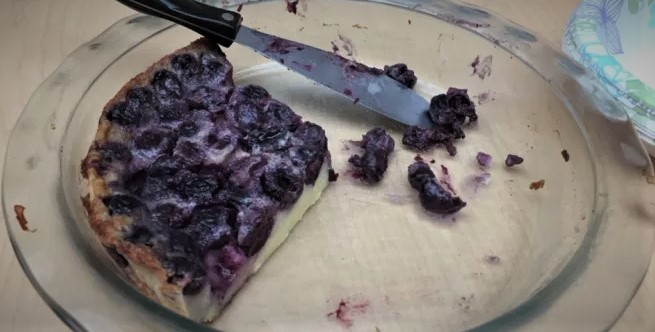 If you liked this post you might like some of our other stories and or adventures.. from home DIY home improvements to hiking in the woods there are many to see. Here is our Blog homepage
Until next time!