If you know vintage lighting, you would have heard of Moe Lighting by Thomas Industries. MOE Lighting was one of the premier American mid-century modern and atomic lighting manufacturers of the 50's and 60's. Their product was made here in the USA, like many products of that era. I really enjoy every time I take something apart to repair on our house.
The quality and repair-ability of older things. It totally beats the "modern" way of replace and throw out. That has never set well with me, and I guess a factor for us buying this older home. The quality products from Moe Light were sold from the 1930's until the 1970's. They sold products for middle class to the upper end of lighting. If you run across one of their products, you will see and feel the quality. It was designed into every piece.
---
Period Correct Mid-Century Lighting
It can ALWAYS be a challenge to finding "original" good working (and looking) Mid-Century items. Lighting, can be especially difficult to find. Somewhat due to the modern mentality (throw that thing out and get a new "modern" one). However there are those that replace them, but recognize the value and that someone else may want it. In my experience I have found you can find items for sale in good shape. I search on a variety of websites to track down and find what I need. In one of our earlier posts about our Authentic 1958 Atomic Sputnik, I searched and searched to find an authentic Atomic Brass Sputnik. There are many modern interpretations but I wanted a period correct and BRASS unit. Keep the plastic things for someone else. At the end of the day it was worth it to us.
Currently I have hallway lights and one bathroom light that I am trying to find period correct units. You can literally spend HOURS searching for not only something that would work design wise for you, but also seeking something of quality that does not need repair is very hard. Mid-Century lighting in good shape is aging out and (as stated earlier) people want to "upgrade" to cheap Chinese replicas with poor quality to get that "new" look.
---
One afternoon, I did a quick search on Facebook Marketing place to see what I could find, and you can imagine my excitement when I saw a period correct (even 1959 matching year) Moe Light ad. I chatted back and forth with the owner and she was very kind and willing to ship to us. She gave us a shipping price we made a deal. She also appreciated that it was going into another period correct home (I guess us Mid-Century people like to stick together).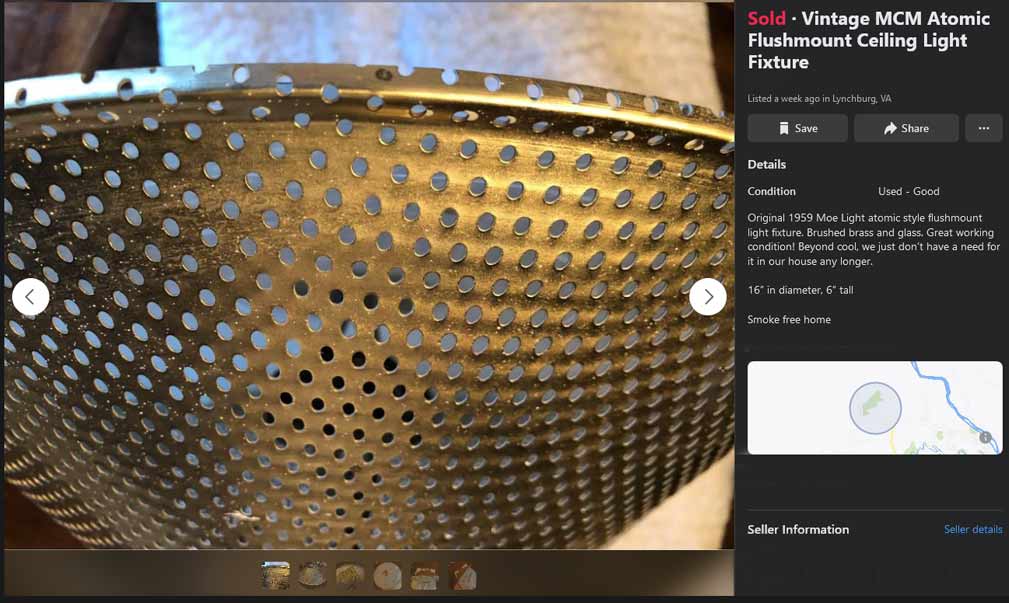 The text from the ad stated: Original 1959 Moe Light atomic style flush mount light fixture. Brushed brass and glass. Great working condition! Beyond cool, we just don't have a need for it in our house any longer. 16" in diameter, 6" tall Smoke free home.
---
We have not put this one up just yet as I need two of this size for our main entrance but I can already tell with the gold and the white saucer this is going to fit perfectly.
Tips when Searching for a Real / Authentic Mid-Century Lights
---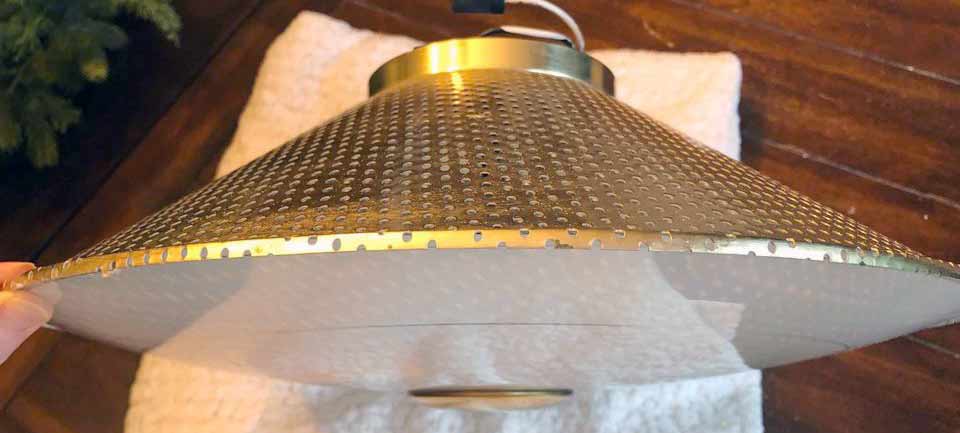 – Identify Real Products
Look for a Vintage / Old Faded Label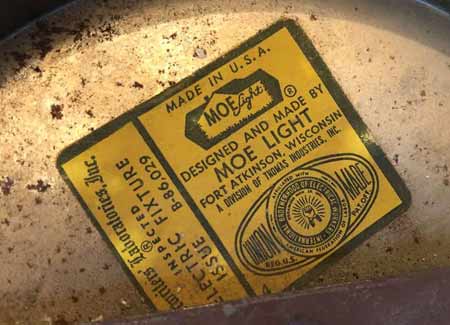 If the light has a shot of the original label it should look something like this one. "Made in the U.S.A." Moe Light Fort Atkinson Wisconsin (Union Made). All of this points to a real authentic label. I have seen some knock offs but the label is NOT paper it is like a plastic vinyl with a flat finish. If you pay attention you can catch these. Also the counterfeit labels sometimes are white almost like they are new vs. yellowed age.
Finish may not be 100% perfect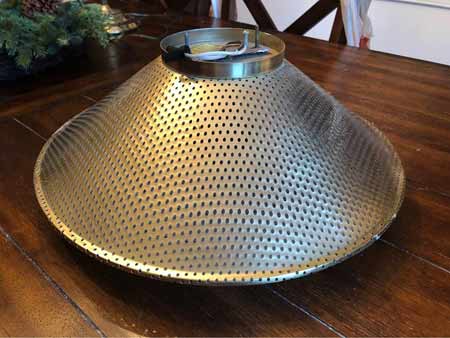 With any Mid-Century Lighting around 60-70 years of age, it is not going to be perfect. Get that out of your head… so hopefully the description was accurate and the images were realistic. If you have some minor finish issues don't sweat it – it really is a part of it's charm. A little dust or paint can be easily removed.
Glass Scratches and Bubbles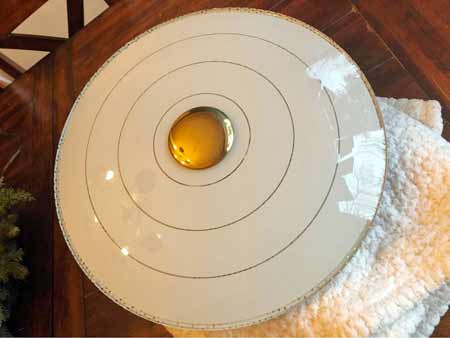 You may find a light that has various levels of issues. They can be as large as a chip, a crack to scratches on the glass itself. Somethings like scratches could be carefully polished out. Take your time if you so this as to not damage the glass any further. You will also see typical small "air" bubbles in the glass. This is from age of the glass but most of the time should not be an issue.
A couple of other notes to keep in mind… Check the wiring. Many lights of this age could have damage wires. Do a brief inspection to ensure the wire cover / wrap is not compromised in any way. If it is good to go, grab a ladder and get to installing that light! We can't wait to get this one up!
Until next time!